Celebrity Style Summer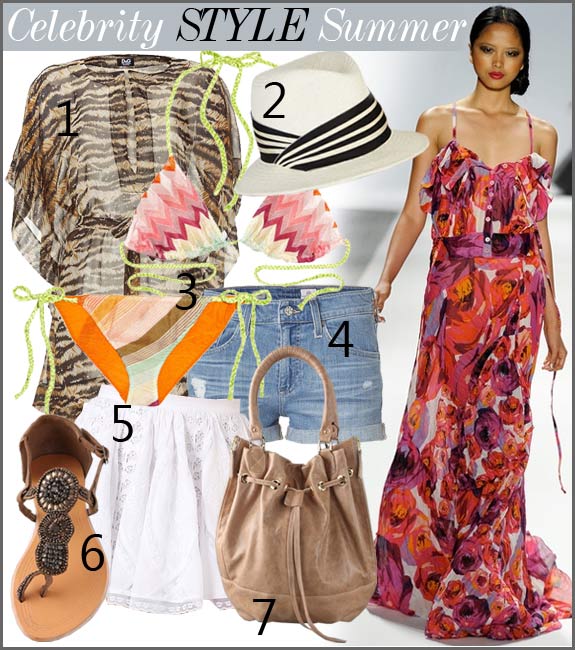 With Memorial Weekend officially over, summer has officially begun! I am very pleased to present you with this summer's biggest trends, spotted on the hottest celebrities and the chicest fashionistas. To summarize the trends in a few words, the styles are detail-oriented, colorful, and feminine. The 70's rule the scene, and a girl must accessorize. Sky high platforms and embellished sandals anchor flirty minis, flowing maxi skirts, and itty bitty cutoffs. Look for lots of color at the beach paired with gorgeous glam cover-ups, fun fedoras, and over-sized sun hats. It's girly, it's fun, and it's so much fun to play in the sun in these 2011 styles:
1. D & G Dolce and Gabbana Tiger Print Belted Short Kaftan ($315)
Semi-sheer, but completely stylin'. This animal-printed kaftan brings loads of glam to the pool or beach with its short mid-thigh length, figure-hugging belt, and gorgeous draped sleeves. Throw this on over your bikini when you're on the prowl for second glances.
2. Eugenia Kim Max Straw Fedora ($297)
Hats aren't just for bad hair days this season (although they really come in handy when your tresses refuse to be tamed). Pick up a wide brimmed sun hat or a flirty little fedora like this Eugenia Kim for a romp on the beach or a stroll along the boardwalk. It's the perfect topper for a simple pony or loads of loose-ly waved locks.
3. Missoni Mare Barcelona Crochet-Knit Triangle Bikini ($350)
Play in crochet! Hints of this detailed knit are everywhere, from sweaters to bikinis like this Missoni Mare. This classic triangle bikini is finished in the yummiest sherbet tones and an eye-catching mixes of stripes and zig zags.
4. Adriano Goldschmied The Pixie Blue Washed Roll-up Jean Shorts ($108)
These light-washed denim shorts look lived-in and oh-so-comfortable with their extra bleached spots, creases and mini holes. Slim and short and really, really sexy, pair your AG Pixie's with absolutely anything in your closet for instant summer style.
5. Sheri Bodell Gypsy Skirt ($325)
Kicky! This fun little mini has just the right amount of flounce for day or night. Cotton-voile with pretty tonal floral embroidery, lace trim, and crocheted trim. Nothing says summer like fresh, clean white.
6. Antik Batik Kiss Suede Flat Sandals ($228)
It's all in the details! These suede flat sandals feature assorted, distressed rhinestones, beads, and paillettes at the scalloped T strap with a toe ring and buckled ankle strap. The perfect pair to a long maxi skirt or classic denim cut-offs.
7. BE & D Tristan Bag ($868)
A slouchy, boho-feeling bag is a must-have this season. It's the perfect complement to all those flares and floral blouses, and an oversized tote like this BE & D Tristan Bag will take you anywhere you need to go. Glazed, wrinkled leather handbag with zip gussets at the sides and metal feet at the bottom. Zip pocket and logo plate at back. Gold hardware.
Most Read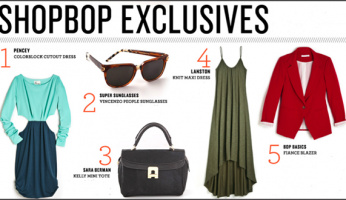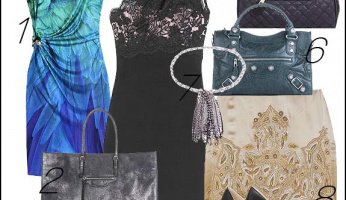 Subscribe to our Newsletter