Always In Style: Be Glamourous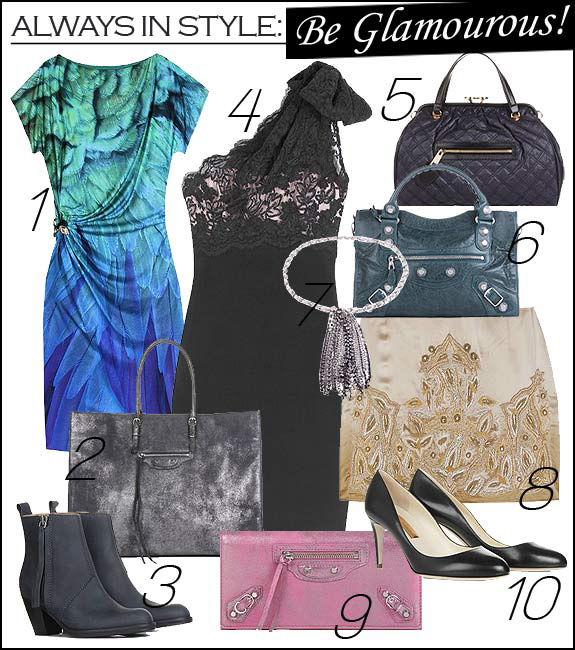 This week Celebrity Style Guide brings you fantastic new accessories so start glaming up your wardrobe! Along with some beautiful statement bags and shoes will always be in style!
1.Roberto Cavalli Wrap-styled Jersey Dress ($1564)
Roberto Cavalli is kicking off the cruise season with this ultra feminine Roberto Cavalli Wrap-styled Jersey Dress. Cavailli continues to celebrate the femme form with his signature jersey dress in the perfect splash of clolor and photographic feather motif.
2. Balenciaga Classic Papier Tote With Glitter ($1375)
A great tote by Balenciaga to lift your everyday jeans outfit to a whole new level. The Balenciaga Classic Papier Tote With Glitter you will show off your fashion savvy and glam up you outfit.
3. Acne Pistol Short Booties ($527)
I love these Acne Pistol Short Booties with a low, stacked heel. They look perfect paired with skinny trousers or with your favorite fall shorts and tights.
4. Marchesa Notte Lace Detail Cocktail Dress ($1137)
The party season is around the corner! Invest in a chic LBD for the approaching holiday season – you can never go wrong with it.
5. Marc Jacobs Quilted Stam ($1132)
The Stam Bag by Marc Jacobs has already become a modern classic and is now available in dark blue. Make it a cornerstone for your wardrobe. Named after popular Canadian model, Jessica Stam, it has many stylish celebrities toting it around on their arms: Nicky Hilton (with collection of Stams in many different colours), Hilary Duff, Mary J Blige, Hailey Duff, Lindsay Lohan, Maria Sharapova, Dita von Teese and Kate Beckinsale have been snapped carrying this quilted bag all around the world.
6. Balenciaga Giant City Tote ($1773)
Balenciaga's totes are a must this season. Check out the Balenciaga Giant City Tote in a fantastic new petrol hue and make it your new favorite goes-with-everything bag.
7. By Malene Birger Figur Necklace ($197)
Be bold and transform simple separates with this beautiful By Malene Birger Figur Necklace. Wear it to add a touch of global-luxe to a silk jumpsuit and ballet flats.
8. Gryphon New York Embroidered Silk Mini Skirt ($851)
Celebrate in Gryphon New York glam! Start with this stunning piece.
This luxurious Gryphon New York Embroidered Silk Mini Skirt will become the new cornerstone of your evening. wardrobe.
9. Balenciaga Glittery Money Wallet ($520)
The Balenciaga Glittery Money Wallet is a fun burst of color. It will add a fresh soft tone to accent your looks. It is beautifully crafted wallet with Balenciaga's signature accents.
10. Rupert Sanderson Patsy Pumps ($611)
A great pair of black pumps is an absolute must-have. These Rupert Sanderson Patsy Pumps are the key accomplish your femme silhouette.
Most Read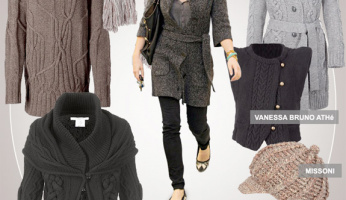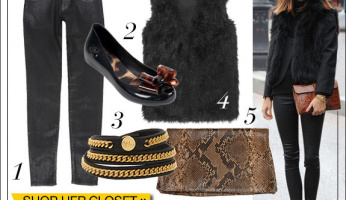 Subscribe to our Newsletter