Celebrity Style Beauty Secrets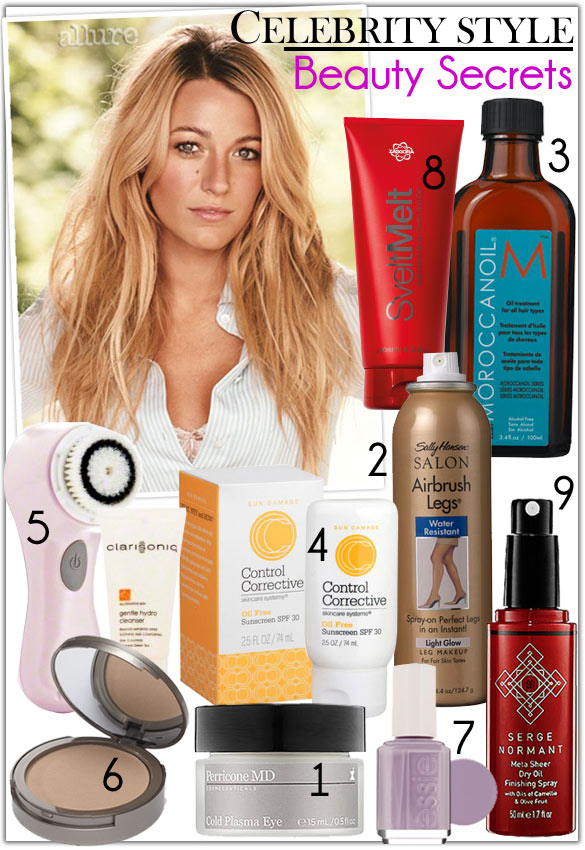 Ahhhh, Blake Lively. How is it that you celebrities get that effortless glow? that perfect tan? that lustrous hair? It's not without effort, we know, but you guys do have a few secrets up your sleeves. Excellent lighting and a team of stylists aside, I've rounded up a few of my favorite celebrity style beauty secrets. Flawless skin sets the celebrities apart, so I start there with a fabulous eye cream, an oil-free sunscreen, a hydro cleanser, and an illuminating powder. The crowning glory is the hair of course, so a deep conditioning treatment is in order. And sometimes a celebrity glow comes from the details: a trendy, polished nail color and perfectly tan legs. Read on for all my celebrity-stolen beauty secrets:
1. Perricone MD Cold Plasma Eye: Well, hello, bright eyes. This is my absolute favorite eye cream! I noticed an almost immediate change in my eyes when I started using it. I have to fend off allergies, sometimes tired eyes and of course aging so eye cream to me, is no joke. Cold plasma cream guarantees a bright eye…plus reduced puffiness, minimized redness, and shrunken fine lines. Every celebrity knows well-hydrated eyes are the basis of bright eyes.
2. Sally Hansen Salon Airbrush Legs: Put your best leg forward (just like Angelina Jolie!). Sally Hansen Salon Airbrush Legs is amazing! It turns your legs into tan, smooth, shiny beams of light! I spray about 12 inches from my skin in the area I want spiffy. Then I let it dry completely. Next I take body lotion and use it to smooth out the makeup and create a sheerer more natural looking finish. Then let it dry before you touch anything. I do this for all my special events. TIP: Be careful because it can rub onto your clothes…but oh wow, you never looked better nude than with a coat of this! f you haven't spent spring break on the islands, this is your ticket to a celebrity tan.
3. Moroccanoil Oil Treatment: Allure says that Salma Hayek swears by it and so do I. I have blonde color treated hair that gets very dried out with especially with too much heat styling.  I use this Moroccan Oil treatment for healthy, glossy, Blake-like hair. It's fabulous smelling, too or so everyone tells me after one flip of my hair.
4. Resurface by Shani Darden Oil Free Sunscreen SPF 30: I was introduced to Shani this year and my skin has never looked better! Shani is responsible for the covetable skin of with A-Listers like Jessica Alba and Minka Kelly (who tweeted "Shani Darden Has Changed My Skin!"). We can all agree. The best skincare is preventative skincare, but sometimes it's still hard to slather on that oily sunscreen. But no more excuses…Shani Darden's oil free sunscreen gives us all the benefits of sunscreen without the icky shine. Being in sun drenched Austin,  I use this daily on my face without exception.
5. Clarisonic Mia Skin Care Brush: We might not have the cash for regular facials, like the celebrities do, but this is the next best thing…and we can do it from home! I was told by Jennifer Love Hewitt that her Mia is the secret weapon to her gorgeous, glowing skin. I love my Mia, and you will too! It's a whole new level of clean, and my brighter skin speaks for itself.
6. ColoreScience Pressed Mineral Illuminator: Don't feel like you have that glow? Add it! This pressed mineral illuminator is a glow-giver. My middle sister came for a visit a few months ago and her skin was just glowing. It looked even and flawless…but also natural, and for the most part makeup free. She has sensitive skin that is prone to breakouts so for her to find a makeup that she gushes about it uncommon to say the least. As sister's do, I had to get the scoop on what she was using. She told me it was ColoreScience Pressed Mineral Illuminator. It is whisper light and has great coverage without the "mask-y" look and feel. I ordered some that day and the rest is history.
7. Essie Bangle Jangle: I loved this color ever since I spotted it on Ashley Tisdale a few weeks back. Is if fun and flirty and perfect for Spring. Sometimes that celebrity beauty is just in the details, like the latest and greatest in nail colors. So, polish up those nails with this season's hottest color: lovely lovely lilac.
8. Zaggora Svelt Melt: I've made it no secret on my blogs that I love my Zaggora Viva hot pants. I workout 6 days a week and to me, it's a waist of time if I'm no dripping with sweat afterwards. Gross, TMI, sorry! The combo of Zaggora's trademark Hot Pants and Svelt Melt lotion are the secret weapon of Kristin Cavallari and Stacy Keibler! Smooth out those legs like never before with this amazing technology…and be red carpet ready in no time!
9. Serge Normant Meta Sheer Dry Oil Finishing Spray: Celebrity hairstylist Serge Normant (whose clients include Blake Lively, Gisele Bundchen, and Julia Roberts) is the master at transforming flat hair into big hair in moments. The Serge Normant Meta Sheer Dry Oil Finishing Spray was one of the products used during the Blake Lively Allure photoshoot.  I love the beachy, effortless look…perfection.
Most Read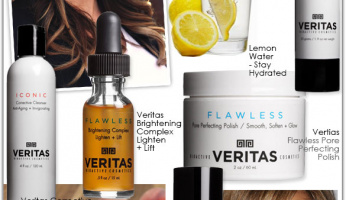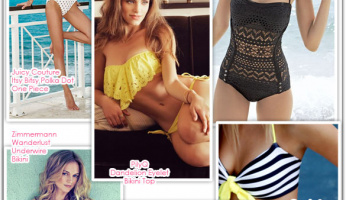 Subscribe to our Newsletter