4 Ways To Treat and Clear Butt Acne!
Let's talk about butt acne or 'buttne'. A lot of people don't want to talk about the very common struggle of butt acne because it's labeled as a taboo or embarrassing issue. There's a lot of misconception about butt acne breakouts including what causes it!
Most people may not know this, but butt acne is an issue of hygiene, but rather a direct result of our own actions. We're going to explain his further in just a second.
If you have acne on your derriere, and don't know how to get rid of it, we have some solutions for you that might just be your saving grace. First, we have to talk about why people get butt acne in the first place and put the rumors to rest.
What Is Butt Acne and How Can I Treat It?
Funny enough, butt acne isn't actually real acne. Typically, you're actually experiencing folliculitis. This is when the hair follicles get blocked and inflamed. This can lead to acne-like bumps from mild infection of these blocked follicles.
Folliculitis does have a white-looking center like pimples do, but it's usually just dead skin and white blood cells. Folliculitis can come in clumps in certain areas, forming smatterings of what look like pimples. So, how does this occur?
These red bumps come from friction! You can get it from tight clothing or any clothing that rubs against your skin too much. Consequently, clothes that don't allow your skin to breathe properly will lead to irritation and can lead to folliculitis – or butt acne as we know it.
Wet clothes such as swimsuits or workout clothes/leggings that are drenched in sweat are also the main cause of butt acne.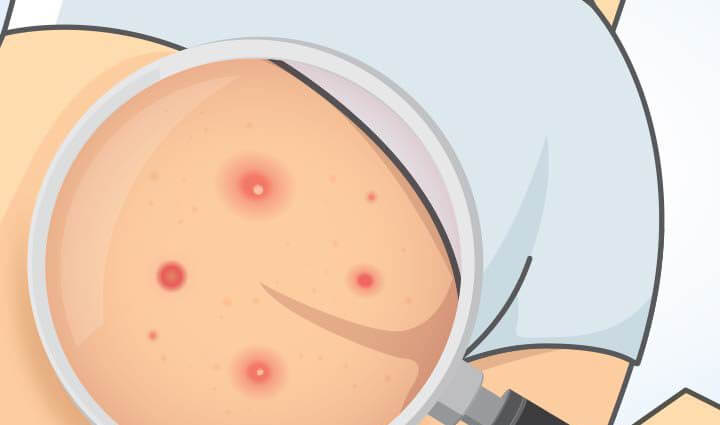 This doesn't mean that you need to stop enjoying all the activities that include tight or wet clothing, it just means that you need to find a solution that helps ease this irritation before it gets worse!
There are a few ways that you can clear your butt acne! You can use any of these methods below to treat and prevent butt acne.
There are some awesome products nowadays that do wonders for any type of blocked follicle or pore. Let's go over a few great options to become butt acne-free!
4 Effective Ways to Treat butt Acne
1. Exfoliate!
The first way you can clear butt acne is through exfoliants. The skin on our butt can be sensitive, so using a physical scrub can cause tears and redness, making the whole situation worse.
Using a gentle chemical exfoliant is a much better solution and can clear out any impurities from pores and hair follicles easily and quickly. This will clear whatever butt acne you are currently experiencing as well as any future irritation.
Our favorite body exfoliant is the Paula's Choice Weightless Body Treatment 2% BHA, Salicylic Acid & Chamomile Lotion Exfoliant. This will help any bumps you may have on your skin, from butt acne to KP (Keratosis Pilaris). You apply a small amount to clean skin daily or you can use it as a spot treatment on the affected areas.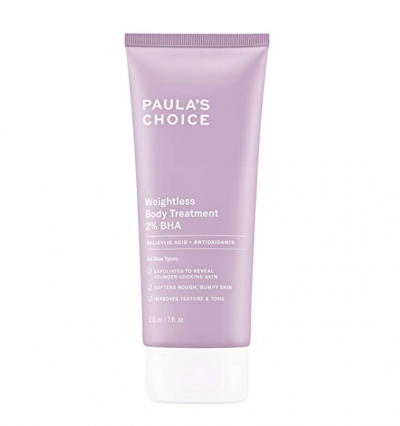 Our other favorite chemical exfoliant is The Ordinary Salicylic Acid 2% Solution. This is great for any acne-prone or blemish-prone skin. It does a great job at clearing out pores and follicles to treat any imperfections.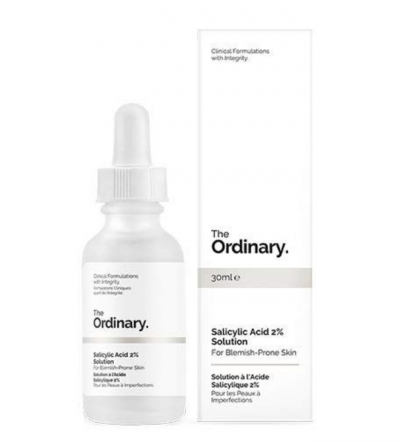 It's an affordable option that is also versatile. If you struggle with acne on other parts of your body or face, you can use this solution on those areas as well.
2. Benzoyl Peroxide Acne Treatments
You can also use Benzoyl Peroxide based products. Benzoyl peroxide is very common in treating severe acne as it does a stellar job at killing bacteria, unclogging pores, and even reducing redness irritation, and inflammation.
Benzoyl peroxide can be a strong ingredient and quite abrasive so make sure to follow the directions of the product you're using and follow up with a very good rinse to remove any and all residue.
You may know PanOxyl Acne Foaming Wash from Madison Beer who swore by it for clearing up her acne. Well, she's definitely on to something. This is a super-effective best-seller acne wash that kills acne-causing bacteria. This is a great choice for clearing butt acne as well.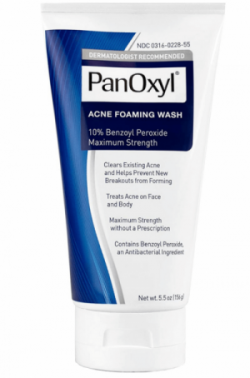 There is also the Differin Daily Deep Cleanser BPO 5% which is a benzoyl peroxide acne treatment as well. We've talked about the Differin Adapalene Gel as well as their Resurfacing Scar Gel, but the Daily Deep Cleanser BPO 5% is an awesome wash to help treat and reduce the appearance of butt acne.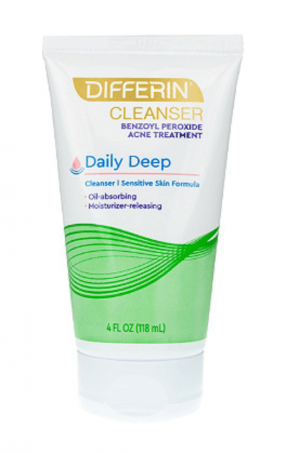 Humane Maximum-Strength Acne Wash is a Benzoyl Peroxide treatment that is meant for the face, back, and body. This cleanser is known for effectively treating back acne, body, and butt acne as well as traditional cystic acne.
It takes on a minimal ingredient approach to skincare which can help those with sensitive skin who may react to complex formulas.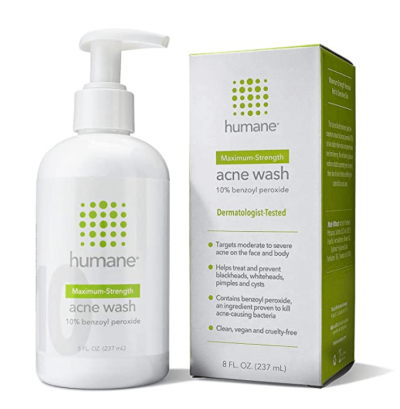 3. CeraVe SA Body Wash
CeraVe Body Wash with Salicylic Acid definitely deserves a mention. This body wash exfoliates the skin, removing dead skin cells that are blocking any pores or follicles. It's less harsh than physical exfoliants and uses Salicylic acid which is an extremely effective acne treatment.
It will get rid of any rough skin or bumps you may be experiencing while killing acne-causing bacteria.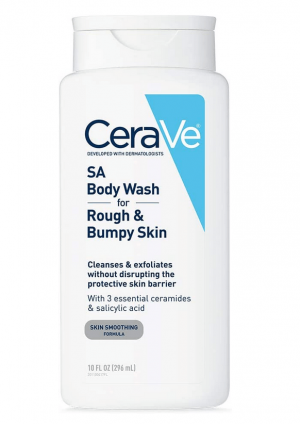 Although, this body wash is not irritating or harsh. It uses hyaluronic acid to help the skin retain its natural moisture as well as niacinamide to help calm the skin to avoid any redness or inflammation.
All CeraVe products including this body wash are formulated with three essential ceramides/botanicals that help to restore the skin's natural barrier, unlike many other harsh exfoliants that will damage it.
4. Butt Acne Clearing Lotions
There are specific lotions that are marketed towards buttocks breakouts that can do wonders for your behind.
The Green Heart Labs Butt Acne Clearing Lotion is for your back, butt, and thighs, targeting mostly body acne or imperfections including acne scars, ingrown hairs, dark spots, razor burn, blackheads, and more.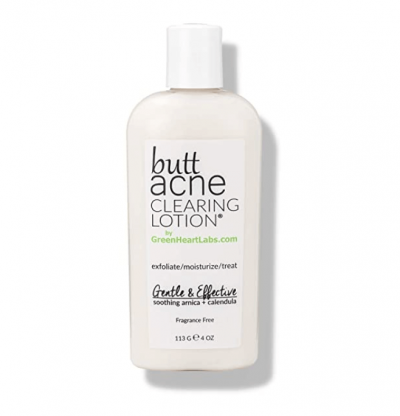 It is formulated specifically for the buttocks with a pH-balanced lotion that is great for the sensitive skin of the area. This product claims that you'll see results in just 24 hours! This product is meant to be applied twice daily for the best results, using a generous amount before bed for a deeper treatment.
BellamiLuxx Butt Acne Clearing Lotion is another specific lotion that targets the whole body and butt acne. It has antibacterial properties using Australian tea tree oil that can act on the roots of acne, preventing future butt-acne and clearing what is already present. I
t uses a herbal acne treatment that blends pure plant extracts for a moisturizing and gentle treatment with no chemicals.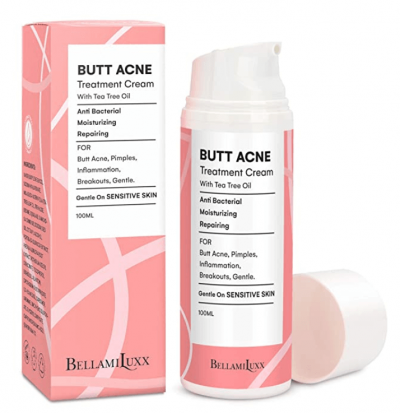 It's suitable for all acne-producing skin, even sensitive skin! This is meant to be used only on affected areas three to four times a day. If the condition of your butt acne is more severe, you can apply it up to six times a day as needed.
Subscribe to our Newsletter