Charlotte Tilbury Beautiful Skin Foundation Review!
Charlotte Tilbury was the IT girl of 2021 and continues to be throughout the beginning of 2022. The Hollywood Flawless Filter skin booster is currently one of the most sought out skin toppers and primers.
With such hype around the brand, they of course had to release a new product with a bang. That's where Charlotte's Beautiful Skin Foundation comes in. This foundation has gotten some mixed reviews online. We've seen this foundation become a go-to for many MUAs such as Mikayla Nogueira.
Her review of this foundation convinced us that this was the end-all, be-all of the foundations. Her caption even read "watch me use this at my wedding". If that doesn't say it all we don't know what will.
But first, before recommending a product, we always have to go through the claims and ingredients to see if it really is worth trying out. While we want to take Mikayla's word at face value, we've got to do our own research first. And, this is what we found…
Charlotte Tilbury Beautiful Skin Medium Coverage Liquid Foundation with Hyaluronic Acid is a long-wearing, hydrating foundation. It's supposed to improve the look of skin while wearing it.
It's a skincare-focused foundation, much like the Nars Light Reflecting Foundation. It will let your skin breathe, allowing it to shine through with a plumper, smoother, and brighter complexion.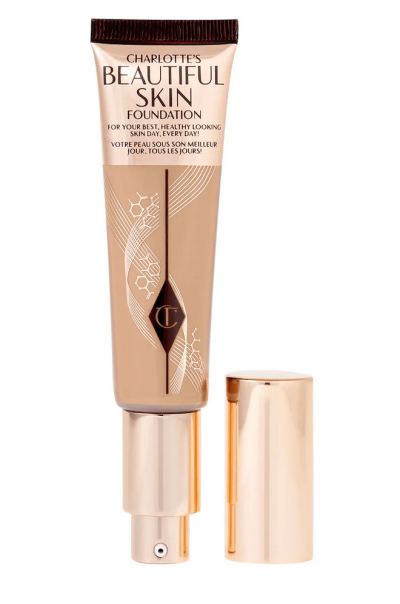 Hyaluronic acid helps the skin retain its natural moisture and pulls hydration from the moisture in your environment to keep your skin from drying out. Rose complex targets signs of stress in the skin including dryness, pigmentation, dullness, and dark circles. Coconut extract improves the skin's ability to retain water as well, strengthening your skin's barrier over time for youthful-looking skin. This product also claims to be long-wearing with 16 hours of beautiful skin.
Besides the ingredients, Charlotte Tilbury has made a conscious effort to be more sustainable. This vegan-friendly formula is packaged in a recyclable tube. Recyclable packaging has become a norm in beauty brands. The beauty community as a whole has contributed to a movement towards more environmentally friendly manufacturing.
So, this foundation looks great on paper, right? The ingredients, the claims, the packaging. We love the sound of it. But, how it applies to the skin is the real question. From what we've seen, this truly is a medium coverage foundation.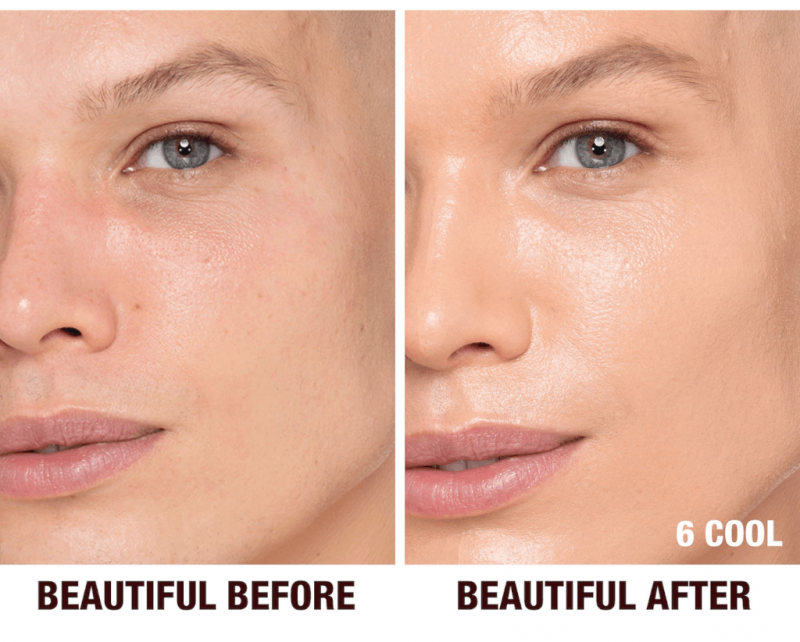 Your natural skin will still peek through but it does a good job at covering hyperpigmentation. If you have spots and blemishes, you may need to layer those areas to fully conceal them. For a hydrating and dewy foundation, it works great with oily skin.
We've seen people with acne and people with clear skin vouch for this foundation, but we did notice one group of people who had some things to say. If you have large pores, this foundation might not be for you.
We've noticed that many people who struggle with large pores seem to not like the finish of this foundation, feeling as though the foundation separates around these areas and enhances the look of their pores.
While there are primers out there such as the Make Up For Ever Step 1 Primer Pore Minimizer and the Sephora Collection Smooth + Blur Primer, it's also up to the foundation to contribute to a blurred, flawless finish.
This foundation doesn't claim to give you movie premiere ready skin, but rather to enhance your natural skin. That being said, we needed to address the large pore situation to give you insight into what you can expect.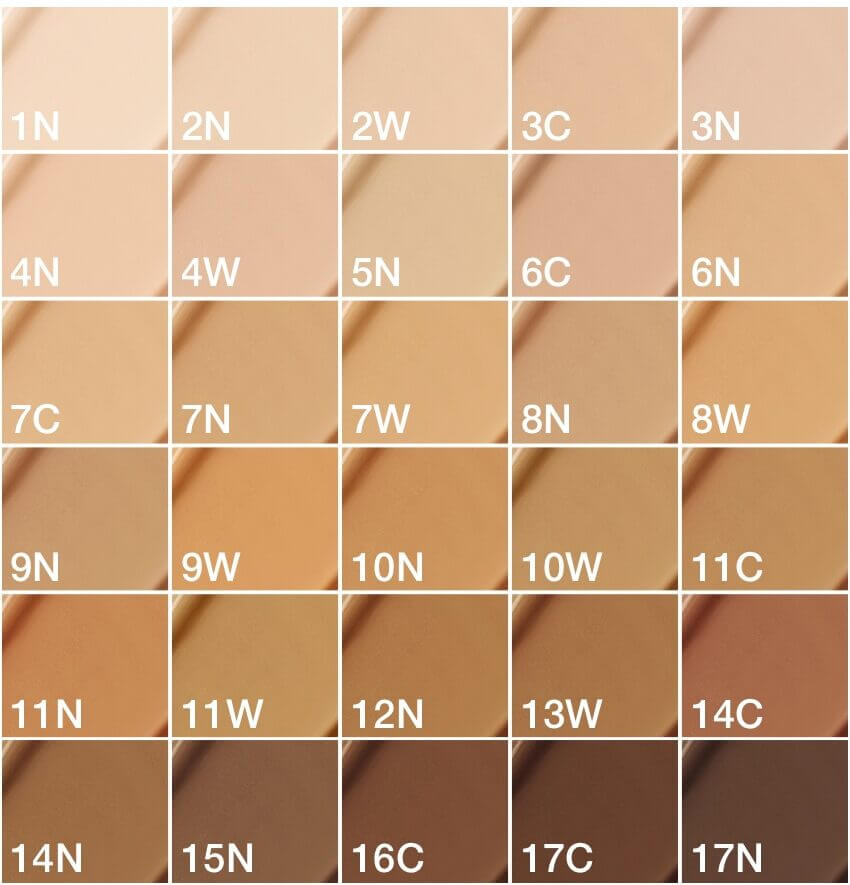 Caking or creasing did not seem to be an issue either, mostly due to the skincare ingredients that help the product melt into your skin. Because of this ability to sink into the skin, the range of shades is not as diverse as it could be.
There are only 30 shades in the collection and they all seem to lean towards the paler side. Even with the claim that each shade can match a variety of skin tones, we always prefer to see a more expansive collection.
So, is it worth it? We think so!
While there are exceptions to every rule, it seems that this foundation had great results on most people who tried it. Odds are, this will become your new daily foundation.
It retails $44 which is affordable for a foundation, and on-brand considering the prices of other Charlotte Tilbury products.
It's just slightly less expensive than the Nars Light Reflecting Foundation and gives the same dewy, skin-like finish with the help of skincare ingredients to improve your natural skin over time.
Most Read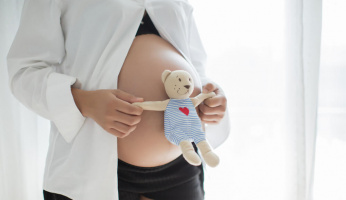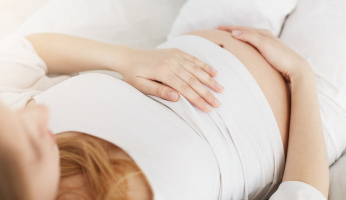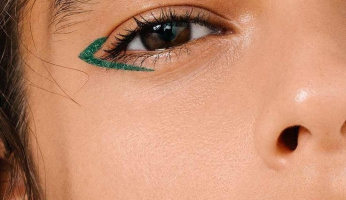 Subscribe to our Newsletter