All American Style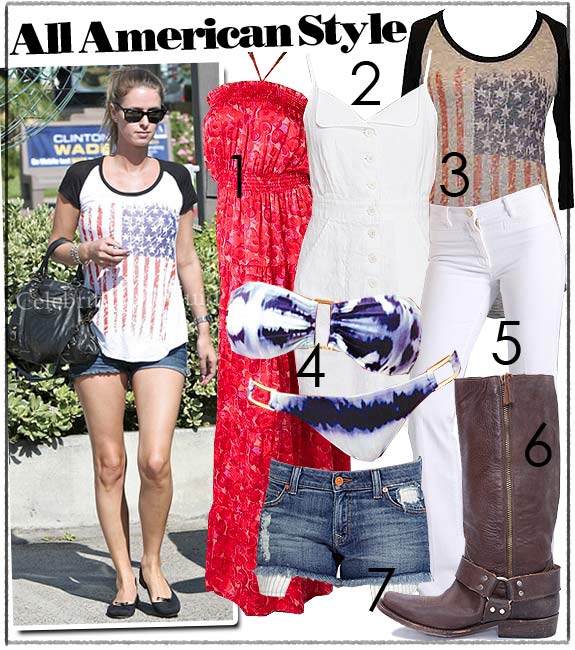 Happy Birthday, America! Celebrate another year of freedom with styles that are uniquely American. These pieces honor our national spirit: free, bold, and brave. Start with denim, a world-wide fashion phenomenon that began with Levi Strauss in the wake of the California Gold Rush. Add the bikini, so famed from beach to shining beach. And layer on pieces like the t-shirt, the maxi, and the sundress…they've come to symbolize summertime in all its glory. Finish with cowboy boots and kick up your heels for a little Fourth of July fun. Tip your hat (fedora, floppy sunhat or baseball) to these styles and honor the American spirit all summer long!
1. T-bags Maxi Dress ($198)
Sport the red of the red, white and blue with this eye-catching maxi dress. T-bags made this printed long dress with smocked elastic banding at the ruffled top, hem, and waist. Ruched tiers at skirt and beaded spaghetti straps set this dress apart from the rest of the maxi crowd.
2. Juicy Couture Linen Sundress ($100)
Nothing says summertime like the iconic sundress. This flirty little Juicy Couture dress is simple, yet sexy against sunkissed shoulders. Easy going details like knife pleats at bust, button down front closure, and slash pockets at hips make this sundress easy to wear to a BBQ or for a walk along the beach.
3. Lauren Moshi Frankie Flag Baseball Tee ($119)
Summer isn't complete without a day at the ballpark. Knock one out of the stands with Moshi's baseball tee, emblazoned with Old Glory and finished in fashion-forward details. Pair with denim cutoffs to sport USA pride, just like Nicky Hilton.
4. Vix Ikat Bikini ($164)
Vix brings beauty to the beach with flawless style. A blue and white tie dye print serves as a cool backdrop for the pool or beach. Gold hardware adds the bling every American girl craves.
5. MiH Marrakesh Kick Flare Jeans ($186)
Flares are this summer's throwback style. Bring a little of America's bicentennial summer celebration to 2011 with a fresh pair of white bells. Pair with a tank and wedges for dinner out or shopping with the girls.
6. Golden Goose River Boots ($618)
The boot, once a winter staple, snuck its way into summer. Boho-fabulous, these cowboy boots kick up some fun when paired with a floral sundress or even your cutoffs. Pebbled leather boots in brown with a faded finish, squared tapered toe, and a distressed studded strap with silver tone ring fastenings.
7. Raven Denim Logan Cut-off Boyfriend Short ($152)
Decades come and go, but the cut-off short has been a style staple for generations. The Raven Denim Cut-Off Short has a vintage wash that gives the impression of a well-worn favorite. Halle Berry pairs hers with a simple hoodie to complete her laid-back summer in the city outfit.
Most Read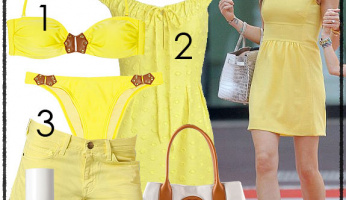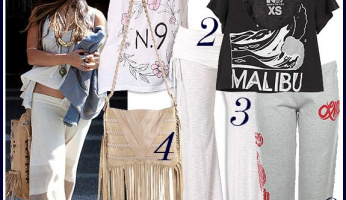 Subscribe to our Newsletter