Celebrity Style: Loungewear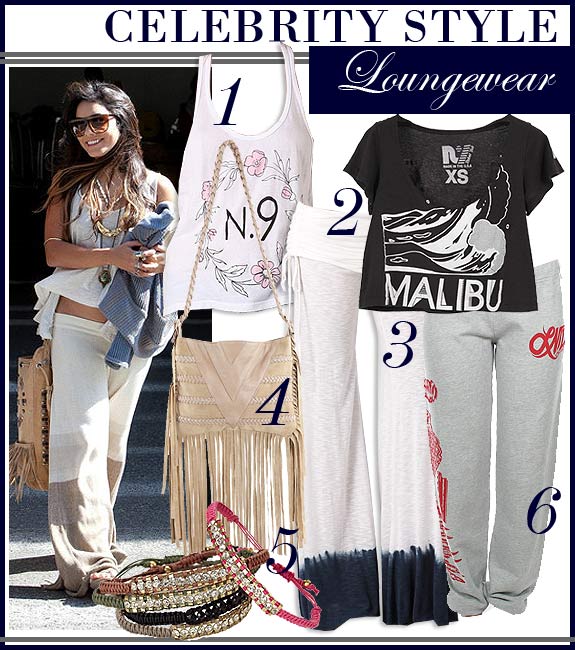 Summer was made for lounging. Long sultry days on the beach, backyard BBQs with friends, nights under 4th of July fireworks, and the sweet, sweet days of summer vacation. Even the celebs have kicked it into low gear, trading in their red carpet gowns of the awards season for cute little tees and oh-so-forgiving sweats. Even though it's the season of kicking back, there's no reason to give fashion the boot. Big trends in loungewear this season include cropped tees, floral-printed tops, and wide-legged lounge pants.  And don't forget the accessories…totes, fringe-embellished bags, and friendship bracelets are big hits for summer style.
1. Wildfox Flower Potion Tank ($70)
This Wildfox tank has the hottest print of the summer season. Florals are IT, so add a little flower child to your wardrobe with this swingy tank. Pair with wide-legged lounge pants and a pendant necklace for Vanessa Hudgen's easy breezy look above.
2. Rebel Yell Malibu Wave Crop Top ($57)
So long tunic-length tees! Make way for the cropped top. Rebel Yell's Malibu Wave Crop Tee is the perfect pair to your bikini and cut-offs. Its Malibu beach print brings a little So Cal to any locale. (A favorite brand of Tisdale, Cavallari, and Patridge.)
3. Young Fabulous and Broke Sierra Border Pant ($120)
We've gone from yoga pants to leggings to sweats…the wide leg lounge pant is the next big thing in loungewear. These Young Fabulous and Broke Sierra Border Pants have beautiful dyed blue hems and a scrunchie, rollover waist. These are the perfect pants to show off that summer crop top with!
4. Ember Skye Nicole Bag ($374)
A must have for your handbag collection! The fringe bag brings the boho vibe to any look. This Ember Skye is the perfect size…not too big, not too small…for summer excursions of all kinds. A warm neutral color ensures that it goes with everything already in your closet.
5. Shashi Raw Bracelet ($19)
A myriad of colors, a rainbow of choices, this Shashi bracelet is woven to please anyone and everyone. Tiny rhinestones add some sparkle to the classic schoolgirl style. Young Hollywood loves to stack these up and down the arm, so start a collection.
6. Lauren Moshi Erin Love Sweat Pant ($125)
The ultimate piece of loungewear is obviously the sweatpant, so when artist Lauren Moshi brings her print to a pant, the ultimate sweatpant is created. Seen on Sarah Jessica Parker, this love-inspired print will be your go-to favorite all year long.
Most Read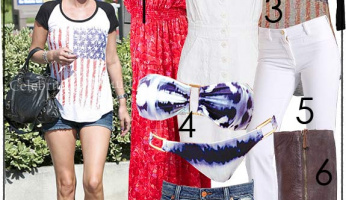 Subscribe to our Newsletter