Year-Round Booties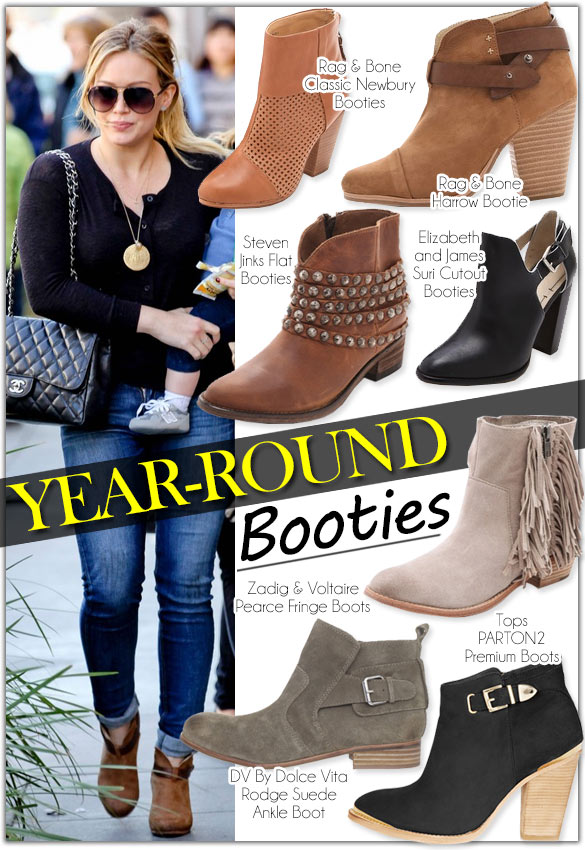 As we meander into May, spring and summer trends are settling themselves into place. In apparel, anything printed, striped, dotted or floral is big, especially when mixed all together. In footwear, the clear and somewhat surprising favorite continues to be the bootie. Even as we shook our booties all winter long, celebrities and fashionistas alike have agreed not to shake them off at all this year. Case in point: Hilary Duff. Out with her sister for lunch and out at Coachella this weekend, Duff chose booties, even as the temperatures have begun soaring in Los Angeles. First with distressed cutoffs and then with rolled skinnies, Duff gives us two great ways to wear booties on into summer.
1. Rag & Bone Harrow Bootie: Looking for a bootie to wear year round? My favorite (and one of Duff's, too) is the Rag & Bone Harrow Bootie. Hilary wore hers with rolled skinnies, chic aviators, and a casual navy blue henley for lunch with sister Haylie.
2. Rag & Bone Classic Newbury Booties: Pretty perforations. I've spotted the perforation trend all over, but mostly in flats this year. I was pleasantly surprised to find this trend in Rag & Bone's Newbury Bootie, too! Wear them with any kind of denim, from leggy skinnies to Daisy Dukes.
3. DV By Dolce Vita Rodge Suede Ankle Boot: Extra low ankle booties are a great option for year round wear because they let your ankle breathe, even in hot weather. I love the masculine moto detailing and think these booties are a great way to add a little tomboy flair to any look.
4. PARTON2 Premium Boots by Topshop: These booties have the edge. The juxtaposition of a light wood stacked heel and smooth black kid suede make these an option for many, many looks. My favorite details are found on the back of the ankle: tiny gold studs and a curved gold plate.
5. Jinks Flat Booties by Steven: Modern cowgirl. Pair these Wild West-inspired booties with a pair of cutoffs, a long floral maxi or a crochet mini dress for a page torn from the book of Carrie Underwood or Hayden Panetierre in Nashville.
6. Zadig & Voltaire Pearce Fringe Boots: Fringe-tastic. Fringe is back for another round this summer, and continues to be a dominant trend on the boho front. Pair with fist-fulls of jewelry, something lace, and floral to tap into your inner bohemian girl.
7. Elizabeth and James Suri Cutout Booties : A true year-round bootie, Mary Kate and Ashley Olsen's Suri Bootie is sexy and sophisticated. The upper cutouts make them warm weather appropriate, but the closed toe guarantees that they will wear well into autumn.
Most Read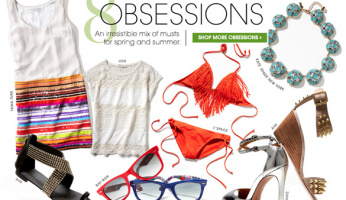 Subscribe to our Newsletter