Wrap Up: Cold Weather Accessories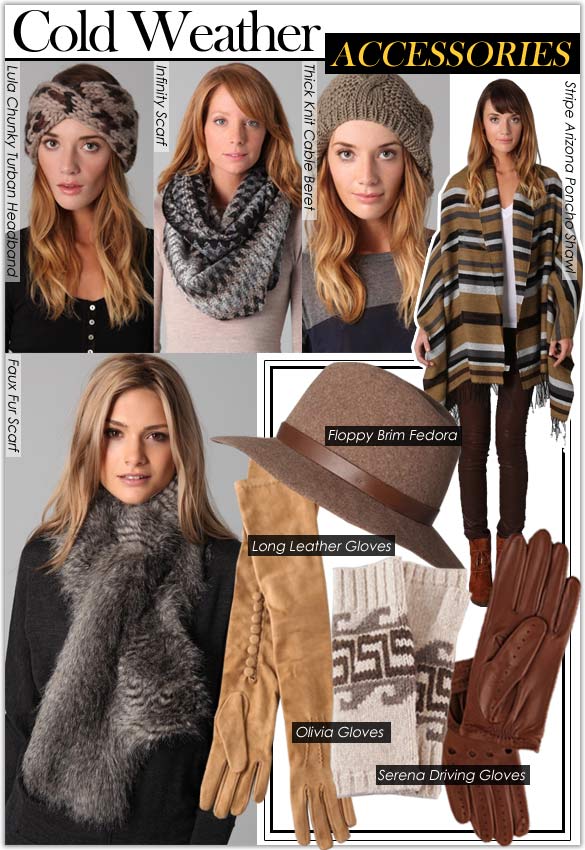 Cold weather accessories are must-have pieces in the dropping temperatures of November, and they're an excellent way to add your personal style to your outerwear. Whether you are a boho queen, a lover of the classics, or a glam girl, add your signature look with this tidy wrap-up of gloves, hats, and scarves.
GLOVES
Bohemian Club Monaco Olivia Gloves ($59)
Fingerless gloves lend warmth without sacrificing versatility or trend. Geometric patterning in neutral hues adds just the right amount of boho styling. Wool blend for optimum coziness.
Classic Chic Club Monaco Serena Driving Gloves ($69)
A no-fuss classic, these driving gloves are the definition of chic. Detailed with perforated fingers and punched knuckles, these tobacco-colored gloves are finished with a surprisingly sexy cutout. For driving…and making an entrance.
Hollywood Glamour DSQUARED2 Long Leather Gloves ($480)
Made in Italy, meant for Hollywood. These long leather kid gloves add drama with their fingertip to above elbow length. Raised seam detailing with row of tiny buttons.
HATS
Bohemian Bop Basics Thick Knit Cable Beret ($58)
Layer on a cozy beret and channel a youthful vibe. Slouchy berets have been spotted on Ashley Tisdale and Vanessa Hudgens, but their classic shape ensure that any age can pull off this trend. Features this season's must-have chunky cable knit composition.
Classic Chic Rag & Bone Floppy Brim Fedora ($150)
Hollywood's hottest throwback, the floppy brim hat has made a huge comeback….probably because of its classic lines and elegance-bestowing charm. Wool-felt hat with a button detail at the leather band.
Hollywood Glamour Eugenia Kim Lula Chunky Turban Headband ($77)
Turbans were rocked by the Kardashian Klan last season, so they set the stage for this one. Chunky knit is twisted into a glamour-seeking head wrap. Cozy, comfortable, and a fresh take on winter wear.
SCARVES
Bohemian Spun Scarves Stripe Arizona Poncho Shawl ($60)
Ponchos are winter's boho go-to, and this one carries on last season's love of Native American prints. Layer over a legging and bootie, this shawl makes great travelwear…especially on cool winter airplanes or extra long commutes.
Classic Chic Missoni Infinity Scarf ($154)
Add a bit of Missoni's iconic style to any outfit….layer over your coat or blazer, sweater or tee for an infinite amount of options. Open weave woven into a continuous circle of style.
Hollywood Glamor Club Monaco Faux Fur Scarf ($99)
It doesn't get more Hollywood than fur. This winter, fur details everything from boots and booties to sweater cuffs and coat collars. Add a fur finish to any piece with this faux scarf. A pull-through detail adds a delightful twist to this classic scarf.
Most Read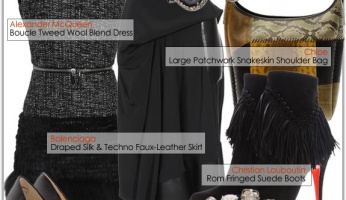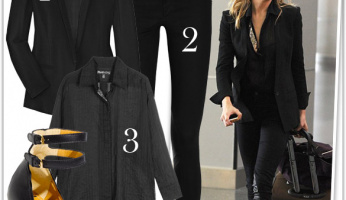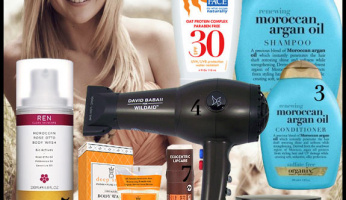 Subscribe to our Newsletter