Happy Halloween!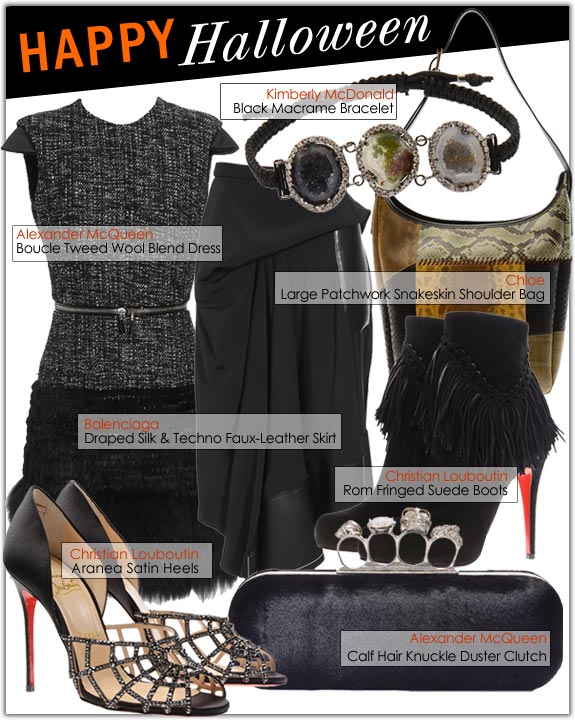 Happy Halloween! I hope your day brings the sweetest of treats, delightful frights, and, of course, boo-tiful style. A line-up to bring out the witchy woman in us all, these pieces hit the mark with their devilishly divine details. Whether your ready to mount a broomstick or fly into an office party, a tweed dress finished in fur or fringe-embellished bootie is more treat than trick. Looking for something more subtle? A snake-y tote, a skull-ring clutch, or geode charm bracelet cast a sneaky spell. Finally, take on twilight with crystal-embellished spiderweb heels or a bewitching leather-trimmed skirt.
1. Christian Louboutin Aranea Satin Heels with Strauss Embellishment ($1615)
Webs of anthracite strauss stones grace the front of these red-bottomed stillettos. Loubs with a twist, these matte black satin heels will take you from Halloween to Holiday Party. Open toes with open sides. Lined with leather and cushioned insoles.
2. Balenciaga Draped Silk and Techno Faux-Leather Skirt ($2100)
A simple white blouse or sleek black turtleneck lets this skirt make its own magic. Faux leather hemline trim and patch pocket adds balance and volumes of interest to its gathered, draped shape. Fitted waist. Silk lining.
3. Alexander McQueen Calf Hair Knuckle Duster Clutch ($1960)
Clutch this eye-candy. Wrap your knuckles through four charm-encrusted rings: a small skull, a large faceted stone, a large skull encrusted with Swarovski crystals and a floral and skull band. Silver hardware complements its indigo calf hair body perfectly, while leather lining finishes this clutch with impeccable detailing.
4. Christian Louboutin Rom Fringed Suede Boots ($1165)
Cackle and crow, these booties have us all reeling with their braided trim and fiendish fringe. Pair with tights and a sexy mini to bewitch everyone in your flight path. Black suede platforms with signature red bottom and exposed back zip.
5. Kimberly McDonald Black Macrame Bracelet ($4095)
Bohemian beauty adds a twinkle to any look from flares and blouse to skinnies and black leather jacket. Black macame bracelet set with three diamond pave trimmed geodes. Charmingly chic.
6. Chloe Large Patchwork Snakeskin Shoulder Bag ($1815)
Rich autumn hues of mustard, green, and black get a twisted treat with python-finishing. Patchworked for a more boho-feel, this bag is large enough to stow your wand and a small cauldron. Thick leather shoulder strap and brown top-stitching details finish this tote with wicked good looks.
7. Alexander McQueen Boucle Tweed Wool Blend Dress ($6540)
Finished in mink trim, this tweed dress is beautifully beguiling. Structured shoulders and a skinny belted waist give way to surpisingly kicky mink trim. Paired with simple black pumps, this dress goes from office to afterhours tryst with ease. Pointy black hat optional.
8. Christian Louboutin Eden Studded Leather Clutch ($1495)
Statement accessories are an easy way to transform your look and Christian Louboutin's spherical studded leather bag guarantees an edgy upgrade. Carry this directional piece against ethereal prints and barely there chiffon layers for an instant touch of tough.
Most Read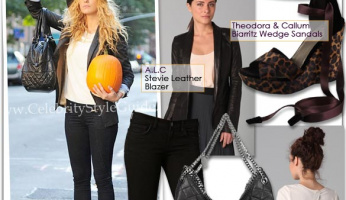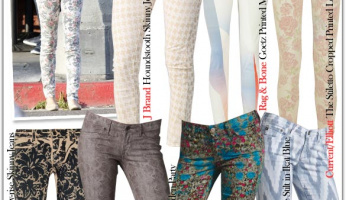 Subscribe to our Newsletter