10 Women's Christmas Sweaters (Starting at $15) Our Editors Picked!
Every year there's a new trending Christmas sweater style. A few years back it was the "ugly Christmas sweaters" which were charming because they were cheesy. I have personally been victimized by this trend and now avoid any photos from the holidays of 2014-2017.
If you also have fallen victim to this cute and hopeful but tragic trend, then you'll be happy to hear that we're phasing out of it as a society!
This year, cute Christmas sweaters are in. You can be fun and festive while keeping up with your great sense of style. We have a guide to cute Christmas sweaters, where to buy them, and how to stay cute and on budget this holiday season.
1. ASOS
The ASOS Design Petite Christmas Sweater with Merry Christmas Logo in Red is a cool, 90s take on a holiday sweater. It's a soft knit material in a crewneck style. With the words "Merry Christmas" etched on the front in a green, pink and blue medley, it's giving us retro vibes and we're all for it!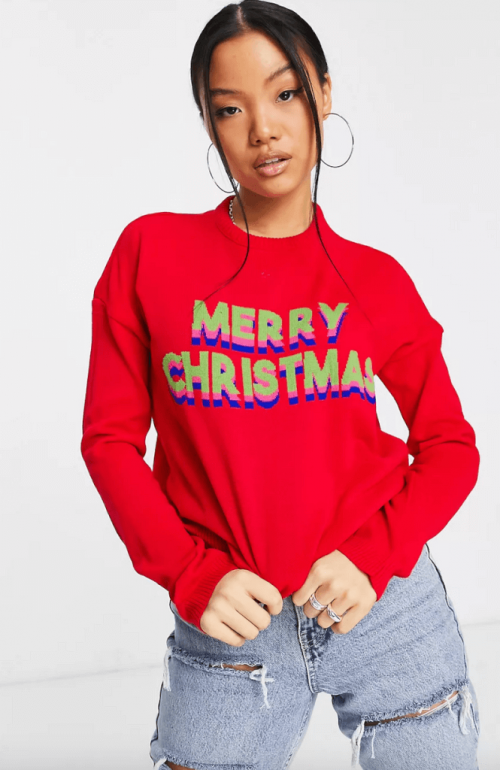 The ASOS Design Curve 'Christmas Jumper' Slogan Sweater in Pink is a lightweight, soft knit sweater that's reminiscent of a varsity style with the red tipping at the collar, arms, and bottom of the jumper. The pink and red colors are very preppy and remind us of something Elle Woods from Legally Blonde would rock.
"Christmas Jumper" is stitched on the front, giving it an unironic, straightforward approach to a holiday sweater but we think this is too cute to pass up.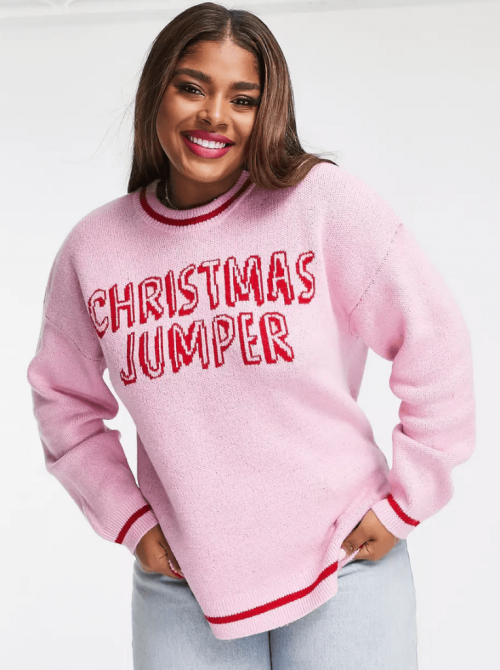 2. Pretty Little Thing
The Baby Pink Gingerbread Man Crop Christmas Sweater is perfect if you're feeling playful this Christmas. This cropped sweater has a boxy, but true-to-style fit.
It has a cute and festive gingerbread man and snowflake design which could be cheesy if the sweater wasn't so cute! The cut of this sweater and the baby pink color definitely give this seen-before design a trendy update.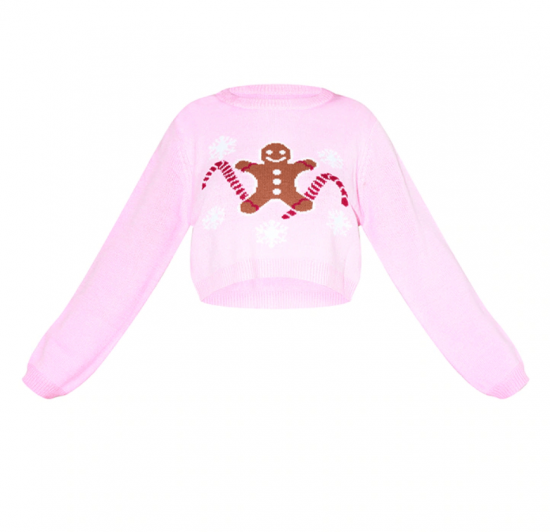 The Lilac Ho Ho Ho Crop Embroidered Christmas Sweater is for the girls who like to bring a little humor to the table. It's a cozy, lightweight top in a cropped style. It has a "Ho Ho Ho" embroidery detail for a funny feature design. Still festive, still Christmas appropriate but just a little bit better than your average holiday sweater.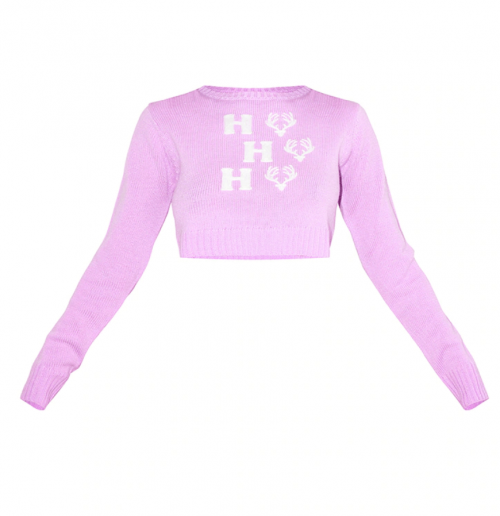 The Cream Christmas Cheer All Over Christmas Sweater is for the minimalistic girls. This cream knit crewneck is lightweight but warm. It has the words "Christmas Cheer" printed over and over again across the sweater in a periwinkle color. It plays on the trendy neutral color palette we've been loving, but with a Christmas twist!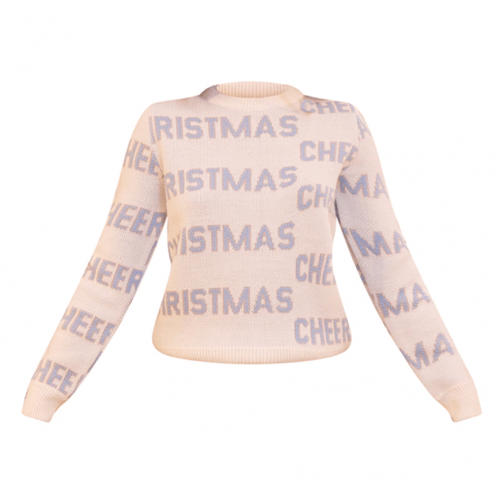 3. Boohoo
Boohoo's Snowflake Christmas Jumper is a sweet and simple take on a holiday sweater. It comes in either a sparkly navy or purple color, keeping on a dark and winter theme. It features a high neck and fuzzy material to keep you nice and cozy. It's festive and understated but with a touch of glitter for a glamorous feel.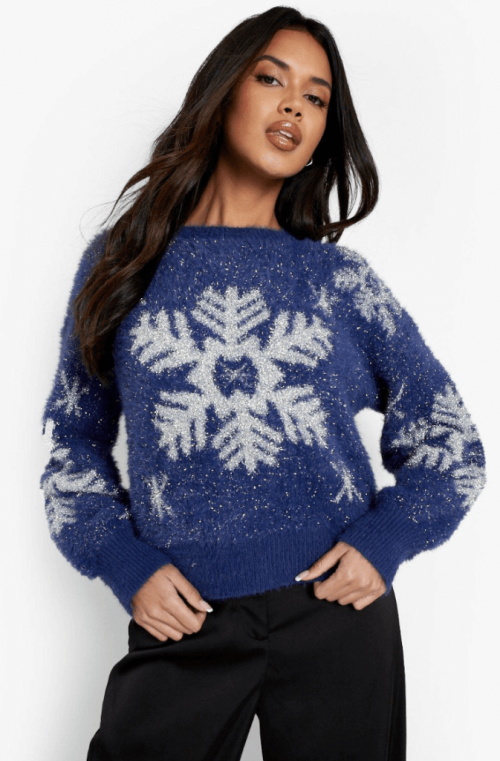 The Gingerbread Christmas Sweater is a very playful and fun statement sweater. It has a fun gingerbread and snowflake design that screams classic Christmas, but it comes in colors like baby pink and lilac to give it a trendy and feminine touch. It's warm, comforting, and oddly nostalgic.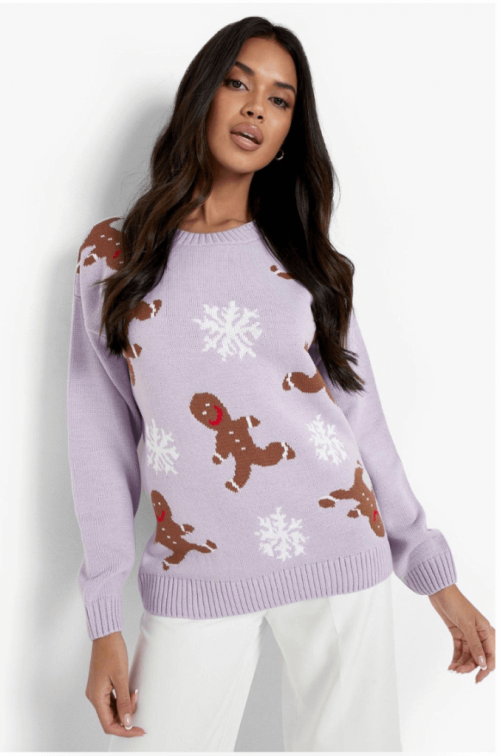 4. French Connection
This Muri Snowflake Wool Blend Sweater by French Connection is for the upscale Christmas events that your family takes way too seriously. It's a black and cream high neck, lambswool-blend sweater.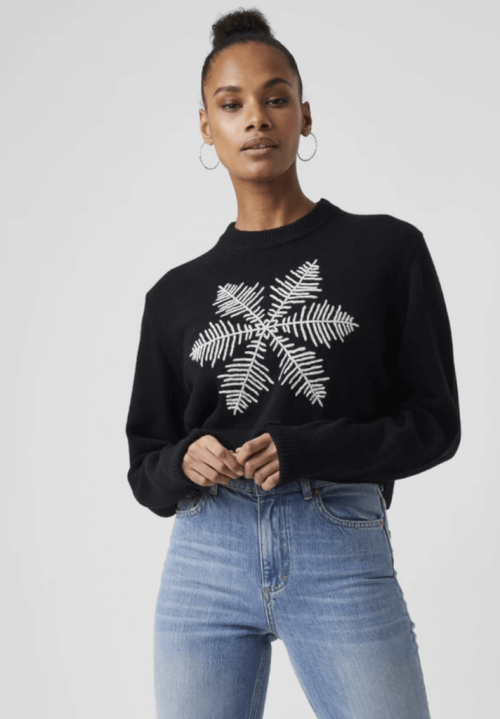 If this doesn't keep you warm, we don't know what will! It's also very simple, perfect for the minimalists who still want to enjoy a little Christmas cheer.
It features an embroidered snowflake on the front that alludes to how high quality this sweater really is. Festive and fashionable can coexist!
5. Urban Outfitters
Are you 30 and still sitting at the kids' table? Whether it's sheer lack of space or you just enjoy the fun energy, this sweater is going to be a hit with the children.
The Mickey Mouse Seasons Greetings Crew Neck Sweater is a pullover sweatshirt with a cheerful Mickey Mouse graphic on the front.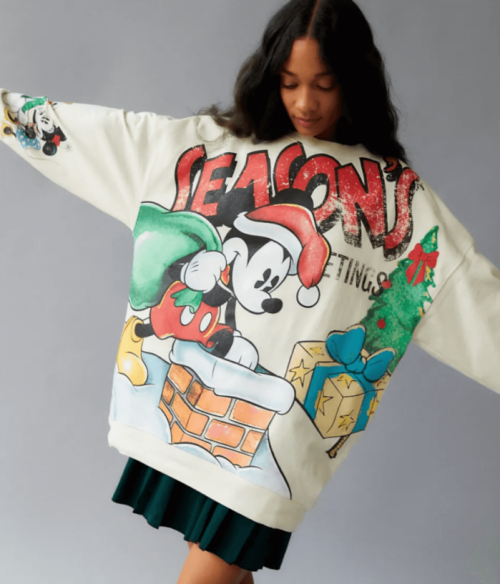 It has a classic crewneck silhouette. This sweater is 95% cotton and 5% polyester which explains the slightly higher price tag. It has a slightly oversized fit and a crackling design that feels very nostalgic. Perfect for a comfortable and casual Christmas day.
6. Amazon
Everyone knows humor is sexy. If you're looking to sex up your Christmas outfit, try adding this hilarious "Merry Drunk I'm Christmas" sweater. If you're the aunt who drinks one too many glasses of wine with dinner or the cousin taking shots before cookies, this sweater is definitely for you.
It's a round-neck, loose-fit style long sleeve t-shirt. It's a great layering piece and perfect for any casual family Christmas event. You'll be the hit of the party in this sweater.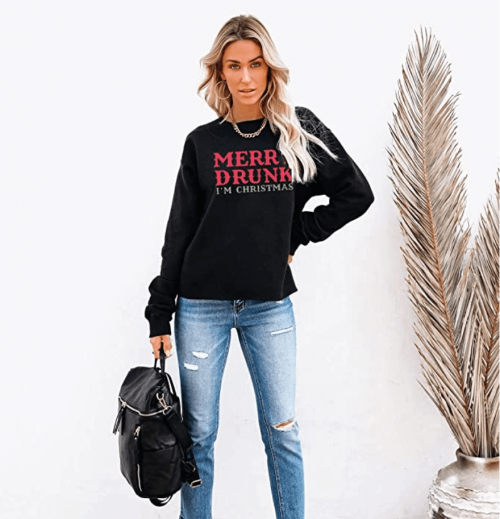 This reindeer patterned sweater is labeled as an ugly Christmas sweater, but I disagree! While it does have a slightly cheesy Christmas tree and reindeer design, the grey, and cream mix tones it down for a really cute and comfy sweater.
If ugly Christmas sweaters are still your comfort zone this is a great transition piece to a more modern approach. It still features a very recognizable Christmas pattern, but the color palette is simpler and slightly elevated.
It's a soft, high-quality fabric made of premiere acrylic and jacquard cotton so this sweater will keep you warm and put a smile on your face.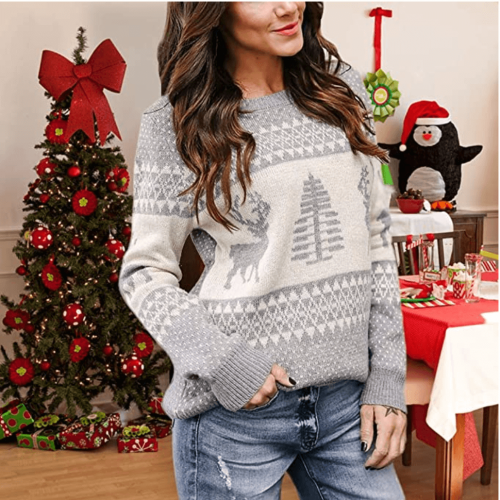 Subscribe to our Newsletter