What She Wears: Ashley Tisdale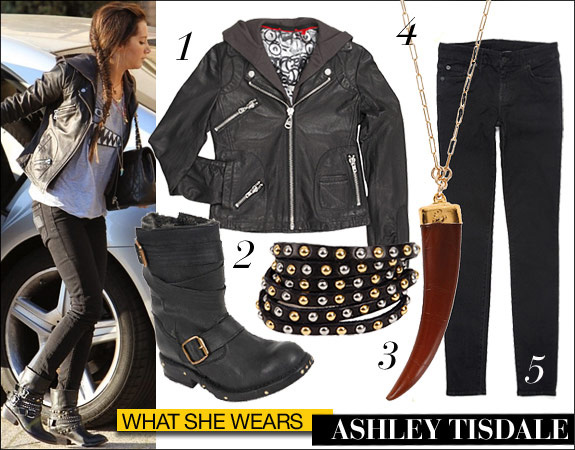 Hellcat star Ashley Tisdale is proving to be a hell of a dresser lately.  I love how Ashley's style is always relaxed, but edgy at the same time. Here's how you can get her look:
1. Doma Moto Hood Jacket in Black ($572)
I could go on for days about my love for the Doma Moto Hooded Jacket, apparently Ashley Tisdale loves it too!  Its zippers will make you feel like the rockstar you are ready to be.  I can just feel myself hopping on the back of a Harley now.
2. Jeffrey Campbell Brit Fur Boots ($285)
The fur lining on these Jeffrey Campbell's make the boot.  A perfect pick for the winter, these boots will keep your feet warm and the gold buckle and rebellious style is perfectly on point with the seasons trend.
3. Linea Pelle Double Wrap Triple Row Dome Studded Bracelet ($95)
A great choice for year-round, these Linea Pelle bracelets are great because you can buy a few and double them up, mimicking not only Ashley Tisdale, but Ashley Olsen where the layered bracelet trend was originated.
4. Tiger Lily Boho Tusk Necklace ($170)
It's edgy, it's cute and it adds a touch of girlieness to the outfit.  The tusk necklace gives softness to the black leather and rough and tough boots.
5. James Jeans Twiggy Legging Jean ($114)
You will find yourself wearing James Jeans throughout the entire holiday season.  They go great with this outfit because they're skinny enough to tuck away in your Jeffrey Campbell boots, but have enough stretch that they don't cut off circulation.
Most Read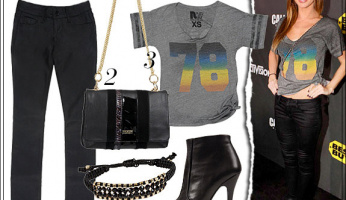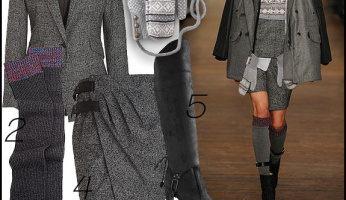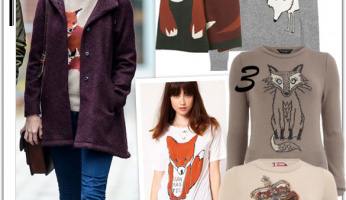 Subscribe to our Newsletter