Trending: Colorblocking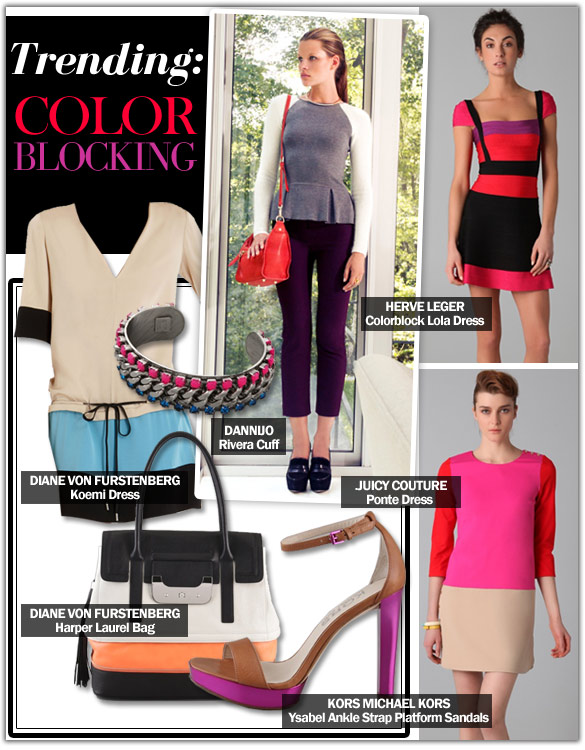 Work it now, and work it into spring. Colorblocking will be fresh all year round. For now, combine your favorite black pencil legs or neutral skirt with a colorblocked sweater and bright pumps (cobalt blue, plum, red). For spring and summer, pick up a colorblocked sheath, tunic or maxi dress. This trend is biggest and best when worn as a dress, but if you want colorblocks on a smaller scale try an accessory. Jewelry, bags, and especially shoes are a fun way to mix bold combinations of color into your look.
1. Kors Michael Kors Ysabel Ankle Strap Platform Sandals ($250)
Luggage brown sandals…sounds so neutral, right? Not when you add a fushia platform and heel. The best part about these sandals is that they can still be worked as a neutral with this season's any-color-goes attitude.
2. Dannijo Rivera Cuff ($216)
Blocks of bling. This cuff gets its colorblocks from rows of pink and blue crystals and oxidized, silver-plated curb chain. Add to any look, day or night.
3. Herve Leger Colorblock Lola Dress ($1590)
Oh Lola! You've got it right. Blocks of berry pink, fushia, purple and black come together in perfect harmony. No one will doubt that you own the trend in this mini dress. Banded throughout for a figure-hugging fit, its circle skirt offers a playful twist.
4. Juicy Couture Ponte Dress ($228)
Office or play. Add thick black tights to this jersey dress for your 9-to-5, then add flirty flats (or sandals) for play. Snaps at skirt and shoulder add sweetness to this tan/pink/red combo.
5. Diane von Furstenberg Koemi Dress ($385)
Taking the blocks to the beach. Tan and blue colorblocks mimic the sand and the sea, while black anchors it all. Drawstring waist with elbow length sleeves and v-neckline. Resortwear favorite!
6. Diane von Furstenberg Harper Laurel Bag ($685)
Demure, yet dapper, DVF brings blocks of color to the world of handbags. This Harper Laurel bag features ivory and black, and a pop! of neon orange. This combination of neutrals and color is spot on. Finished with an over-sized tassel and silver hardware.
Most Read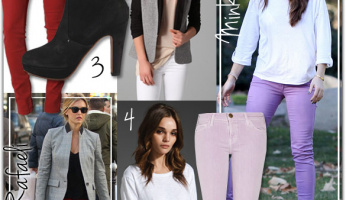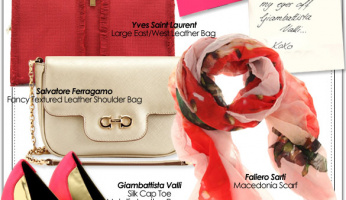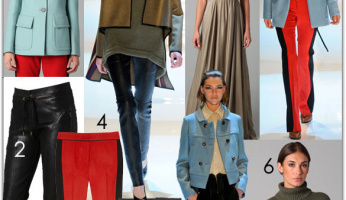 Subscribe to our Newsletter