Runway Edition: Derek Lam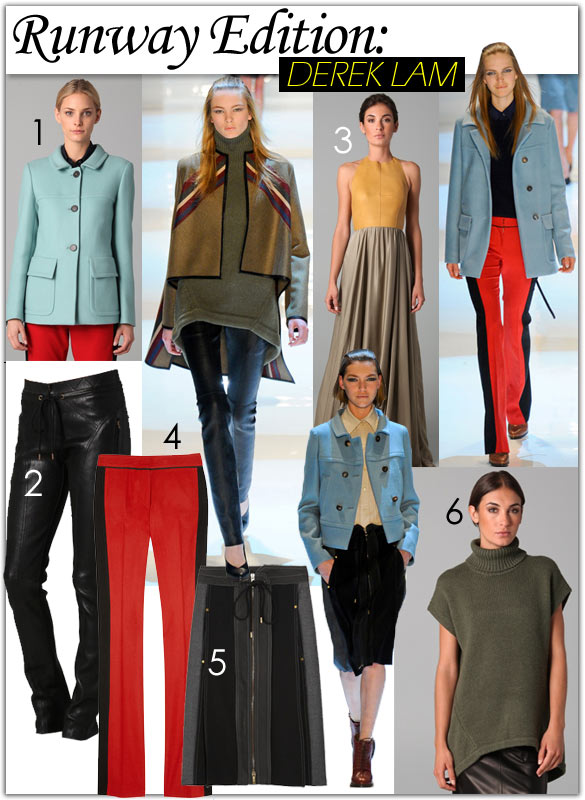 Derek Lam's goal is to create "clothes that are both luxurious and wearable, with a feminine but unfussy beauty about them." His fall runway achieved that goal, with its stunning blend of the contemporary and the elegant. His mix of leather and wool, leather and cashmere, and even leather and satin brought about a modern, yet unmistakably feminine feel. Pops of red and baby blue brought life to basic black pieces, while well-cut leather pieces brought the edge to knits, silks, and wools. Steal his runway style for your own by mixing these pieces into your fall wardrobe:
1. Derek Lam Pea Coat ($2190)
Lam mixed this pea coat with sleek red wool trousers and a simple black blouse for an easily attainable, yet runway-worthy outfit. This coat capitalizes on the tweed trend, while staying timeless with its classic pea coat cut. 3-button closure with flap hip pockets and 3-button cuffs.
2. Derek Lam Drawstring Leather Trousers ($2390)
Go just a little rocker, a touch moto-chic with these sleek stretch-leather trousers. Add a warm knit, like the turtleneck below, to capture Lam's love of mixing textures this autumn. Skinny leg with quilting at the drawstring waistband and seam detailing throughout. Zip pockets at hip and back.
3. Derek Lam Halter Gown with Leather Bodice ($3600)
Red carpet worthy, this spotlight would be incomplete without a nod to Derek Lam's gorgeous gowns. A stunning mix of leather and silk, this crew-neck halter gown features a soft leather bodice and a flowing satin skirt. On-seam hip pockets give a surprisingly casual vibe. Skirt lined to the knee, with a short flowing train and open back for a touch of drama.
4. Derek Lam Block-color Stretch-wool Pants:
Lam chose the pea coat above to make a statement of contrasts with this colorblocked pant. Slim, sexy, and sophisticated, these delicious wool pants go bold without getting overly fussy or trendy. Pair with a basic black blouse and your favorite statement cuff or cocktail ring.
5. Derek Lam Two-tone Wool-blend and Twill Skirt ($1190)
A play on texture, this skirt mixes wool and twill panels with a modern exposed zipper and tiny gold studs. Its tie waist is meant to be shown off, so make sure to tuck in a creamy blouse or knit to showcase its impeccable details.
6. Derek Lam Asymmetrical Turtleneck ($1390)
Cozy cashmere adds femininity to this mod turtleneck. Its asymmetrical hem and relaxed fit pair perfectly with a skinny leg pant or legging. 14″ back vent with seam details at hips and short sleeves for ease of layering.
Most Read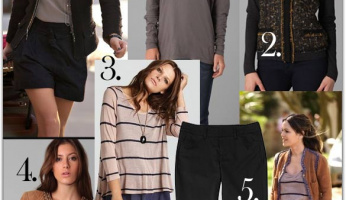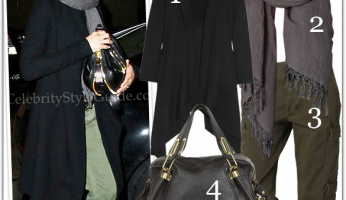 Subscribe to our Newsletter