Travel in Style: Kristin Cavallari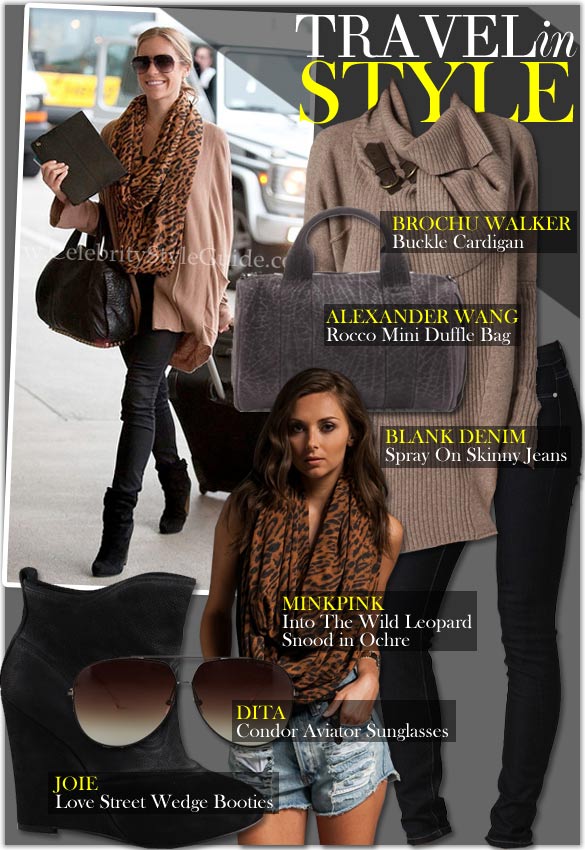 As the holidays approach, travel season swings into full gear. When considering your travel outfit style is important, but comfort and convenience are just as crucial. Dress in layers, so that you can adjust your own temperature in accord with drafty jet bridges or overheated cabins. This season's snood (a scarf-hood hybrid) can be wrapped around your neck when on the go and cozied up with as a personal blanket. Other must-haves? Booties that slip easily off and on when going through airport security, stretch skinnies that retain their smooth shape, and aviators to hide tired travel eyes. Let Kristin Cavallari serve as your muse, because her LAX ensemble serves as an example of how to travel in style.
1. Joie Love Street Wedge Booties ($295)
Slip into style. Don't struggle with buckles, laces or even zippers, just slip into these chic booties and be on your way. Pebbled leather wedge booties with raised seam details and a scalloped top line. Back pull tab.
2. Brochu Walker Buckle Cardigan ($445)
The cardigan is the patron sweater of travelers everywhere. An easily removable piece, the cardigan adds or takes away warmth as needed. This warm neutral is versatile, yet sets itself apart with its double buckled-strap closure, oversized shawl collar, and draped, open placket. Long dolman sleeves.
3. Blank Denim Spray On Skinny Jeans ($75)
Super stretch. Keep your shape across the miles with these ultra stretchy jeans. Style your look around this foundation piece. Faux hip pockets and patch back pockets with a single-button closure.
4. DITA Condor Aviator Sunglasses ($375)
Star-worthy shades. Hide tired travel eyes with Cavallari's chic aviators. These classics feature a wire frame, gradient lenses, and etched 'Dita Condor' lettering at left lens.
5. Alexander Wang Rocco Mini Duffle Bag ($875)
Big enough for the essentials, small enough to save your arms. This Alexander Wang isn't anything like your gym duffle; its structured shape is complemented by silver hardware, double top handles, and silver stud feet. Clip on its adjustable shoulder strap for a hands-free carrying option.
6. MINKPINK Into the Wild Leopard Snood ($88)
Feline finish. Jewelry isn't always travel-friendly, so complete your look with a statement scarf. This leopard-printed snood (an extra wide circle scarf that can be worn as a hood/scarf combo) serves double duty as a lap blanket and neck warmer.
Most Read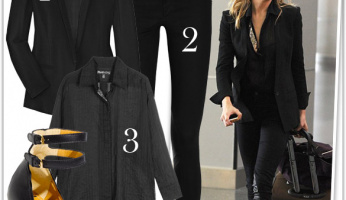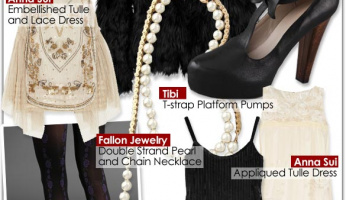 Subscribe to our Newsletter