Style Inspiration: Roaring 20's
Jazz. Art Deco. The rise of Hollywood. Dance clubs and speakeasies. The Roaring 20's are our style inspiration of the day, and that of designer Anna Sui's latest collection. Drawing inspiration from the straight-lined, knee-length dresses of the flappers, Anna Sui also added all the vintage trims: feathers and sequins, appliques and lace. Try one for Holiday 2011, paired with tights, throwback pumps, and, of course, an extra long string of swing-able pearls. Step out in vintage modern, and step out as a true modern woman, born of those suffrage-fighting, knee-baring ladies of the 20's!
1. Anna Sui Appliqued Tulle Dress ($715)
Subtly sexy, this not-so-innocent cream dress gets its feminine flair from its delicate color and all-over rosettes. A mini-dress hem pushes the limits of the flapper, but gives it the modern twist it needs. Crew neckline with simple tank straps and a petal-embellished skirt.
2. Anna Sui Sequined Tulle Dress ($865)
Holiday-ready. Another 20's-inspired style, this dress has a foxy flavor. Again using rosettes and petal embellishments, Sui adds black sequins to up the party ante. Thin straps with a simple scooped neckline and mini dress hem.
3. Anna Sui Cropped Faux Fur Coat ($1386)
Fabulous in fur. This jacket is meant for the scene: jazz club or nightclub. Throw it on over the dresses above or over your favorite going out top and skinnies. Cropped and composed of faux fur.
4. Anna Sui Embellished Tulle and Lace Dress ($1065)
Perhaps the most vintage of all, this wonder of a dress looks like the original. Creamy tulle and lace is embellished with plenty of sequins and sparkle. Dazzle with this intricate creation, a vision of details: v-neck bib neck, ruffled back and side hems, embellished apron front.
5. Anna Sui Floral Back Seam Tights ($25)
Simple black? I don't think so. These trendy tights look simple enough coming, but surprise with a purple floral pattern as they go. Pair with any skirt or dress in your wardrobe for a touch of Twenties appeal. Elastic waist.
6. Fallon Jewelry Double Strand Pearl and Chain Necklace ($140)
A trademark of the times, a 20's gal just wasn't a flapper without her string of pearls. Pair with a simple tee (a la Carrie Bradshaw) or with a straight, sequin-embellished dress. Tiered glass-pearl necklace with 14k gold-plated bicycle-chain insets and a fun over-sized ring closure.
7. Tibi T-strap Platform Pumps ($436)
Kick up your heels! Tibi's t-strap platforms boast a touch of vintage appeal, but are made for the modern working girl. Pair with dresses, skirts or even your flares. Platform pumps with bow detail at the t-strap and a buckle closure at the ankle. Faux-wood heel.
Most Read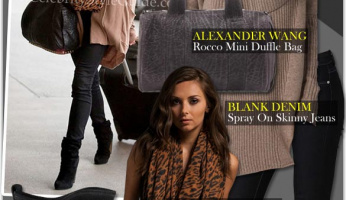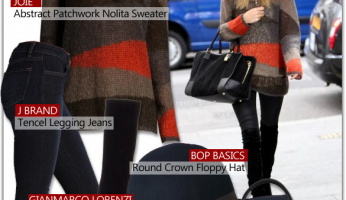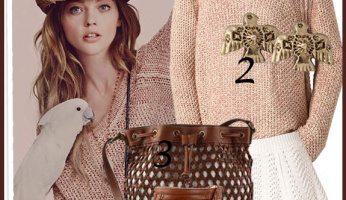 Subscribe to our Newsletter