The Scents of Summer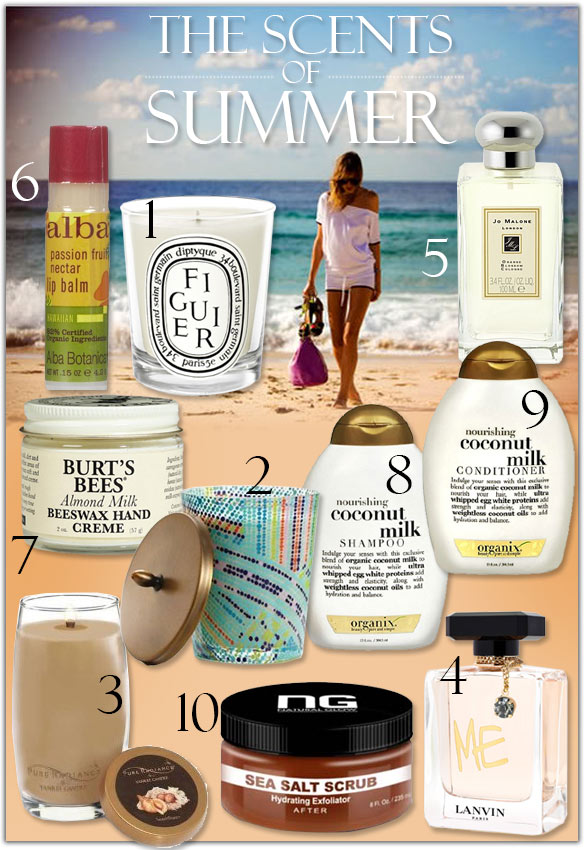 Tropical coconut. Passion fruit and pineapple. Roses and orange blossoms. Warm fig and sandalwood. Salty ocean air and fresh beach grasses. These are the scents of summer, a season with a unique set of fragrances. I like to indulge in these scents, whether that be in a floral perfume or a spicy cologne for my man. I also love to stock up on scented candles for hostess gifts, presents, and for entertaining in my own home. But my favorite way to experience these scents is with luxurious beauty products like a coconut shampoo, fruity lip balm, or salty body scrub. Experience the scents of summer with me…
1. Diptyque Figuier Candle: The creme de la creme. Diptyque candles are my go-to for hostess gifts. The neutral labels complement any decor and the fragrances are sublime. I love the figgy freshness of their Figuier candle.
2. Illume Boho Candle Oceano: Leafy greens, summer fruits, jasmine, and white musk. The combination of this quartet is reminiscent of the fresh ocean air. Let it fill your house with memories of days by the sea…I can almost hear the waves on the beach…
3. Yankee Candle Beach Front: Evoking more memories of days at the beach, sunsets in the sand, weekends at the family beachside cottage. There's nothing more quintessentially summer than time spent with sand between your toes and salty ocean water in your hair.
4. LANVIN ME! Sensual and a little sweet, Lanvin's ME! perfume is composed of bright blueberry, feminine white floral, and spicy liquorice black wood leaves. The combination is altogether addicting and reminds me of summer love, those hot weather flings.
5. Jo Malone Orange Blossom Perfume: Garden parties, afternoon cocktails, long weekend brunches. The light scents of clementine and orange blossoms tell me to stop and smell the flowers…literally. This perfume is for taking it slow, a more languid pace of life.
6. Alba Passion Fruit Lip Balm: Passion fruit pucker. I adore swiping this fruity balm on my pout when I'm stuck inside behind the computer. It transports me to another place when I'm not allowed a beach day!
7. Burts Bee's Almond Milk Hand Cream: Burt's Bees's almond milk hand cream is sweet and earthy and reminds me of my childhood. It takes me back to days in cutoffs, long bike rides, and slumber parties with all my gal pals.
8. Organix Nourishing Coconut Milk Shampoo: Coconut scents are my frontrunner for winning summer scent. Whether is a coconut-scented suntan lotion or a coco-infused shampoo, this scent brings me back to every tropical beach I've visited.
9. Organix Nourishing Coconut Milk Conditioner: Not only is coconut a premier scent of summer, it's also a wonderfully nourishing product. Coconut water is a natural hydrator, and its rich milk makes for a fantastic conditioner.
10. Natural Glow Sea Salt Scrub: Salt and sand…both natural exfoliators. This scrub is all natural with its sea salt exfoliant, nourishing avocado and hydrating almond oil. Slather it on and emerge moisturized and glowy.
Most Read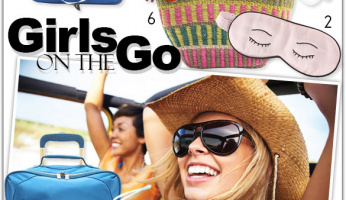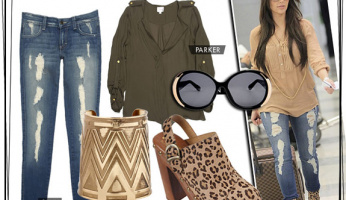 Subscribe to our Newsletter