Girls on the Go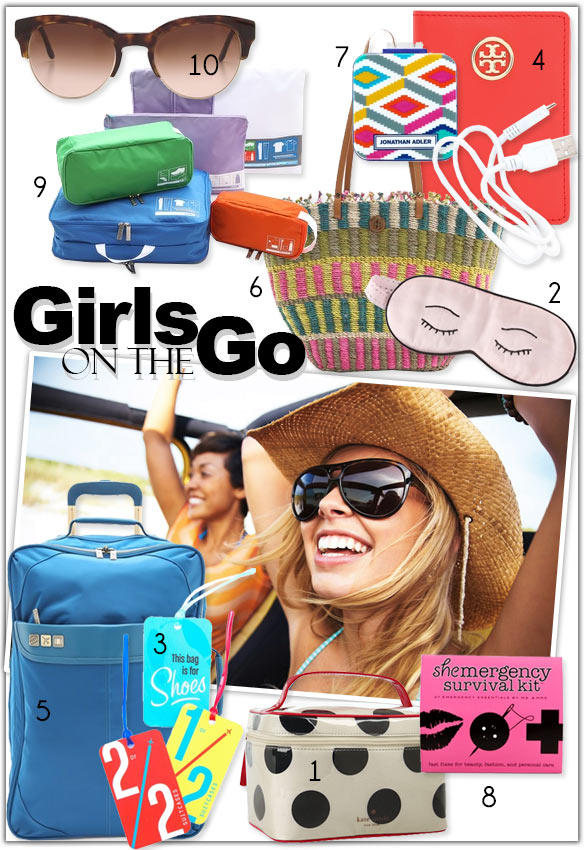 'Tis the season of the weekend away, the cross country roadtrip, the girlfriend getaway, the iconic summer vacation. For this much-anticipated travel season, I've pulled together my favorite travel essentials. If you're a girl on the go, it's all about the luggage, so I've rounded up my favorite carry-on, make-up case, and organizing essentials. Along with the perfect luggage, I never travel without my eye mask, my favorite shades, and a wear-with-all straw tote. Last, but not least, I'm excited to introduce you to my new favorite travel items: the Shemergency Kit and Jonathan Adler's On the Go Charger. With these items in tow, you'll have everything you need to travel like a well-seasoned celebrity!
1. Kate Spade New York Le Pavillion Small Natalie: Polka dot perfection. Kate Spade's Le Pavillion tote is the perfect size and shape for packing up your makeup or summer beauty essentials. I love a flat-bottomed tote because I can keep my cremes and liquids upright and organized. Its wipe-able exterior is a huge plus.
2. Mary Green Sleeping Eye Mask: Too bright hotel rooms, jetlagged afternoon naps, and long airplane rides…all call for an eye mask. Get one that's silk and padded with an elastic strap for one that's comfortable and stays put.
3. Flight 001 Shoe Luggage Count Tag Set: We've all got them…the standard black suitcases that disappear into the sea of similar black roller bags. Set your suitcase apart with these colorful tags! They've got room for all your contact information, too.
4. Tory Burch Robinson Transit Pass Holder: For city travel, keep your ID card and transit pass organized, safe, and handy with Tory Burch Transit Pass Holder. Its bright orange leather is both stylish and easy to spot in your purse.
5. Flight 001 Avionette Carry-On Suitcase: Upgrade to this first class roller bag. A carry-on suitcase that you won't want to stow away, Flight 001's Avionette has the retro style of the glamorous days gone by. I love it for its included SpacePack Travel Bag Set…which I've listed below (see number 9).
6. Tory Burch Multi Straw Tote: A straw tote doubles as a purse and as a piece of luggage. Use its roomy interior as a roomy carry-on bag, a beach bag, or a fun oversized purse. I love this bag's multi-colored stripes, which make it a true wear-with-all tote. Check out more fun totes here!
7. Jonathan Adler On the Go Charger: My favorite new travel accessory. Jonathan Adler styles this iPhone and iPod charger with his trademark cheerfulness. Charge up your essentials while you're out and about with its lithium-ion battery.
8. Pinch Provisions Shemergency Kit: This emergency kit provides everything the girl-on-the-go needs. A great gift for your bridesmaids, guests, or girlfriends, this little kit packs so many essentials: earring backs, stain remover, bandages, and blotting tissues…to name just a few.
9. Flight 001 SpacePak Travel Bag Set: An organizer's dream come true, these organizing bags also help those of us less organized. 🙂 One bag is for your clothes (with pockets for clean and dirty laundry), and the other 3 bags are for toiletries, shoes, and lingerie. Organize into the correct bag and then stow the whole lot in your carry-on or roller bag.
10.  Stella McCartney Oversized Round Sunglasses: I'm going with the retro theme this summer, and these Stella McCartney shades fit the bill. If you're going retro with me, choose round lenses with half metal frames (or round black plastic). I never leave home without mine!
Most Read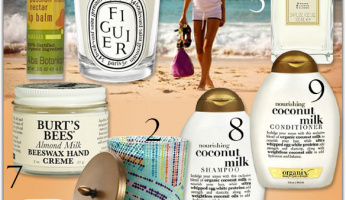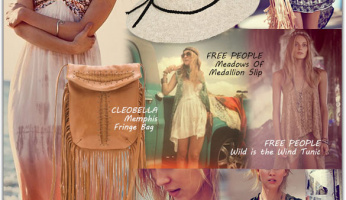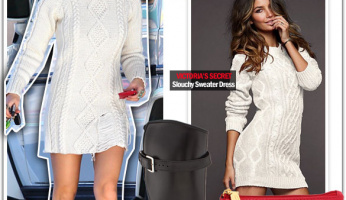 Subscribe to our Newsletter