Take On Fringe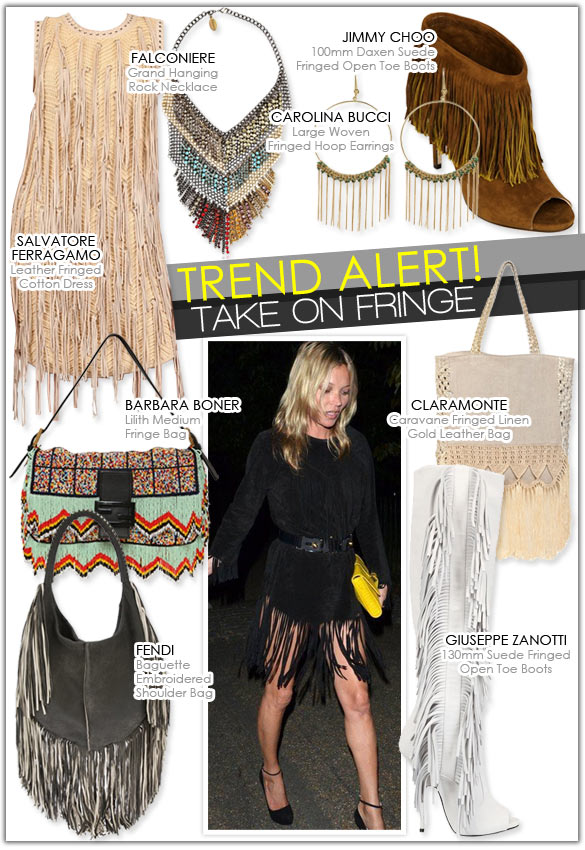 One thing's for sure…as I take on this new week, I'm taking fringe with me. Spotting this shot of Kate Moss confirmed it for me: fringe is HOT! A detail that I can see taking from spring break into the lazy days of summer, fringe is a trend that I'm capitalizing on this year. Whether it be a fringe-embellished bag or fringe-backed boots worthy of a Kardashian, fringe is sexy, feminine, and fun. Simply put, it has the power to turn up the heat on an outfit. My one fashion warning? There is such a thing as too much of a good thing. Limit yourself to one fringe piece per outfit, please!
Start your week with fun, and take on the trend with these fringe-tastic pieces:
1. Claramonte-Caravane Fringed Linen -Gold Leather Bag: I dream of long days on the beach. This white hot linen bag is steeped in gold, crochet, and plenty of fringe. Instead of a fringe-bottomed tank top, I'm opting for this more sophisticated fringe piece when I hit the sand.
2. CAROLINA BUCCI Large Woven Fringed Hoop Earrings: Delicate fringe. Just a touch of the trend can be added to any look with large hoop earrings. Woven silk is detailed with delicate gold fringe chain, and adds a fine gypsy flair to a maxi and wedges.
3. GIUSEPPE ZANOTTI 130mm Suede Fringed Open Toe Boots: Urban cowgirl. Taking trend to the max, these extra tall, uber fringed white boots are meant for warm breezes with their open toe and optic white color. Channel your inner J Lo or Kardashian sister in these bold statement boots.
4. JIMMY CHOO 100mm Daxen Suede Fringed Open Toe Boots: Another warm-weather boot, these booties have an ankle-full of cognac-colored fringe. I'd wear them back to a pretty printed dress or a legging-tight jean.
5. SALVATORE FERRAGAMO Leather Fringed Cotton Dress: Embrace the style of Kate Moss with this be-fringed beauty. Giving new meaning to a "basic" shift dress, this cotton dress is fringed out with leather pieces. A stunning entrance piece, for sure, and so much fun for date night!
6. FALCONIERE Grand Hanging Rock Necklace: Crave a bold neckline? Create your own. This hanging rock necklace takes a simple silhouette or a basic crew neck and makes it something truly grand. I adore its layers of warm, sparkling color.
7. Fendi Baguette Embroidered Shoulder Bag: To wrap it up, I'm adding in two more bags. I think a fringe-embellished bag is the simplest way to add the trend to your wardrobe. What could be easier than throwing it over your shoulder? I'm coveting this beaded, fringed baguette bag from Fendi as my spring bag this year.
8.  Barbara Boner 'Lilith' Medium Fringe Bag: The bold two-tone leather of this bag really stands out to me, but in an understated way. If you're new to the fringe game, this neutral bag is a great way to ease into the action. I guarantee that summer will be more fun with it swinging by your side!
Most Read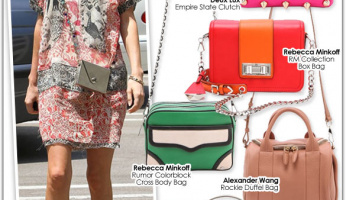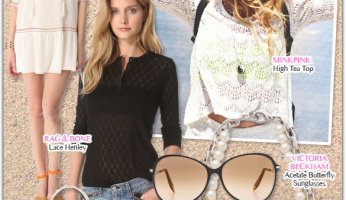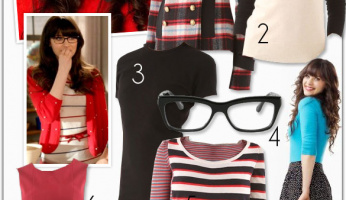 Subscribe to our Newsletter