Sweat Like A Celebrity!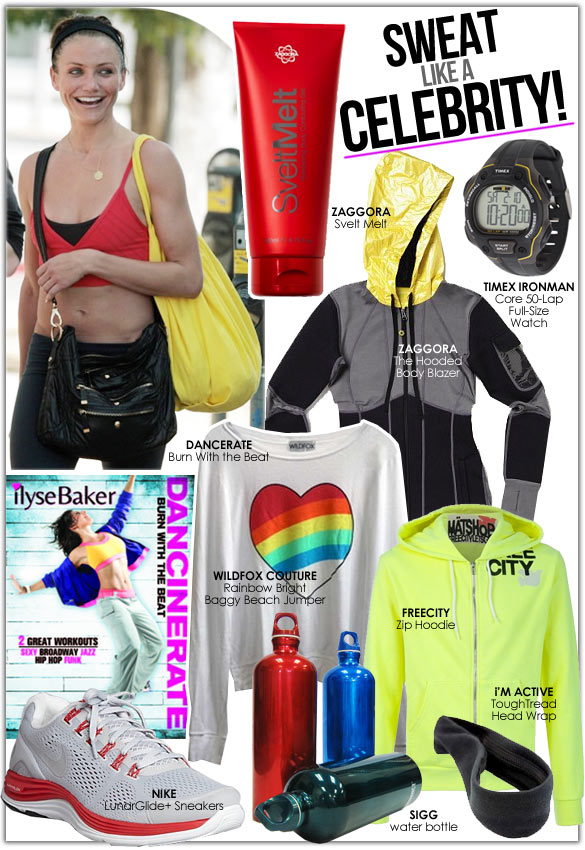 It's time to sweat like a celebrity! The stars are in full workout mode in the middle of Awards Season. With Hollywood's biggest night just around the corner, celebrities are putting the petal to the metal to shape and sculpt their bods for the Oscars (coming February 24). Join the celebrities in getting ready for their gowns, recommitting to your New Year's resolutions, or prepping for a Spring Break-ready body….and do it in style. I've composed a list of a celebrity gymwear and accessories. Pick these up today for a little extra motivation to get Cameron Diaz's abs, Jennifer Aniston yoga arms or Heidi Klum's legs.
1. Zaggora The Hooded Body Blazer: A fusion of color, this body-hugging gym "blazer" is pieced together with incredibly flattering lines. An ultra mod hood doubles as a reflective surface, so you'll be seen coming or going when you're out for a jog. Wear pre and post workout or grab it for chilly morning runs.
2. Ilyse Baker: Dancerate: Burn with the Beat: Celebrities like LeAnn Rimes love her classes! And it's no wonder. There are moments you forget you're burning calories with this fun dance video, a conglomeration of Broadway, hip hop, jazz, and funk.
3. Zaggora Svelt Melt: What is it? A toning and contouring gel boosted with caffeine, menthol, and peptides. The rave reviews showcase a flock of happy customers, boasting about their incredibly smooth and toned legs. Perfect for nights when you opt for a high slitted gown like Angelina Jolie did last year at the Oscars.
4. FREECITY Zip Hoodie: Neon is all the rage in gym wear. Bright yellow makes early morning gym runs more cheerful, and the color brings life to your look. I like the way this sweatshirt pops against my favorite black yoga pants and gives me a youthful glow.
5.  i | m active Tough Tread Head Wrap: Want to get Cameron Diaz's carefree, pulled-back ponytail? Use her exact headband! This Tough Tread Wrap was spotted on Diaz's signature blonde locks as she left the gym.
6. Wildfox Couture Rainbow Bright Baggy Beach Jumper: Another light, bright, colorful gym topper, Wildfox has an extra large celebrity following. Ashley Tisdale, Jennifer Lopez, Alessandra Ambrosio, and Taylor Swift…to name just a few. Rock this rainbow bright jumper from the gym to the beach.
7. Sigg Water Bottles: Ditch the plastic bottles, and opt for an earth-friendly Sigg water bottle. Refillable and reuseable, these bottles are beginning to abolish the plastic bottle trend…and I'm so happy. Choose your favorite color and save the earth!
8. Nike LunarGlide+ Sneakers: Uber-mod. When the celebs ditch their Manolos for the gym, their feet beg for comfort…and still style, of course. These Nike LunarGlide's have high tech ribbing and colorful accents, two of gymwear's biggest trends.
9. Timex Ironman Core 50-Lap Full-Size: Beat your time and make it in time with Timex's Ironman watch. Perfect for the accessory queen who feels naked without a bangle or the hard core gym rat looking to outdo herself.
Most Read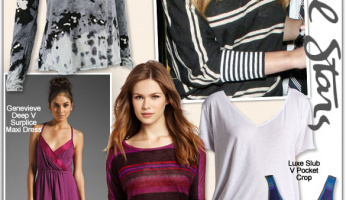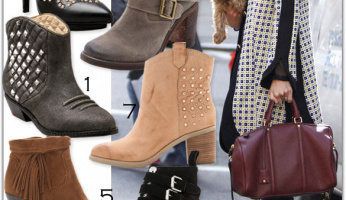 Subscribe to our Newsletter