Summer Hair Trends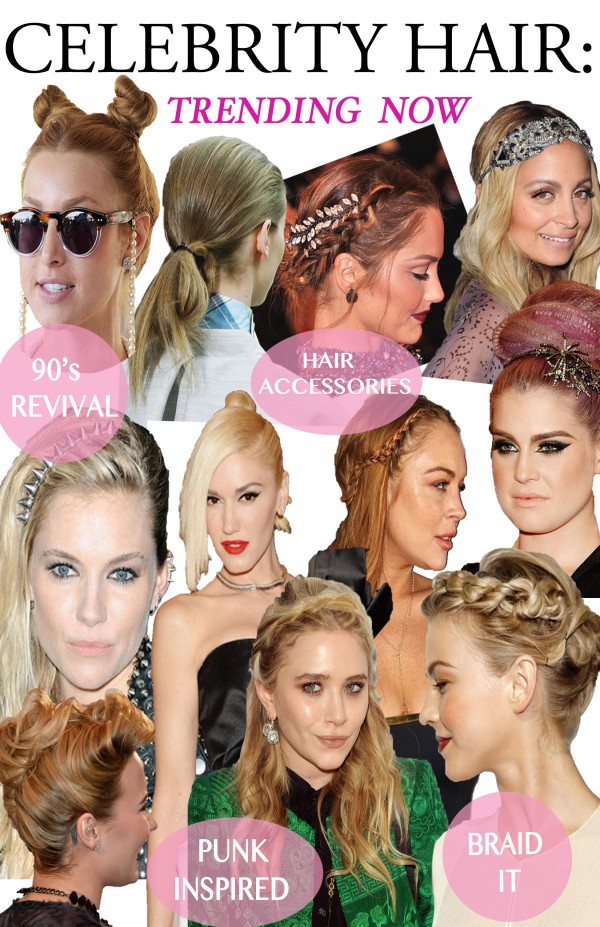 The hottest spring hair trends this season are all about reinventing new and creative ways to wear everything from an ordinary braid to a classic ponytail. Past decades are setting the stage for these new hair trends that celebrity's have been rocking everywhere from the red carpet to the streets.
Punk Inspired-Punk Inspired looks consisting of messy wavy/undone hair as well as slicked, gelled back hair is super hot right now. The Met Gala's Punk theme perhaps played a huge part in setting the stage for the revival of this rebellious trend in hair.  At the Met Gala this year we saw Sienna Miller opt for a a dramatic asymmetrical side part that played with opposites-texturized yet sleek. This look is a great way to reinvent your everyday part in an effortless way. I especially love how Sienna added a fun spiked headpiece that instantly upped the coolness factor. Gwen Stefani is another celebrity who is loving the punk inspired trend.We have seen Gwen rocking, what now has become her signature faux shave hair do, everywhere from an outing at the park with her boys to the  red carpet.This hair style is a great way to give simple updos a rock-n-roll twist. Other ways to incorporate a punkish feel into your hair routine is to add spike hair pieces to your do's or test out some temporary bright hair dye like Diane Kruger and Lily Collins did at the Met Gala-think pink,purple and green. The hair dye trend is still super popular right now and doesn't require a permanent commitment, simply opt for hair extensions that can easily be added to effortlessly change up your look in seconds.
90's Revival-The 90's are also making a huge impact not only on the fashion scene but also on the hair scene. Spotted at the Céline AW2013 show was the low maintenance half bun,it's relaxed, undone feel screams 90's. Along with half buns,simple ponytails have also been seen making a comeback  on the runway.Whitney Port, is just one of the celebrities who is embracing this decade. We spotted her rocking double high buns at Coachella this year;proving this do isn't just for Scary Spice ( aka Melanie B.). This hair style is a great alternative for bun lovers to try! For the risk takers,why not test out one of Gwen Stefani's signature 90's hair look by rocking multiple small buns all over your head.
Braid It- The ordinary braid has been transformed this season-milkmaid braids, intricate fishtails, tiny braid twists on a deep side part or braid buns- are changing the way we've done braids in the past. Lindsay Lohan was spotted rocking an on-trend tiny braided do at the Scary Movie 5 Premiere. Tiny braids are the perfect way to give your ordinary half up do a dainty,romantic  touch. For a more sophisticated look, opt for a romantic crown braid that is feminine yet sophisticated like Julianne Hough. Finally for a more boho feel, test drive a messy braided headband like Mary-Kate Olsen, add some wavy curls to really capture her signature free-spirited look that we all love.
Hair Accessories-
This spring jewelry isn't just for your body but also for your hair. Adding simple hairpieces-anything from a embellished headband to a decorative hair pin- will instantly help spruce up your do and make an eye-catching statement. When it comes to hairpieces, I must give
Nicole Richie
the credit for rocking the most swoon-worthy headpieces. She has mastered the art of hair-cessorizing by perfectly sporting pieces that help accentuate her simplest hair do's.
Minka Kelly
is another star who was recently seen rocking this trend at the Met Gala. I love how she incorporated a gorgeous head pin with a romantic braided updo-so simple yet impactful. Finally, Kelly Osbourne's embellished headband she wore to the Met Gala this year gave her pink-hued updo a gorgeous, classic touch. Take note and add embellished headbands to your favorite do's to add instant sparkle.
Contributing Editor: Kolbie Richardson
Most Read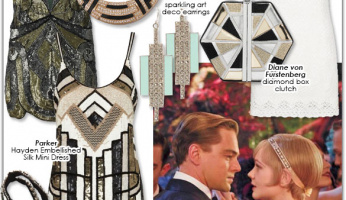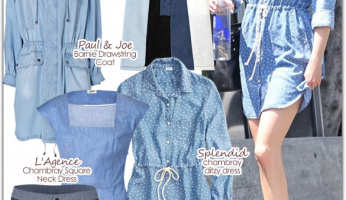 Subscribe to our Newsletter