Inspired By: The Great Gatsby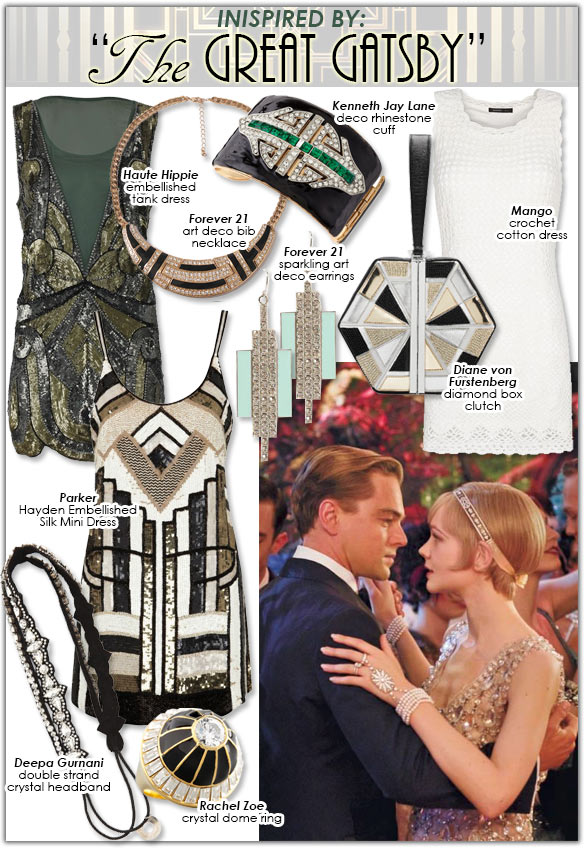 I haven't had a chance to see The Great Gatsby, but the trailer has been inspiration enough. The glitz, the glamor, the lights…not to mention being starstruck over Leonardo DiCaprio and Carey Mulligan…inspired me to dedicate my Friday blog to the movie and its glorious style. With anything throwback, it's best to go with just one theme piece. (Translation: don't wear a crystal headband, a flapper dress, and fists full of Art Deco jewelry, or you'll venture into Halloween costume territory). Instead, steal one sparkling necklace over a mod shift dress or let the flapper-esque dress stand with minimal accessories and trending heels. Without further ado, I present Gatbsy style in all its glory!
1. Diane von Furstenberg Diamond Box Clutch: Striking. This stunning hexagon box clutch is inlaid with Art Deco geometry, making it worthy of one of Gatsby's parties. Pair it with an LBD to let it take center stage.
2. Parker Hayden Embellished Silk Mini Dress: Swing into any cocktail party with this magnificent gold and black mini dress. Sequins, beading, and the intricate pattern of diamonds and rectangles channels true period style.
3. Kenneth Jay Lane Deco Rhinestone Cuff: A little Gatsby goes a long way. This Deco cuff adds a little flapper flair to any look, whether dressed up or down. I'm in love with the striking green on black, wearable straight through summer into fall.
4. Mango Crochet Cotton Dress: For dreamy afternoons on the lawn, this crocheted cotton dress is demure and dainty. Pair with a wedge for cocktails, flats for summer lunches.
5. Deepa gurnani Double Strand Crystal Headband: A standout accessory of the Roaring 20's, the crystal headband was the finishing touch for a girl about town. Add this statement piece to clean lines or a mod dress.
6. Rachel Zoe Crystal Dome Ring: Jewels by the fistful. There's no denying the sparkle that emanates throughout this whole movie. I can't wait to see the movie in all its glory! In the meantime, I'm adding this dome ring to my collection to get my daily dose of Gatsby bling.
7. Forever 21 Art Deco Bib Necklace: Jazz up a simple tee or an LBD with gorgeous jewelry. A bib necklace has the power to transform any basic piece into something extraordinary.
8. Haute Hippie Embellished Tank Dress: Turn heads. Carey Mulligan is absolutely enchanting in her tank dresses, and we all want a piece of her glamor. Get it with this Haute Hippie dress, a true homage to the Roaring 20s, and a whole lotta fun to wear.
9. Forever 21 Sparkling Art Deco Earrings: The finishing touch. Small drop earrings add the final touch, and these dainty ones channel Mulligan's delicate structure and fair complexion, along with her inner sparkle.
Most Read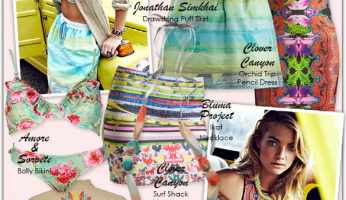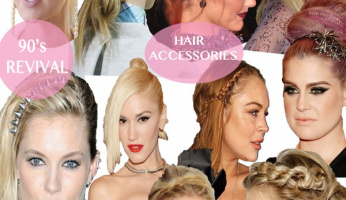 Subscribe to our Newsletter