Summer Beauty Bag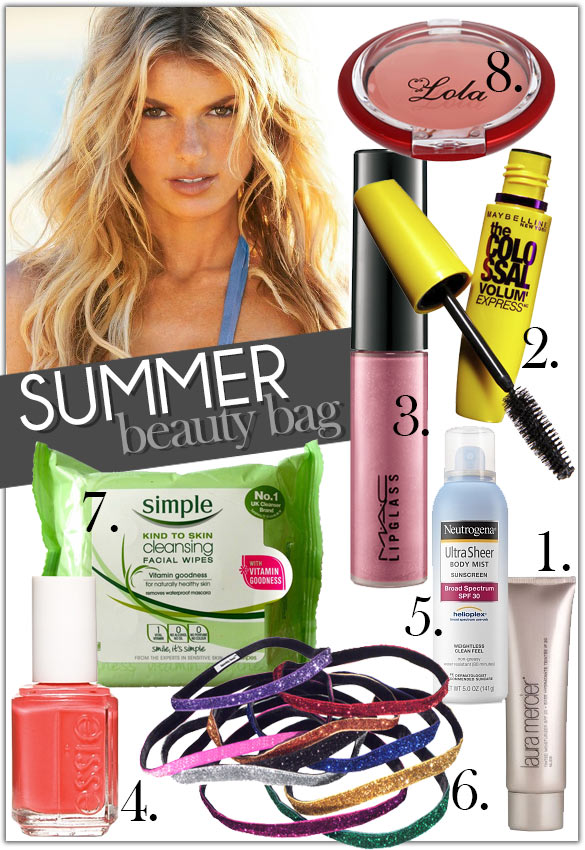 When summer rolls around, all I want to do is be outside. Whether it's a morning jog in the park, a lazy afternoon on the beach, or a sultry cocktail at my favorite outside restaurant…I aim to get all the fresh summer air that I can. What I don't like to do is spend more time than necessary in front of the mirror getting ready, so I've pared down my beauty routine to ensure I maximize my outside time. My beauty inspiration is a fresh, radiant glow much like model Marissa Miller's above. To achieve this look, I slather on SPF for protection, dot on a tinted moisturizer to even out my skintone, and add a swipe of volumizing mascara and a pucker-full of my favorite MAC lip gloss. A creamy blush and coral nail polish add just the right amount of color. As far as my hair goes, the less fuss the better. I've been favoring all types of ponies and buns, pulled up and out of my face with a sparkly hairband or two. My summer beauty? It's in the bag! Here are a few of my essential beauty items to pack in your bag to look fresh, pretty and glowing this summer.
1. Laura Mercier Tinted Foundation: I swear by this amazing tinted foundation! I first purchased it on a trip to Hawaii when I needed to give my skin a fresh, healthy, no-makeup look with a soft hint of color that evens and enhances without hiding the skin.
2. Maybelline The Colossal Volume Express: I have used all ranges of mascara from Lancome to Mac and now to drugstore brands like Maybelline. This is my new favorite! I swapped my "higher end", more expensive mascaras for this. I am blonde with nearly invisible lashes and with this, I literally only need one coat. Usually I need 2 and with a really bad one, 3. It does make my lashes look more defined and enhances the length. I've been experimenting with a few from Maybelline's Volum' Express line and this is my favorite. My new HG!
3. MAC Lip Gloss: My go to Lip Glass, the perfect blush lip color. Not sticky, beautiful color that stays! I've repurchased several times over the years. Gorgeous and natural looking. Peachy, pinky color compliments my fair skin. And I LOVE that, even though it's a gloss, it's not too sticky and it actually leaves my lips smooth all day, unlike other glosses that have dried them out in the past.
4. Essie Nail Polish California Coral: I'm absolutely in love with this color! Essie's California Coral is my go-to pedicure polish for the summer months, and something I usually reserve until mid-July. It's very flattering with a nice tan, particularly on toes. The color is rich, juicy, and not too orange (unlike many of the other corals I've come across) and applies opaque and evenly with two coats.
5. Neutrogena Ultra Sheer Body Mist Sunscreen: Neutrogena has always been my go to drugstore skin care brand. I've loved everything from their face wash to their moisturizer and this sunblock is no different. Its a light mist so you can just spray and be done. I give my face and chest a spray every morning before heading out the door.
6. Sparkly Soul Sparkly Thin Headbands: Vibrant, glittery Sparkly Soul headbands are bright and tight — but not so tight that you get a headache or snag your hair. The headbands won't slip off, no matter how intensely you're exercising, and they'll keep your hair off your face during sports and fitness activities.
7. Simple Cleansing Wipes: Essential for your summer beauty bag. These are my favorite makeup wipes! I've only tried a few in the past, and I decided to pick these up even though my skin isn't sensitive, but they've been gaining popularity and they were about $5? So I went ahead and bought them. They remove all the makeup and dirt from my face and really made my face feel clean. I also used it to take my eye makeup off and it did a great job and obviously didn't irritate my face or eyes since this brand targets people with sensitive skin. They work amazing and are inexpensive!
8. Lola Cosmetics Cream Blush: Summer is the  time to swap your powder blush for cream blush. I like the way cream-based beauty products give my skin a glow in the summer. I'm a blush fanatic and this has easily become my favorite because of the ease of application and the look it imparts. You can draw on wear you want the blush to go and then blend it in with your fingers. The color morphs into the skin beautifully and the color is a very natural warm pink. It gives such a glowy look.
Most Read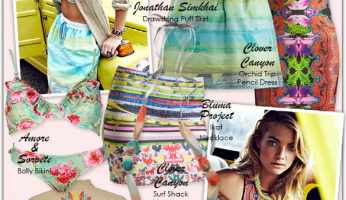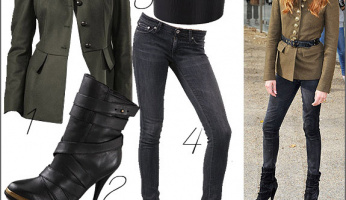 Subscribe to our Newsletter