Steal Her Style: Kate Beckinsale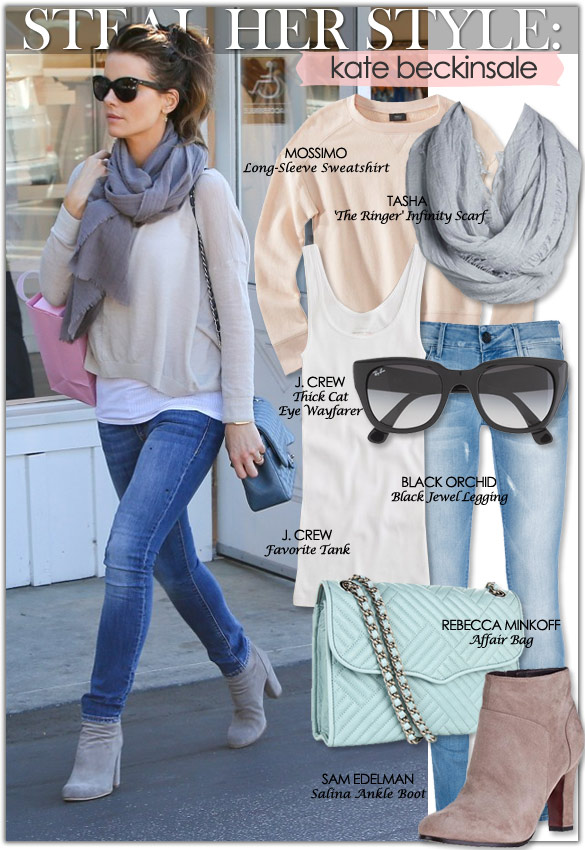 I just may be her number one fan. Kate Beckinsale always has my vote, whether she's dressed for walking the red carpet or strolling the streets. When I saw this easy-breezy look from her, I had to nab it for my own. Simple and fresh, Kate layers some of my favorite essentials flawlessly together: a peachy-nude sweatshirt, a figure-hugging light blue skinny, and a rough-and-tumble suede bootie. But it's the accessories that make this a celebrity-worthy outfit, and that's why when I'm done writing this I'm dashing out for a pale blue quilted purse and a pair of cat eye wayfayers! Whether you're shopping with your gal pals or hanging out with your kids in the park, this fall-ready outfit will make you feels as fresh-faced as Kate Beckinsale.
1. Vince Cashmere Boat Neck Sweater: Almost a sweater, I love the linen-nude color of this long sleeve sweater. Paired with jeans and a bootie, it's a comfy top that's cute enough to meet the girls for lunch in the lovely nudes and neutrals of last fall are back again…and I couldn't be happier!
2. Sam Edelman Salina Ankle Boot: A style staple in my closet, I love the way this sand-colored suede bootie transitions from winter to spring without a hitch. Paired with a light-colored skinny and pastel top, it's both cozy and fresh at the same time.
3. Tasha 'The Ringer' Infinity Scarf: Available in spring-ready tones, the Tasha "Ringer" scarf is made of a delicate, airy weave that's both seasonally appropriate and still warm enough to ward off a chilly spring breeze. I'm in love with its natural, no-fuss eyelash fringe!
4. Black Orchid Black Jewel Legging: Jeggings offer a light and tight sillhouette, and that's why I'm picking up the celebrity-favorite Black Orchid Black Jewel Legging (worn by fashionistas like Kim Kardashian and Eva Longoria). Pick up a pale denim pair to wear spring into summer.
5. J. Crew Favorite Tank: It's a tradition. When I set out on my spring shopping trip, I always pick up at least two crisp white layering tanks. I layer with them all summer long, so last year's are in need of replacing. J. Crew's are the perfect mix of boyfriend with a feminine fit.
6. J. Crew Thick Cat Eye Wayfarer: The vintage vibe is back again. Channel your inner Zooey Deschanel with these cat eye wayfarers, a combo of two of the most classic frames out there. The warm caramel-color complements any skin tone.
7. Rebecca Minkoff Affair Bag: Ditch the oversized tote, and swing into spring with a prim little shoulder bag. This quilted beauty is done up in pale blue leather, a color that complements spring's pastels craze. A woven leather chain strap is the perfect finishing touch.
Most Read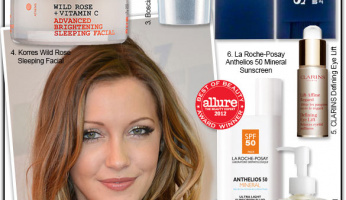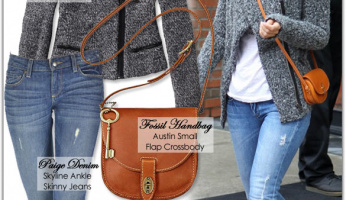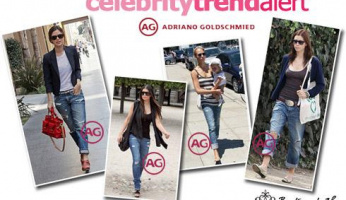 Subscribe to our Newsletter