Spring Beauty Trends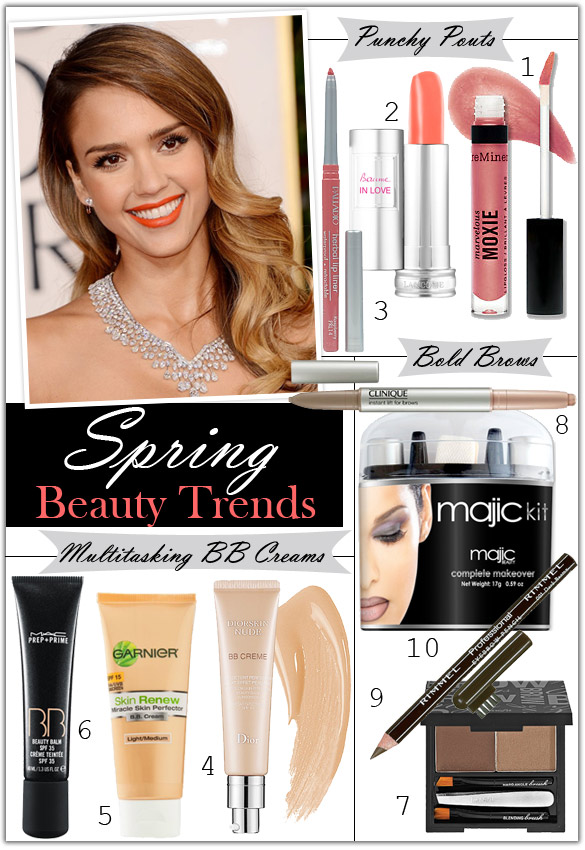 With the change of seasons comes a change in my beauty routine, not to mention the beauty trends that are hitting the streets and the red carpet. I don't want to throw out my whole makeup routine, but I do want to freshen up my face. And I'm looking to Jessica Alba as my inspiration. She hit the red carpet in three of spring's top beauty trends: flawless skin, a punchy pout, and bold brows. These trends are achieved with the following products, from multitasking BB creams to standout lip colors to tools that will give you the perfect, structured brows. Pick up these three essentials, and you're on your way to spring beauty!
Punchy Pouts
1. Bare Escentuals Marvelous Moxie Lipgloss: Full pouty lips are the name of the game. Use the combination of a bold lip color like coral or orange and a sheer, shine-filled gloss like this one from Bare Escentuals to achieve the perfect pout.
2. Lancôme Sheer Tinted Lip Balm: I love the bold, eye-catching color of Jessica Alba's coral-orange lipstick. This color is the perfect way to spice up a nude or neutral outfit, like Alba's blush-colored gown.
3. Palladio Retractable Waterproof Lip Liner: The perfect start. Lock in the lipstick/lipgloss combo by starting with a complementary lip liner. This liner is great on the go since you never have to sharpen its retractable tip.
Multitasking BB Creams
1. Dior Diorskin BB Creme: The multitasking power of BB creams has us all swooning. They correct and protect, moisturize and provide sheer coverage. What else could we ask for from a single product?
2. M·A·C Prep + Prime Beauty Balm: This beauty balm from MAC provides a whopping 35 SPF. This is what I'm throwing in my bag for spring break, summer days on the beach, and lazy Saturdays when I want to keep my beauty routine to a minimum.
3. Garnier Miracle Skin Perfector: This affordable BB cream from Garnier is the perfect place to start if you want to see if BB creams are for you. I think you'll be wowed by the brilliance of a moisturizer, sunscreen, and makeup coverage all in one product.
Bold Brows
1. BeneFit Brow Zings Brow Kit: My favorite tool kit! This BeneFit kit has a tweezers to pluck stray hairs, an angle brush to define brows with its tinted brow wax, and a blending brush to set with its complementing powder.
2. Clinique Instant Lift For Brows: An instant lift! I love the power of this brow duo so much that I use it myself. The angled brow pencil makes it easy to fill in my brows, while the cool hi-lighting end provides an instant lift to my whole eye.
3. Rimmel London Professional Eyebrow Pencil: This uber affordable Rimmel pencil means that you can have one at the office, one in the car, one in your purse, and one at home…not like you'll need it. This professional eyebrow pencil stays put.
4. Eye Majic Travel Kit: The Eye Majic eye shadow applicator is great for the woman on the go. The shades are already coordinated, no more hassle of adding each color one at a time. You can create the perfect look even in a hurry.I have used similar products but found Eye Majic was the easiest to use. The foam applicator and tab made it easy to position right where I needed it and the shadow was easy to blend if I made a mistake. I love that is lasted all day and the colors are vibrant and beautiful!
Most Read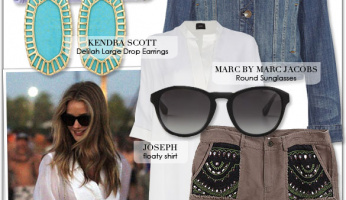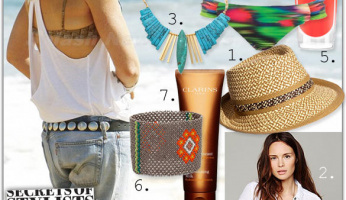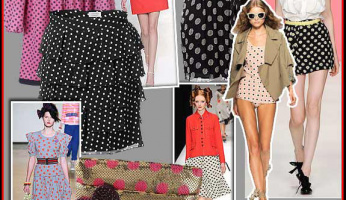 Subscribe to our Newsletter