Shop Like Celebrity: For Under $100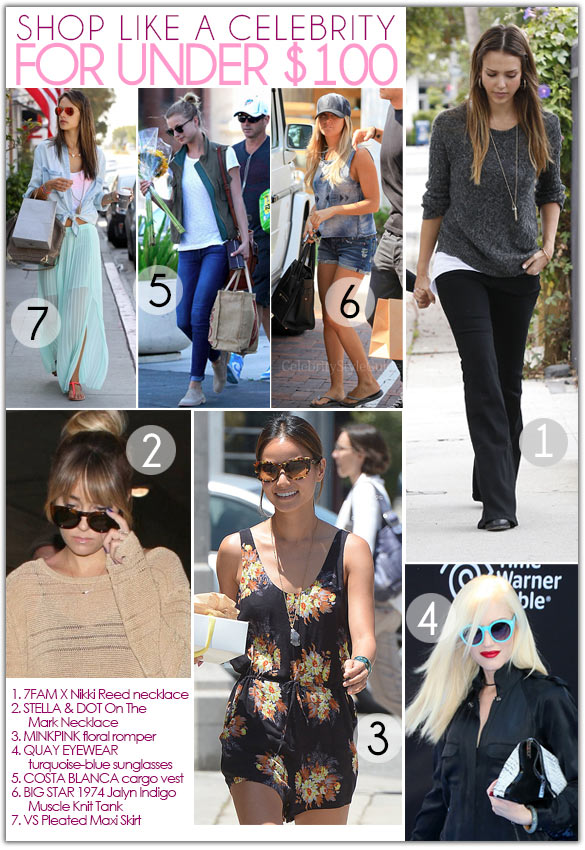 Shop like a celebrity, you say? Don't we all wish we could hit up the stores like they do, with a stylist and platinum card in tow? While this dream may never reach fruition, there's nothing keeping you from shopping like a celebrity today. I've pulled my favorite of-the-moment celebrity finds…all for UNDER a $100. These are not look-a-likes or steal-her-styles, these are the ACTUAL pieces that Lauren Conrad, Alessandra Ambrosio, Ashley Tisdale, and Gwen Stefani are sporting this summer. I hope it brings a smile to your face, a skip to your step, and a gleeful pride in your heart to pick up one or all of these genuine celebrity pieces this weekend! Happy Friday, fashionistas!
1. 7FAM X Nikki Reed necklace: Jessica Alba sports her 7FAM by Nikki Reed necklace with a simple black ensemble while she's on mom duty. This piece goes from playground dropoff to mommy's night out in a snap, as its simple gold charm adds a subtle bit of glitz to any look.
2. Stella & Dot On The Mark Necklace: Lauren Conrad is beyond cute. I'm a big fan of her site and her style, and I was charmed by her little arrow necklace. Layer it over a sheer, open knit sweater, and then add a messy high bun and Ray Ban's to steal her adorable street style.
3. MINKPINK Floral Romper: A romp in the park. There's nothing more throw-on-and-go than a floral romper, just ask Jamie Chung. I love this choice for a summer day and for travel, because you can just add a simple sandal, shades, and your favorite jewelry pieces and you're out the door!
4. Quay Eyewear Turquoise-Blue Sunglasses: Gwen Stefani is a statement maker…that platinum blonde hair and those racy red lips are her trademarks. Add another statement-making piece to her rap sheet: turquoise blue sunglasses. Set against a demure black outfit and the aforementioned red lip, and you've channeled your inner rocker goddess.
5.  Costa Blanca Cargo Vest: Last year's military jacket has evolved into a rage for military vests! Emily VanCamp chooses my favorite summer-to-fall item as her less than $100 piece. Wear this season to season by swapping short sleeves for long and flats for booties.
6. BIG STAR 1974 Jalyn Indigo Muscle Knit Tank: Ashley Tisdale's All-American tank and cutoffs might just be my choice for celebrating the 4th. I'm in love with tribal details, and this muscle tank cut is an edgy departure from the feminine and flowy tanks I usually grab.
7. VS Pleated Maxi Skirt: So in love, I already have it. A version of this turquoise pleated skirt is already in my closet…mine has a high-low hem, but you get the idea. The sheer fabric is so sensual when it catches a breeze. I love to wear mine with a black tank and straw hat to the beach, but I'm going to wear it like Alessandra Ambrosio today, with a chambray button-up and pop color sandal.
Most Read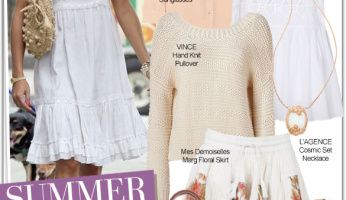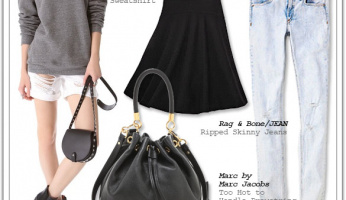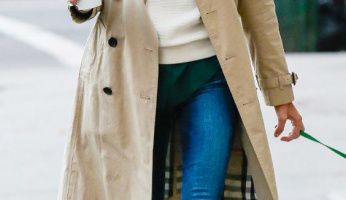 Subscribe to our Newsletter