Sharp Party Dressing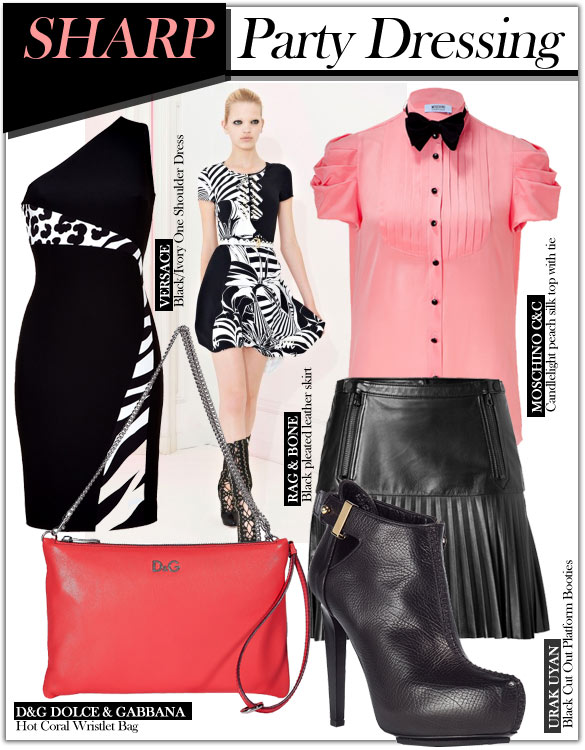 With your New Years Eve parties coming up, you'll need a range of frocks and separates ready to slip into after work without the wardrobe crises. It's a great excuse to indulge in a few pieces which you can keep wearing for seasons to come! It's all about a mix and match party wardrobe of essentials and the sturdy winter ankle boots are the pièce de résistance! Clean. Edgy. Modern. These adjectives come to mind when I think of a sharply dressed women. Usually these smart lines are reserved for business only, but this holiday season let's take these crisp separates out for a drink and a spin on the dance floor. Think pleats, but in a peachy-pink tuxedo top or an uptown leather mini. Go with contrast, as in black and white done up in modern blocks of visual interest. And go straight-lined and sturdy: anchor your look with bold, no nonsense booties or a small, square be-chained wristlet. Look sharp this season with this selection of mod looks. Enjoy!
1. D & G Dolce & Gabbana Hot Coral Wristlet Bag ($370)
Too hot to trot. Sizzling coral leather is done up in a straight-lined square and finished with a detachable chain handle and an elegant wrist strap (you need options, of course). This pop of pure color looks fabulous back to any holiday look, a more edgy accent than classic ruby red.
2. Burak Uyan Black Cut Out Platform Booties ($1060)
Finish strong. Put your strongest foot forward, and your most fashion-forward, at that. These booties channel your inner power with their hidden platform, center seam detailing, sexy cutouts, and their touch of gold hardware. Pair back to a mini or leather leggings, skinny jeans and your favorite moto-inspired jacket for mad style.
3. Rag & Bone Ezra Black Pleated Leather Skirt ($695)
School girl all grown up. So sharp, this mini gets its mod vibe from its leather fabrication. A wide waistband hugs your curves, while pleats add the flirt. Front, flat zippered pockets add an aura of moto chic.
4. Versace Black/Ivory One Shoulder Dress ($1195)
Channeling a little Cruella DeVille, this devilishly devine Versace will have them talking. Its one shoulder cut takes a subtly sexy route while animal printed (zebra, leopard) insets add another dimension to this little black dress with big, big style. Curve hugging!
5. Moschino C&C Candlelight Peach Silk Top with Tie ($710)
The tuxedo trend is borrowed from the boys, but this top is all girl. Its cheeky peach color brings this top to a girly-girl level, while its tie and tuxedo pleats keep things sharp, mod, and menswear-inspired. Pair with stilettos and slim black crops for a party-girl look.
Most Read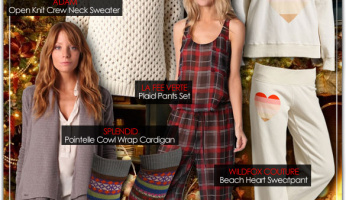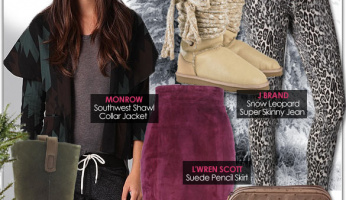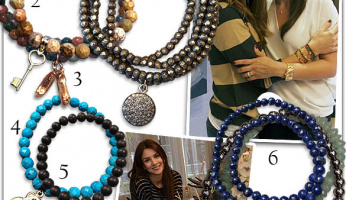 Subscribe to our Newsletter