Runway Edition: Diane von Furstenberg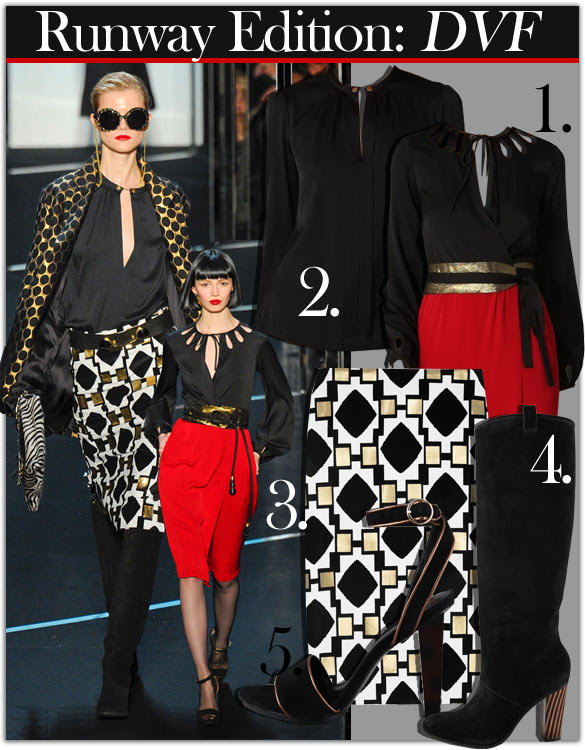 The Diane von Furstenberg fall runway sprang to life with stunning reds, glimmering golds, and grounding blacks (with a sea of blues and teals flooding the second half of the show). In order to pay equal homage to her separates and her masterful way with the dress, I pulled two looks from Furstenberg's amazing show. A patterned pencil skirt is styled with a billowy top and finished with boots (as many of her looks were), while the iconic DVF wrap dress is made new again with colorblocking and contemporary suede sandals.
1. Diane von Furstenberg Cassiana Printed Velvet Pencil Skirt ($225)
There's so much to love. A textural delight of rich velvet and gold appliques is only further highlighted by visual delight: an Art Deco-inspired black and white print. Pair with the billowy blouse and suede boots below to complete this right-off-the-runway look.
2. Diane von Furstenberg Parker Suede High Heel Boots ($570)
The grounding force for many of her looks, the Parker boots made their appearance again and again on DVF's runway…and you'll wear them just as often. Supple suede high-heel boots with D-rings and pull tabs at the asymmetrical top line.
3. Diane von Furstenberg Billow Top ($245)
A top to traverse the seasons, this billow blouse pairs just as well with a pair of flares, as it does a runway pencil skirt. Feminine details like a split v-neck and ruching at neck and shoulders finish this silk blouse with impeccable style.
4. Diane von Furstenberg Kiandra Combo Dress ($498)
A Furstenberg runway is not complete without THE wrap dress. DVF recreates her iconic style for fall 2011 with bold colorblocking, neckline cutouts, and a gold lamé waistband. Silk-jersey bodice with a silk-crepe skirt and belt tie at waist.
5. Diane von Furstenberg Indigo High Heel Sandals ($280)
Fall runways saw lots of fall sandals. Paired with tights and hose, these sandals take you long into the season with fashion-forward style sense and clean, classic lines. Metallic piping and sculpted heels finish these suede sandals with DVF's impeccable attention to detail.
Most Read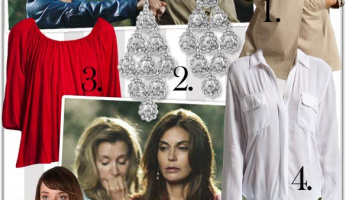 Subscribe to our Newsletter