Proactiv: The Celebrity Endorsed Acne Treatment. Does It Really Work?
Proactiv is an acne treatment that has been sold infamously through information, much like The George Foreman grill, The Slap Chop, and more. It's actually one of the best-selling acne treatments of all time. But, does that mean it works?
Proactiv's products are quite mundane in the realm of ingredients. It uses benzoyl peroxide, salicylic acid, and sulfur which are the three most common active ingredients in any over-the-counter acne treatment that you can find at your local Walmart.
Proactiv works in the same way that any other acne treatment does. The reason that Proactiv gained the traction that it did is through their insane amount of celebrity endorsements which we will cover in a bit.
How does it work?
Proactiv was, at first, a regimen-based product which means that instead of just using a spot treatment to help the current breakouts you have, there was a three-step regiment to follow which would prevent and treat acne. It was sold as a set through a subscription that would renew automatically. That was the key differentiator between Proactiv and its other competitors.
They continue to follow this model now but in a more personalized way. Their Combination Therapy provides you with a complete, multi-step skincare regimen that tackles acne at every stage of the cycle.
They have the Proactiv Solution for oily and combination skin with acne which contains their renewing cleanser face wash, revitalizing toner, and repairing treatment. This treatment focuses on unclogging power and killing acne-causing bacteria.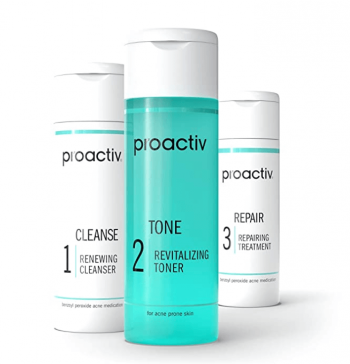 The Proactiv+ is a gentle acne-fighting combination for sensitive skin. It features their skin smoothing exfoliator, pore targeting treatment, and complexion perfection hydrator. This treatment is gentle, perfect for anyone with sensitive skin. It moisturizes, nourishes but also kills acne-causing bacteria without drying out your skin.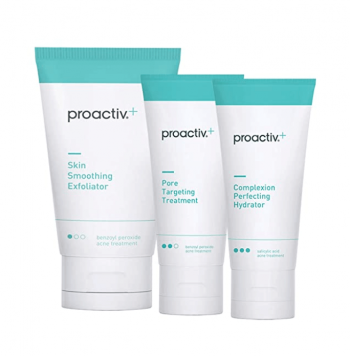 ProactivMD is meant to treat stubborn breakouts using their powerful retinoid – no prescription required. It includes their ultra-gentle cleanser, adapalene gel 0.1%, and the ultra-hydrating moisturizer. This treatment is ideal for treating stubborn breakouts. It also helps with the redness and inflammation that can often appear with severe acne.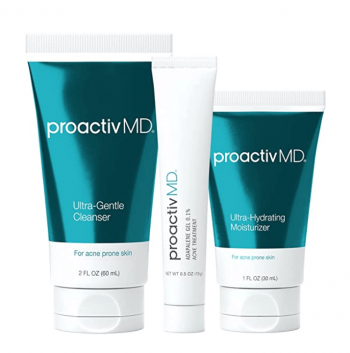 All three of these treatments include their signature three-step regimen to help fight acne every step of your skincare routine. This can be helpful because each product plays off of the other in a way that should maximize their acne clearing abilities.
Which celebrities have endorsed proactive?
Most recently Kendall Jenner has joined the long list of celebrities who endorse proactive. In 2019 she announced working with the brand after receiving backlash from the precious Golden Globe Awards for her visible acne. Although, her deal with this skincare brand got a lot of attention – and not the good kind.
Most people remember Kris Jenner writing on social media, "I'm so proud of my darling @KendallJenner for being so brave and vulnerable. Seeing you share [your] most raw story in order to make a positive impact for so many people and help foster a positive dialogue is a testament to the incredible woman you've become."
This caused some negative emotions toward the partnership. This was their most controversial endorsement by far.
Some other celebrity endorsements include Adam Levine in 2016, Katy Perry in 2011, Justin Bieber in 2010, Julianna Hough in 2008, Jessica Simpson in 2005, and Judith Light in 1999 where she debut in the brand's first-ever TV commercial. There were some others who were featured in commercials such as Kelly Clarkson, Vanessa Williams, Alyssa Milano, Jenna Fischer, Alicia Keys, Mandy Moore, and P. Diddy.
It's safe to say that the true testament of this brand is not their products, but rather which celebrities they work with. But, don't take their plethora of celebrity endorsements to heart because their partnership with the brand is just show business and is there to help bring more attention to the brand.
Is Proactiv worth it?
The real question is whether or not Proactiv is worth it. While they do use very common acne-fighting ingredients, that doesn't mean their products aren't effective. These ingredients are common for a reason.
There's no doubt that Proactiv uses genuine acne-fighting technology to help with existing acne and prevention, it's the price that makes us question its true worth. Especially with tons of great reviews online, it's a question of will it work, but more of a question of what are these products really worth.
Most of their products are in the sixty-seventy dollar range. This is on the more expensive side of skincare. You can get products with the same ingredients for less. For example, their adapalene gel 0.1% is a great ingredient, but you can get the Differin brand adapalene gel 0.1% for less.
Proactiv is not a scam but definitely overpriced for the formulas you get. They may have the celebrity face on it, but they also come with the celebrity price. There are some other brands that sell amazing acne-fighting products for half of the cost of Proactiv or less.
Subscribe to our Newsletter