The Best Reviewed Acne Treatment: Differin Adaptalene Gel Acne Treatment
There are few things worse than waking up in the morning with a new pimple peeking through. Whether you're a teen struggling with hormonal acne, an adult who just can't kick those deep cystic blemishes or if you've recently developed "maskne", we've all experienced the insecurity of having less than perfect skin.
With the rise in K-beauty and complex skincare routines, there's a lot of pressure to clear up our skin using specific products that are trending on social media platforms like Tik Tok. The truth is, every person's skin struggles are different, and viral skin products that work on the vast majority may not be the right product for you.
It may be discouraging to find the right acne clearing treatment that suits your skin, but we've got one product up our sleeve that may do the trick.
If you've been searching for your perfect acne treatment, look no further. Differin Adapalene Gel 0.1% Acne Treatment is a tested and approved product with thousands of positive reviews backing it up. It's a preventative and clearing treatment for problematic and stubborn acne.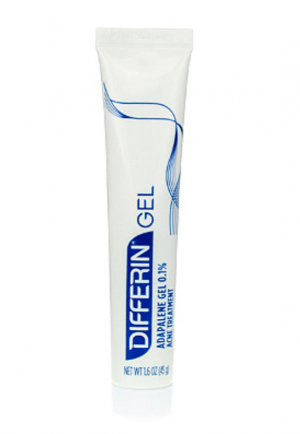 It targets blackheads, whiteheads, blemishes, and clogged pores. This fragrance-free gel contains adapalene which is a powerful retinoid. It's the first over-the-counter active ingredient for acne in more than 30 years. It is prescription level results without the Rx. It is dermatologists developed and tested, ensuring an effective product.
It restores skin tone and texture, clearing lumps, bumps, and everything in between. It is an effective way of clearing multiple types of acne including "maskne" caused by wearing face masks or facial coverings. It uses the ingredient adapalene in the amount of 0.1%.
What exactly is adapalene? It is a topical retinoid that is used in the treatment of mild to moderate acne. It can also be used to treat Keratosis Pilaris and other skin conditions that cause rough textures to the skin. It is just as effective as other retinoids with less irritation, making this a great acne gel for all skin types including sensitive skin.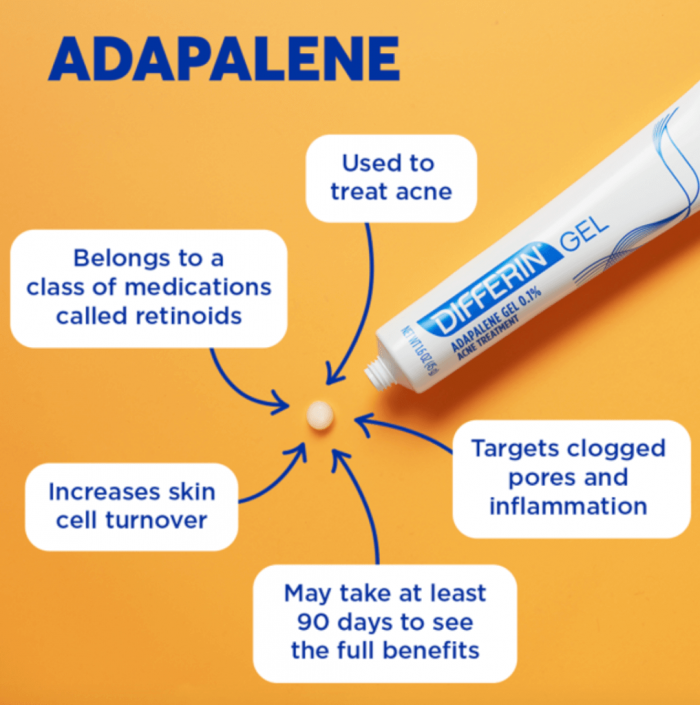 The unique way that Differin works is by normalizing skin cell turnover. This effectively targets clogged pores and inflammation which are two primary causes of acne. It's a water-based formula that is oil-free, fragrance-free, and non-comedogenic.
This formula has proven time and time again to be as effective, if not more effective, than other acne treatments we've seen on the market. The reviews and testimonies of happy customers speak for themselves.
Across the board on multiple online retailers, this product has a roundup of nearly 100,000 reviews that average 4.7-stars. We were most impressed by this 60-day YouTube trial by Eleina Hinch who used the Differin acne treatment to clear her acne.
While Differin as a whole usually can take up to 12 weeks to see the full effects, this review with pictures shows the progress of acne clearing by this awesome retinoid treatment.
Keep in mind that your results will vary depending on your skin type and concerns, as well as the way you are using the product. Results can be compromised by using too much or too little.
If you want to see the best results from your Differin products it's extremely important to follow the instructions of use on the tube as well as keep an active note of how your skin is feeling and looking, adjusting when necessary.
This retinoid is suitable for sensitive skin, but if you notice an increase in redness and irritation, it's also important to take this into account and perhaps limit the weekly use of this product. Knowing your skin is the most important part of testing out new products, especially when you're dealing with acne-prone skin.
This product is available for purchase through a multitude of online retailers including Amazon, Ulta, and Walmart.
Subscribe to our Newsletter