NY Fashion Week Street-Style Trends: In Blooms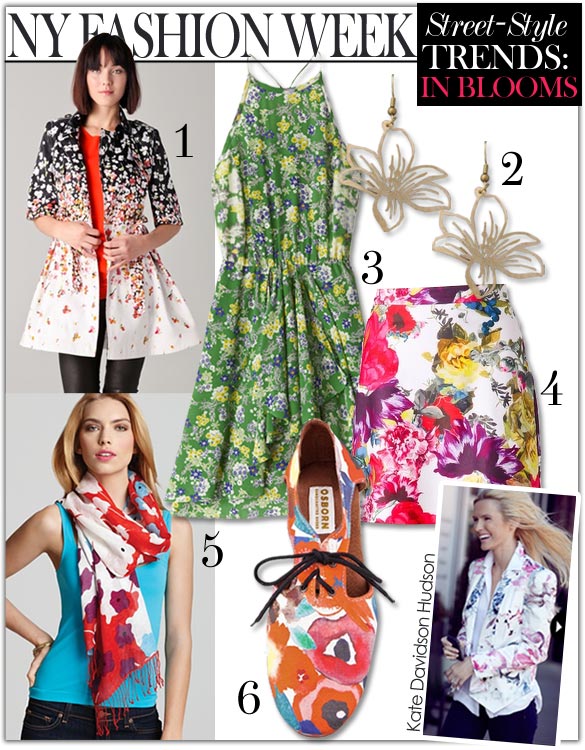 Spring may be months away, but the fashion world is already blooming. Following Kate Davidson Hudson's lead again, we know that one of Spring's hottest street trends is anything floral. Whether it be a flowered flat, blossoming scarf or subtle rose-shaped earring, a floral-inspired accessory is a simple way to add the trend to your Spring wardrobe. If you really want to embrace the trend, opt for a printed dress, colorful mini skirt, or street-wise floral blazer, a la Hudson herself.
1. RED Valentino Floral Coat ($1150)
Wear NOW. This Valentino coat is more playful than Kate Davidson Hudson's studious blazer, but operates on the same principles. Throw on over any look for a burst of blooms. This taffeta coat channels a serious amount of girly-girl with its crisp fold-over collar and box-pleated skirt.
2. Monserat De Lucca Flower Earrings ($40)
Matching any look, Monserat De Lucca's simple brass dangle earrings bring versatility to Spring's blooming floral trend. Cutout flowers with French hook.
3. Rebecca Taylor Garden Flower Flutter Dress ($375)
Springtime staple. For early spring pair with a cardigan, but when the temperatures soar go bare. This grass green floral print puts a bounce in your step. Halter sundress with flutter skirt and gathered waistline.
4. Alice + Olivia Riley A Line Skirt ($198)
Flirty and fresh! Pair the Alice + Olivia Riley mini with a simple tank, pendant necklace, and bold-colored blazer for a office-gone-cocktails look. Its classic A-line shape goes modern with the addition of an exposed back zipper.
5. Diane von Furstenberg Joss Floral Printed Scarf ($165)
The simplest way to add floral to every look, a printed scarf brings blooms to whatever your wearing. Toss this stunning red-based print over your shoulder for insta-trend. Twisted fringe edges.
6. Osborn Floral Lace Up Flats ($180)
Perhaps the most playful, we adore these flirty lace-up flats. Wear them back to skinnies and a tee for a laid-back way to wear floral on the weekends. Cotton oxfords with lace-up front and fun side cutouts.
Most Read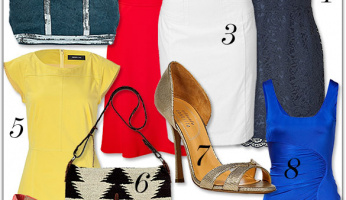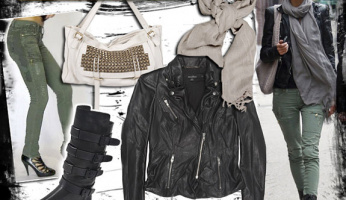 Subscribe to our Newsletter