Now Trending: Spring Shoulder Bags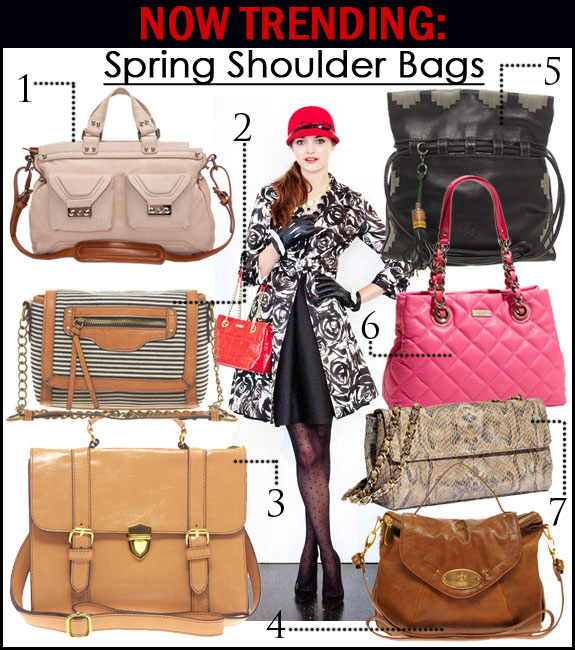 For seasons upon seasons, it's been all about the slouchy hobo, the oversized tote, and the catch-all satchel. But this season we're seeing a subtle shift. Bags are getting smaller, leaner, and more compact. Tote handles are still there, but more and more another detail is coming to the fashion forefront: the shoulder strap. Whether for business or pleasure, night or day, weekday or weekend, the shoulder strap has made its appearance on every sort of handbag.  Slim clutches get a gold-tone chain, business-minded satchels get an adjustable strap, and hobos get long lengths of cross body leather. Whatever your mood, it can be enhanced by the presence of a happy (hands free!) swing of a shoulder strap.
SHOP THE STORY:
1. Phillip Lim Page Bag ($895)
Looking for a one-stop-shop? This bag is it. Tote handles and a removable shoulder strap. Goes with everything tan with eye-catching silver studding. Goes to the office sensibility plus weekend wear fun. Page really has it all.
2. ALDO Diroana Stripe Flag Across Body Bag ($40)
Nothings says summer like stripes. These fresh blue and white lines are complemented by tan leather, which gives this bag just enough structure to make a statement. Weekend by the coast? Yes, please!
3. ASOS Clean Line Double Buckle Satchel ($35)
Business just became pleasure with this clean line satchel. Papers or personal items, it makes no difference…this satchel carries them all by your side with its sleek styling.
4. Mischa Barton Bernie Flap Cross Body Bag ($80)
If you were a slouchy hobo die-hard, this bag is your hobo replacement. Wear it with everything you would a hobo, but with the confidence that comes with knowing you're wearing the next big thing.
5. Ameko Gaucho Drawstring Cross Body Bag ($177)
Love the shoulder strap? Then show that love all the way across your body. We love the tribal-inspired stitching and tassel on this slim-bodied bag. Definitely one to take to Coachella with your cutoffs!
6. Kate Spade New York Gold Coast Maryanne Small Quilted Leather Shopper ($365)
The style seen on Hollywood's IT girls, the quilted leather shopper has been seen swinging from the arms of fashionistas like Lauren Conrad. Casual enough with your jeans, chic enough for a night out on the town, the long chain straps make it happen anywhere.
7. Stuart Weitzman Portofino Flap Bag ($480)
Last, but certainly not least, the classic clutch gets a shoulder strap makeover. This reptile-finished bag not only gives us a chain strap, but this season's must-have reptile print as well. Two hot trends in one sexy little bag!
Most Read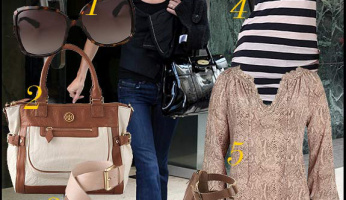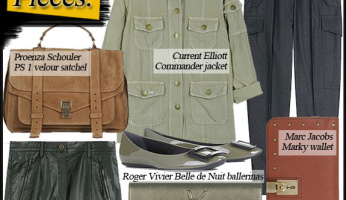 Subscribe to our Newsletter