My Favorite Pieces from The Nordstrom Sale!
If you haven't had a chance to take advantage of some of the amazing deals offered for the Nordstrom Anniversary Sale, it's not too late! The #NSale is still in full swing and today the public access gates have lifted. With so many options, it's always a good idea to have a style inspiration in mind when shopping. I have a ton of other favorites already picked out from the sale in my NSale shopping guide, so take a look and maybe you'll find new favorites. I love the Nordstrom Anniversary Sale because it's the perfect time to snag celebrity designer items that won't break the bank. It's also a fantastic way to stock up on items you'll need for fall, like these cozy sweaters, boots, jeans, and tees for layering. So shop like your favorite style stars and head over ASAP to the Nordstrom website or your closest store!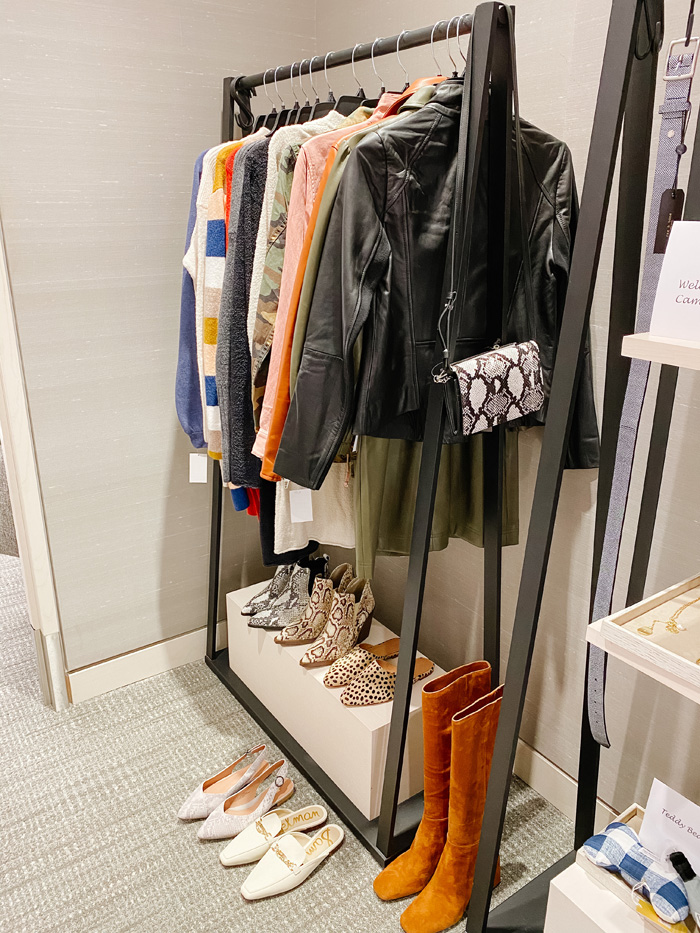 BAREFOOT DREAMS Long Cardigan 
It may be hard to believe right now but Fall and cooler temps are just around the corner, so I'm committed to rounding out my wardrobe with cozy (yet chic) finds. This means constantly keeping up a growing collection of cardigans, sweaters, and coats that help Us stay bundled up in style. Everyone who bought and wore this cuddly outerwear piece naturally raves most about how comfortable it is and I totally agree. I love the thick fabric, it feels like being wrapped up in a blanket. I plan on wearing it in the house over my PJ's but I also incorporate it into my casual street style. I plan to wear this cardigan with dresses, jeans or leggings. It's also a perfect birthday or Christmas gift.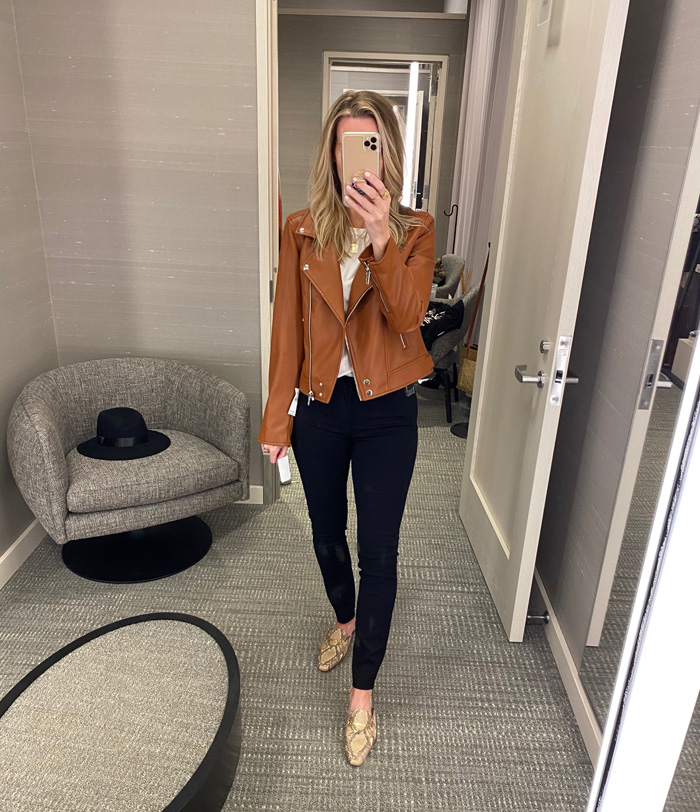 BLANKNYC Good Vibes Faux-Leather Moto Jacket
Everyone needs a go-to jacket to throw on for any occasion. One of my favorites of the entire sale though? This moto jacket. A moto jacket, whether leather or faux leather, is a true essential in life. I believe everyone should own one, and obviously, the higher quality you can get, the better. Of course, higher quality usually comes with a soaring price tag, but during this sale, you can save huge on this pick!
MADEWELL Dispatch Camo Jacket 
This utility jacket is so timeless! I love that it has a drawstring waist, which gives the option to make it more fitted. There are 4 pockets on the front, so it doubles as both fashionable & functional. It is lightweight and easy to move around in, perfect for errands! Pair it with jeans and a baseball cap for the ultimate casual look.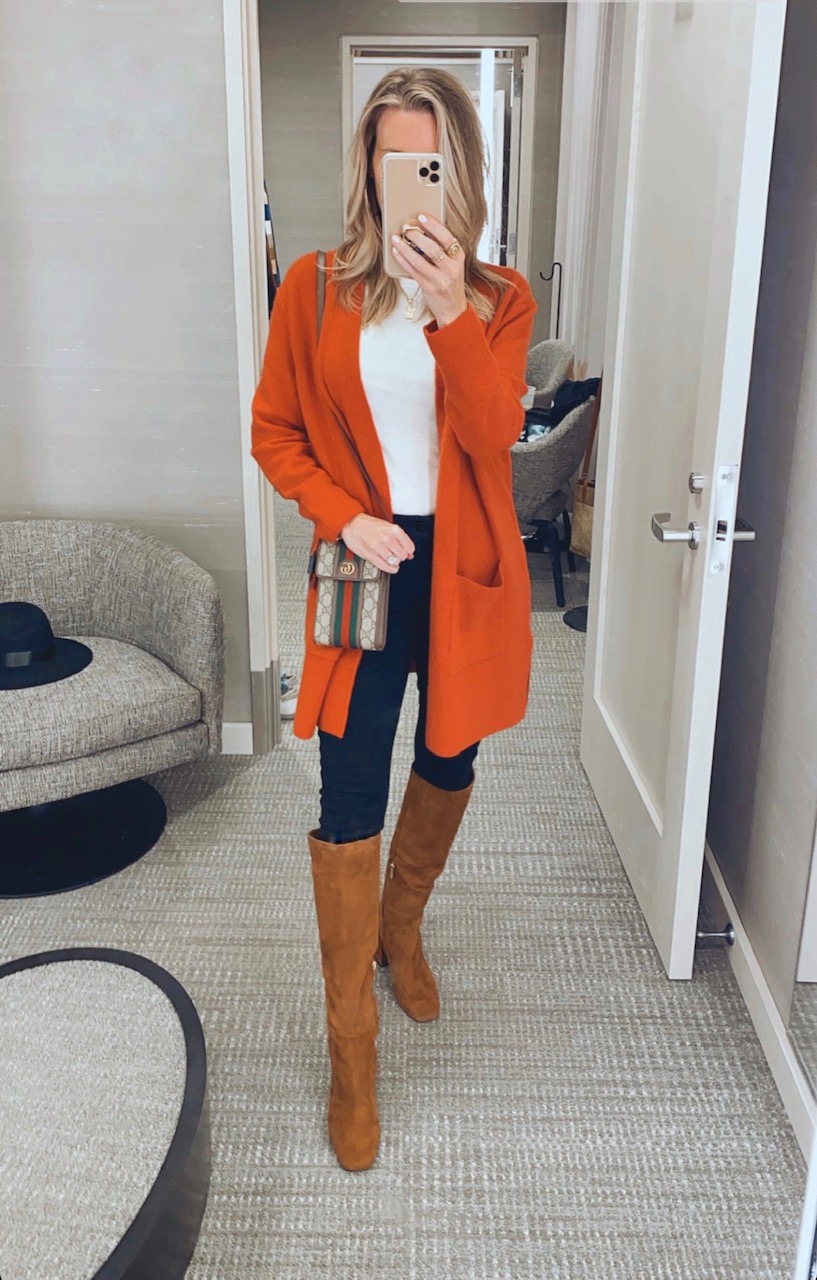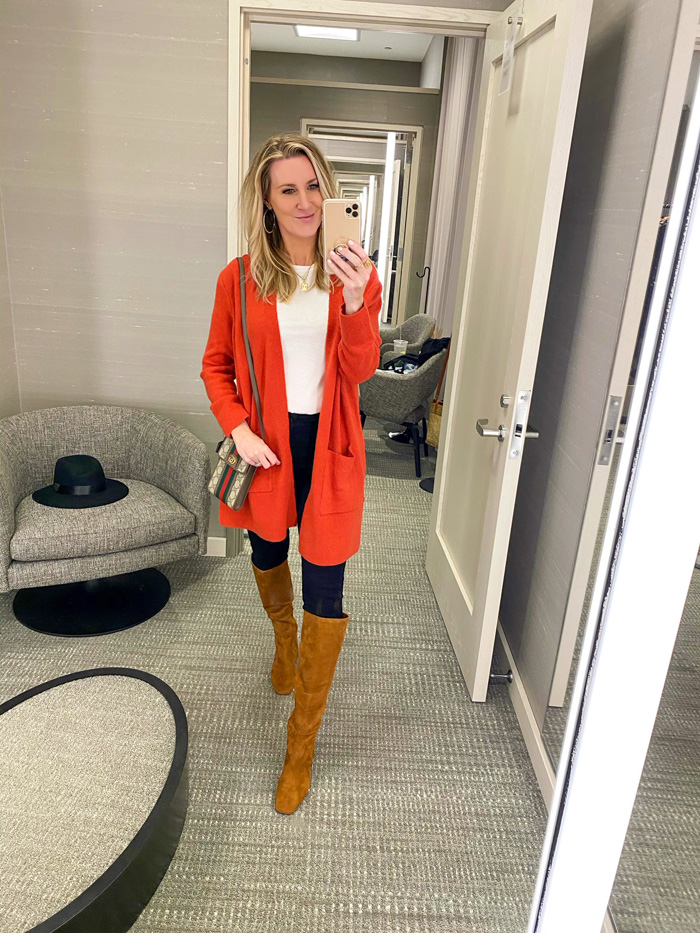 Madewell Kent Cardigan Sweater:
There are few things in life better than being swaddled by an oversized oh-so-comfy cardigan as the temperatures drop outside. No matter the season, the reason, or even the weather, there is nothing better than an oversized cardigan. Truthfully, I'd even go a far as to say that when it comes to cozy cardigans, they are nothing short of unsung heroes that save each and every day. That makes this chic little cardigan nothing sort of swoon-worthy and an absolute must-have!
SAM EDELMAN Davis Knee High Boot 
You're never fully dressed without a smile…and a fabulous pair of boots and this year's NSALE line-up doesn't disappoint. To round out my cozy, cozy favorites, I looked for warm, cognac-colored suede and found it in this pair of Sam Edelman riding boots.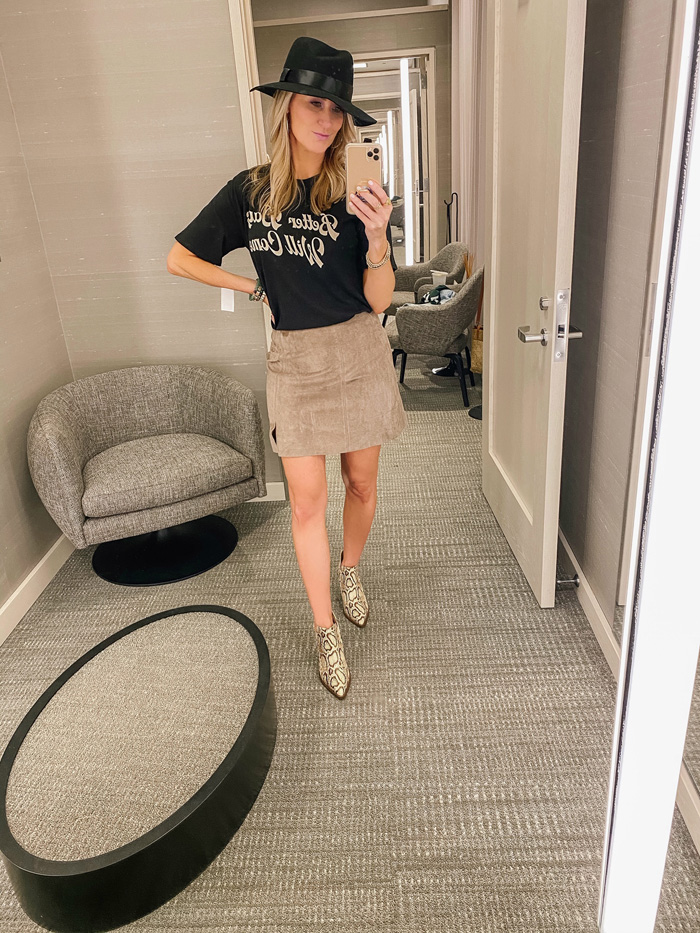 BLANKNYC Suede Miniskirt 
Bare legs are the ultimate accessory during these last days of Summer, but your suede skirt can take you right into colder weather when layered with tights or boots. This soft, velvety suede BLANKNYC Suede Miniskirt can be styled so many ways and the French Taupe color couldn't be more perfect!
NORDSTROM Satin-Trim Wool Felt Tulip Crown Hat 
Anyone who knows me, and follows me on Instagram knows I love fedoras! Whether you are having a bad hair day or you want to take your look to the next level a hat is a perfect accessory. This black fedora hat is perfect for the fall season because it's not too warm to make your head sweat but is warm enough to keep your head toasty and cozy when the cool season clicks. Make the fedora hat a staple in your fall closet and you'll never have to worry about a bad hair day again!
BLONDO Emelia Waterproof Chelsea Bootie 
If you haven't noticed, animal prints are having a major moment right now. Among the jungle theme is one pattern that's particularly ssssexy: snakeskin! I mean, Bella Hadid and Victoria Beckham donned it multiple times so you know it's on-trend.  Both classic and cutting edge, these booties are the perfect way to incorporate the trend without sacrificing sophistication. If you're over Spring's leopard prints, Fall's snakeskin is for you!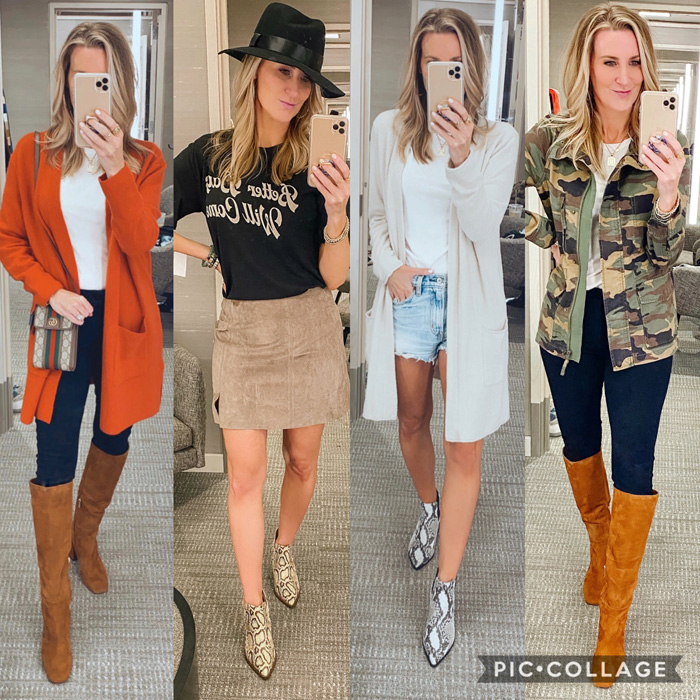 Hope you guys have a wonderful weekend! Thanks for reading! Xo Heather

Most Read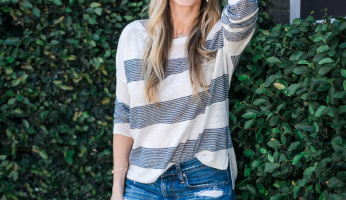 Subscribe to our Newsletter