How to Decorate a Your Patio That Will Make Guests Swoon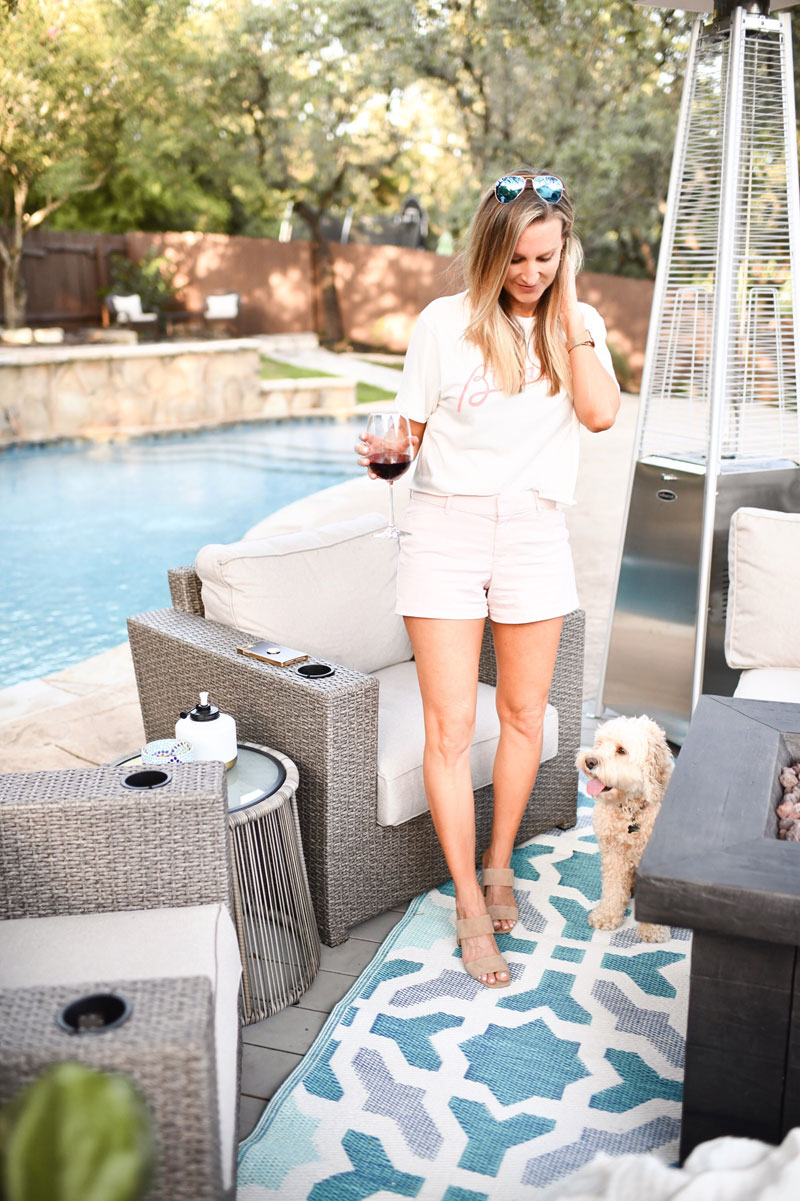 Overstock is celebrating its 20th anniversary with its biggest sale ever. The second annual Customer Day sale starts Sunday, October 6 at 2:00 p.m. EST and runs for 36 hours — during which you can find better deals than even on Black Friday. You can expect to see major savings on more than 1.3 million products across all categories.
With free shipping on orders over $45 (with many items offering free two-day shipping) and double rewards points for Club O members, Overstock is pulling out all the stops during Customer Day. And it's not just markdowns on old inventory either; deals cover thousands of exclusive private label products and new arrivals.
My Dream Outdoor Entertaining Space:
There's nothing more satisfying than feeling right at home while enjoying the great outdoors. During summer an Fall, most of our time is spent in the backyard hanging out as a family or getting together with friends. A good gathering place to relax is very important to me. My patio was due for a much-needed update, and if you have been following me on Instagram you got a glimpse of the finished product. And I'm absolutely in LOVE with the outcome.
Instead of running around from store after store trying to find the best pieces that work cohesively, I decided to shop for furniture completely all online. In the comfort of my own home, I was able to handpick this arrangement, thanks to the help of Overtock.com. The one thing I really loved about this site is its generous amount of visuals and product details. They even have an entire section dedicated to ideas for different arrangements catered to different rooms around the house. Many of my ideas were pulled from the patio inspirations offered. From decorating tips to style quizzes, you're never at a loss of direction.
There was a long list of essentials to cover and Overstock.com checked them all off. They even offer free shipping on literally all the pieces I got. Partnering with Overstock.com was a dream, making this a one-stop shop for the ultimate key pieces to complete my patio set. The selection and variety of products are literally endless to help bring anyone's backyard vision to life. For me, effortless sophistication with refreshing splashes of color was what I wanted to achieve. I have a tendency of leaning towards neutrals, which seems to be quite common for many as well this summer. When picking out what to get, many of the selections complimented each other very well. For anyone who is currently looking for a little furniture inspiration, I'll break down this setup piece by piece. I can't wait to share all these amazing finds with you guys, so let's dive in!
THE CONVERSATION SECTIONAL CLUB SET:
Having a space that feels welcoming and has enough seating for everyone was definitely a necessity. This Living Source International Chelsea Wicker Sectional Set was absolutely the right choice! While scrolling through the options for sectionals on Overstock.com, I was comforted by all the positive reviews from this sectional set. It can be intimidating shopping for furniture online without seeing it in person first, but I was pleasantly surprised by the accuracy and quality once it arrived. There are so many exceptional details to point out, I don't even know where to begin. Being able to move the chairs and sectionals around to my liking makes for the perfect custom fit for the space. So far this seating arrangement is ideal for a classic backyard hangout. Creating a closed-off structure gives a more intimate fireside atmosphere.
The pictures say it all about these five-inch thick cushions. I am in love with how plush and comfy they are. The durable material will no doubt withstand the weather just fine this summer. In all honesty, when I initially saw the set, the cushions were one of the main selling points. The cushions and the BUILT-IN cup holders. Those cup holders will be the true heroes this summer, saving us from spilled drinks while having fun in the sun.
The wide structured build made it easy to fill up the space and still look very inviting. The entire wicker and aluminum twelve-piece set include the spacious sectionals, high back chairs, and two tables. I kept the wicker cup table but chose to replace the wicker coffee table with the square rustic fire pit. The whole set can comfortably fit a party of ten (plus a dog).
THE TALL HAMMERED BRONZE PATIO HEATER:
This time of year gets quite hot here in Texas, but the cooler nights can be downright freezing. Staying warm while being in the backyard keeps the family happy, so some sort of heat source was a top priority. Well, let's make it two to be safe! I went with this exceptional glass tube heater and, of course, the square fire pit.
Going to restaurants I've always loved those fancy heating lamps to make an outside table more enjoyable. I didn't realize how affordable they actually are, especially the ones available on Overstock.com. I finally thought it was time to bring one into my own home once and for all. This tall bronze hammered heater is a really modern addition to the setup. The elegant heater features a glass tube to shoot off just the right amount of heat. It makes for a great atmosphere and even has wheels, making for an easy move or rearrangement.
This specific heater by the brand Hiland offers a variable heat setting to be controlled based on the weather. Assembly is required, but all in all relatively easy to set up.
THE DAKOTA SQUARE FIRE PIT:
As I mentioned, I opted for two heat sources; however, this fire pit takes more of a leading role as the centerpiece. I wanted to add a touch of Austin to the decor aesthetic, so I went with this rustic Dakota Square Fire Pit by Christopher Knight Home. I stuck with the grey tones throughout, but Overstock.com offers it in brown as well in case you were wondering about other variations. Both the brown and grey options are rich in color. The rather simple design is made up of lightweight metal with a hand-crafted rustic finish, giving it that old wood look and feel. The best part was no assembly required. The propane tank easily sits inside, and it's ready to be fired up!
The fire pit piece is one of the highlights for me, adding that evening glow. During the day it operates as somewhat of a table with just enough top space to lay down a coaster and a glass of lemonade. This luxurious looking product is currently on sale and installation payments are an option as well.
THE FINAL DETAILS
Now for the finishing touches. My mind always wants to escape to some tropical place by the ocean when work and life gets stressful. To bring that sanctuary vibe into my own home, I added touches of that inspiration through the patio detailing. I'm not one for cookie-cutter perfection nor do I want everything to be too matchy-matchy. A fun tip for adding some character to your decor is to play around with different prints. The lightweight throw pillows all feature different patterns and muted colors. I focused on soft blues and off white tones as accents, which are great contrasts and compliments to the cool grey cushions. The overall refreshing color scheme gives a very breezy aesthetic.
The Seville Multicolored Rug is a chic little retro piece from Fab Habitat. I fell in love with the pattern and material of this one. The best part is that it's reversible, so I can subtly switch things up for a fresh new look once and awhile. I try to make environmentally conscious choices when I'm investing in furniture. This beautifully crafted rug is made of 100% recycled plastic. The tightly woven material makes for great durability but still soft to the touch. One of my biggest concerns when it comes to outdoor rugs and fabrics is the color fading from the sun. Thankfully the Seville Rug is UV resistant. This low maintenance addition will be so easy to wash off with a hose and keep looking brand new.
To complete the patio setup, I added two small round side tables to lay down a book or a glass of wine on. Their structure is truly unique and matched perfectly to the wicker sectionals. They also play a contributing role in creating that intimate closed-off feel that I was aiming for.
All in all, I would say my backyard patio is now officially complete! If you are thinking about furniture shopping, definitely take a second to check out all the great options available at Overstock.com. The entire virtual experience offered more guidance than I ever expected when it comes to shopping for furniture. From the flexible delivery date to variations within each product, it definitely feels like a very personal shopping experience. Instead of people trying to sell you on a product, Overstock.com has honest reviews from real customers. Besides outdoor furniture, they also have an amazing selection of interior decor for affordable prices you just can't beat. Not to mention free shipping and warranty on just about all furniture, which is a life saver in my book.
Summer is definitely heating up here in Austin, and I'm glad to have everything in order right in time for the Fourth of July. It's always a good feeling when your inner personality is brought to life through design. Whether you prefer a modern minimalist style or casual chic, there's always something at Overstock.com for everyone. I'm looking forward to all the cookouts and backyard hang sessions coming our way this season. If you need me, I'll be out here on the pool-lounge-repeat cycle.
Shop exact products in this post from Overstock.com:
JavaScript is currently disabled in this browser. Reactivate it to view this content.
Most Read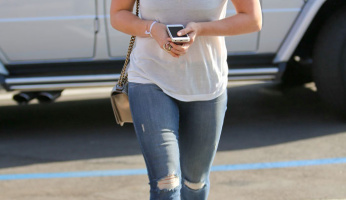 Subscribe to our Newsletter