7 Mocktails Pregnant Women Will Love (So Says Our Pregnant Editor!)
Pregnancy is a miracle, but it can take the fun out of nights out, meals, vacations, and the holidays. You already give up so much during pregnancy; caffeine, alcohol, soft cheeses, Botox. The list can feel endless.
But you shouldn't have to give up your favorite cocktail. And, you shouldn't have to miss your friend's big birthday, date nights, or just entertaining friends and family.
Instead, continue reading for the best mocktails for pregnancy.
There's something to suit all mommies to be and those nursing newborns.
Can I drink mocktails while pregnant?
Yes, of course, you can! Just because you have to abstain from alcohol when pregnant doesn't mean you have to give up everything tasty too.
The best non-alcoholic drinks are easy to make and offer all the taste of a cocktail, but minus the alcohol.
Even a simple Google search will provide you with lots of inspiration for mocktails for pregnancy, but we've listed the best a little further down.
What can I drink instead of alcohol when pregnant?
The only liquid consumption you need to cut out completely when pregnant is alcohol, along with minimal consumption of caffeine. Of course, this means that you can drink whatever you fancy.
You can still have fun when heading out for a meal or drinks with family and friends; choose the alcohol-free options.
Most good bars and restaurants will be able to make you mocktails for pregnancy or will often offer non-alcoholic cider, lager, beer, or prosecco.
Still, there's nothing wrong with opting for a juice or soda if your pregnant body is craving it.
7 easy mocktail recipes!
Socializing and enjoying drinks with friends and family at home means you can have complete control over your drinking options.
Now is the time to be raising a glass to you and your soon-to-be expanding family.
Check out our 7 best mocktails for pregnancy to toast your pregnancy.
1. Virgin Bloody Mary Mocktail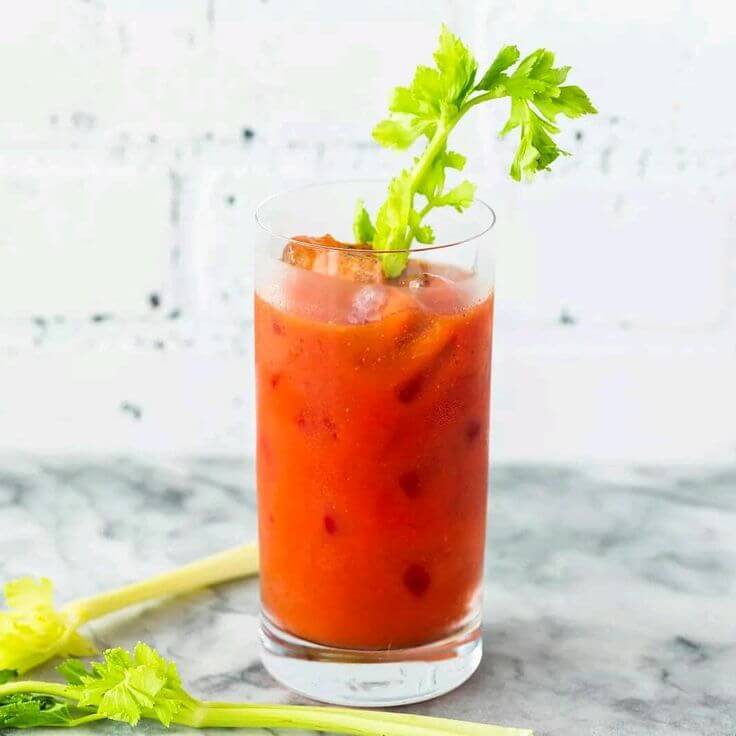 Classic cocktails like Bloody Mary translate so well to mocktails for pregnancy because they taste the same with or without the vodka.
For a Virgin Bloody Mary, combine one part lemon juice (1/2 oz), six parts tomato juice (3 oz), and pepper, salt, Tabasco, and Worcestershire sauce to your taste.
2. Moscow Mule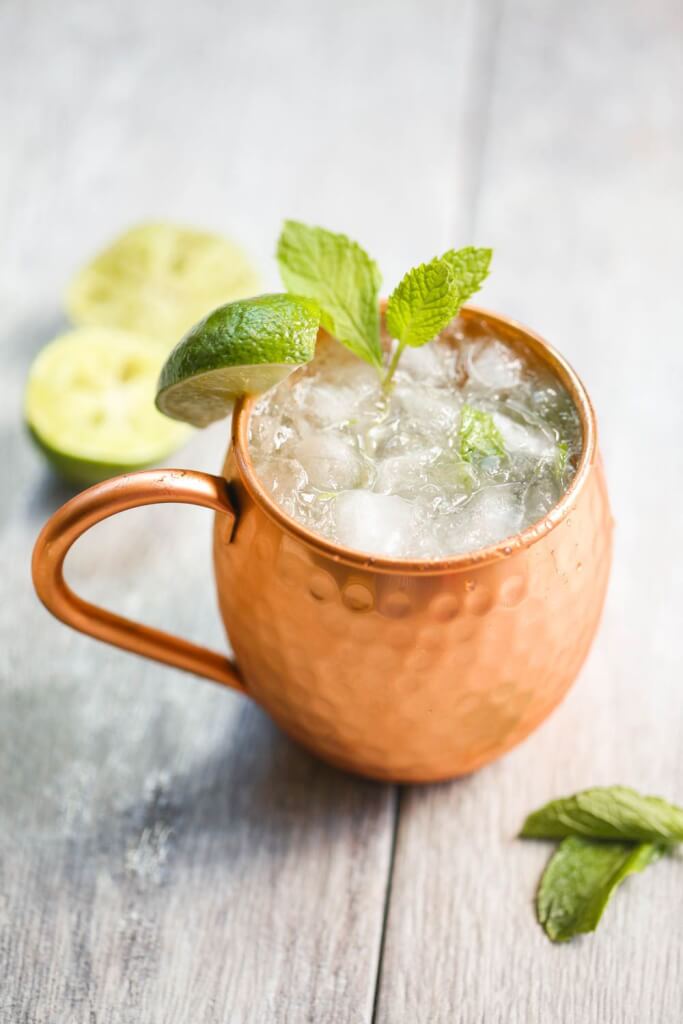 Again, the Moscow Mule is one of the best mocktails for pregnancy because it tastes great with or without vodka.
Although best made in a copper mug, it's not essential for this ginger ale cocktail.
Instead, combine 6 oz of ginger beer and ½ oz freshly squeezed lime juice for an epic mocktail.
3. Non-Alcoholic Sangria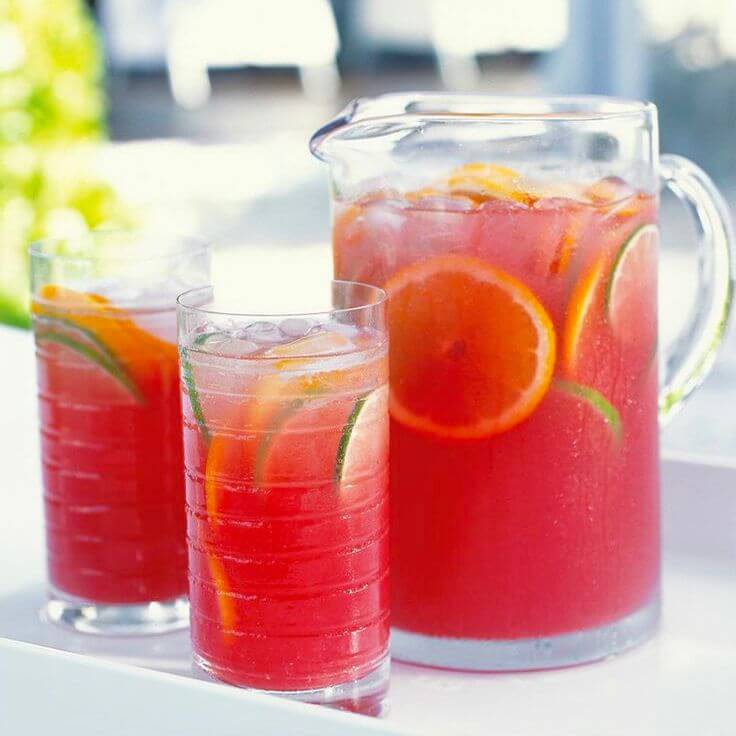 Who doesn't love a Sangria to put right back on you that unique, sunny holiday?
The best thing about Sangria is the zesty and punchy fruit that fills each glass. Sangria tastes fantastic, even the non-alcoholic version. Although there are a massive amount of Sangria recipes out there today, you'll want to keep it simple.
For a non-alcoholic pregnancy sangria mocktail, you'll need;
3 cups of grape juice (white or red)
5 cups of cranberry or orange juice
2 cups of chopped fruit of your choice (oranges, tangerines, grapes, apples, and blueberries work well)
5 cups of sparkling or carbonated water
Chopped herbs and fresh lemon or orange slices for garnish.
Combine everything but the ice, chopped herbs, and garnish in a large pitcher or jug and stir well.
Add ice, chopped herbs, and citrus slices for a devastatingly tasty mocktail for pregnancy when you're ready to serve.
4. Sex on the Beach, without the Sex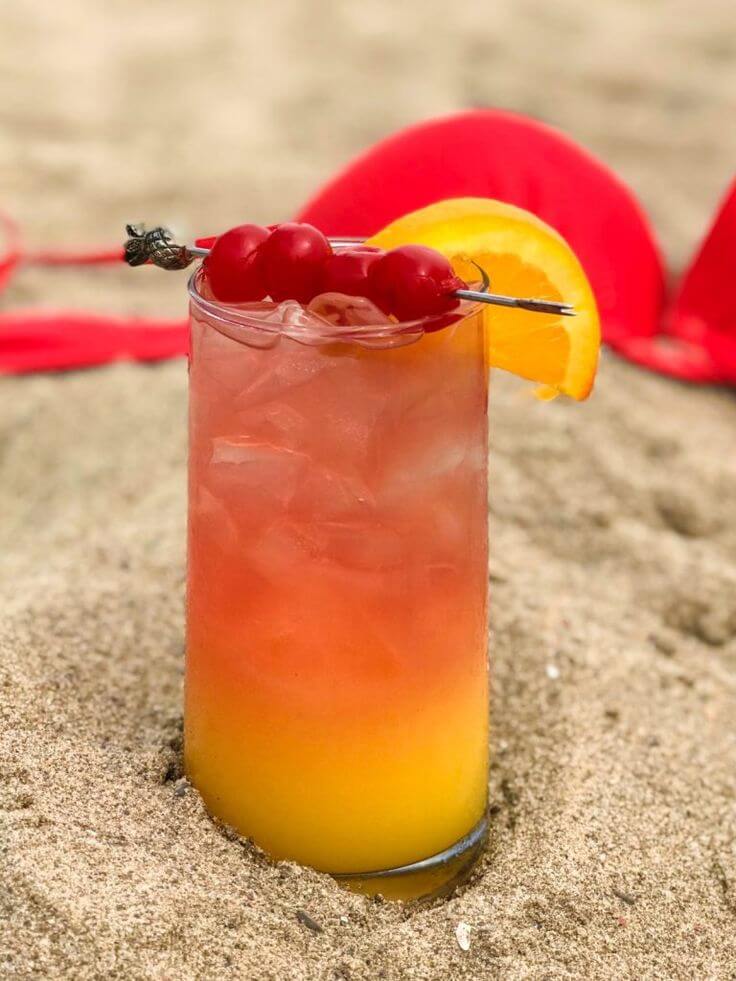 Who says you have to give up your favorite party cocktail?
Enjoy your Sex on the Beach cocktail for pregnant women by simply cutting out the alcohol.
Instead, mix ¼ cup grapefruit juice, ¼ cup cranberry juice, ¼ cup peach nectar, and ½ cup sparkling water, and pour into a martini glass.
5. Keep it simple with a sparking soda and fruit garnish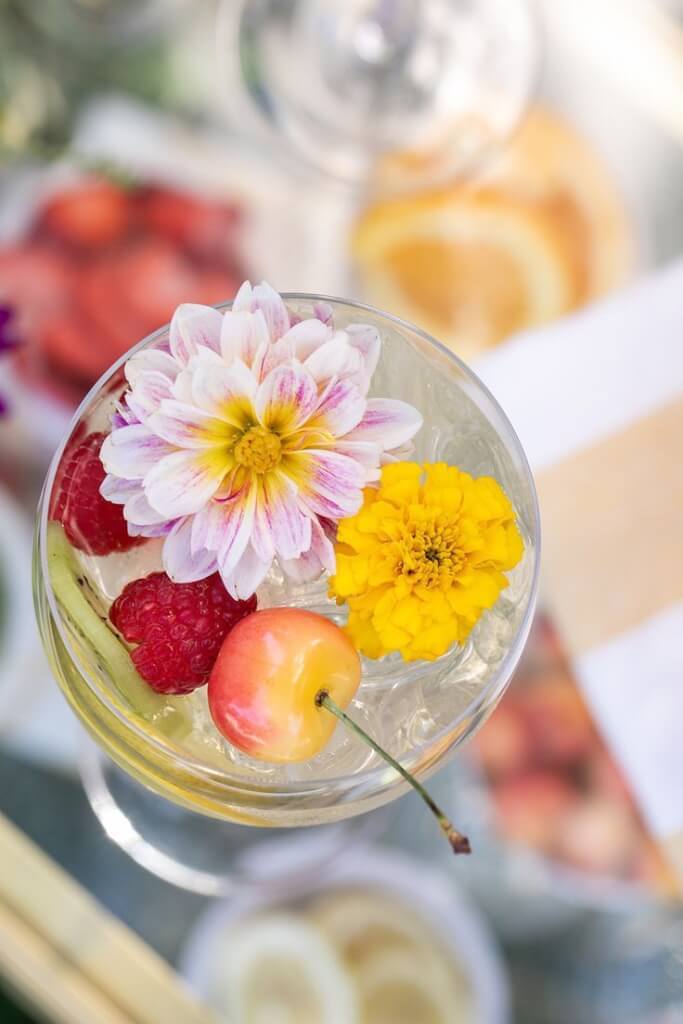 We all love a fancy, flaming, all-inspiring cocktail. But, when you're pregnant, you want something refreshing and tasty.
We love this refreshing mocktail for pregnancy because it uses natural fruit to add a hint of sweetness.
All you'll need is one can of your favorite seltzer and fresh fruit of your choosing, although berries work very well.
The best way to serve this pregnancy mocktail is to pour the seltzer water over crushed ice, with the fruit inserted onto a skewer in the glass.
6. Lemon and Blackberry Mocktail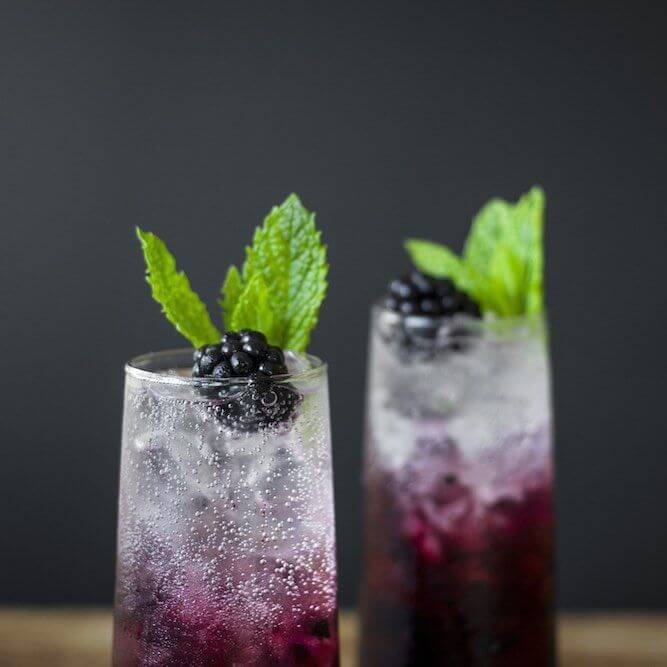 If you're after more of these refreshing mocktails for pregnancy, then this simple lemon and blackberry mocktail is for you.
Tangy and refreshing, it's a perfect option for those sweltering summer days.
This mocktail for pregnancy may seem a little hard work, but it's completely worth it.
All you'll need is;
½ cup fresh blackberries
1 cup of water
1/4 cup sugar
½ cup ready-made lemonade
Juice of one lemon
Seltzer or club soda
Lemon slices and fresh mint for garnish
In a small saucepan, add the blackberries and mash them with a fork or potato masher until all that's left is small bits. You'll want to add the sugar, water, and lemonade next and then bring to a simmer over low-medium heat for about 10 minutes.
Sieve the mixture to remove any bits, add the lemon juice, and refrigerate until cool. Pour evenly among four glasses over ice and add seltzer or soda as needed. Finally, garnish with fruit and mint leaves for extra crispness.
7. Virgin Margarita Mocktail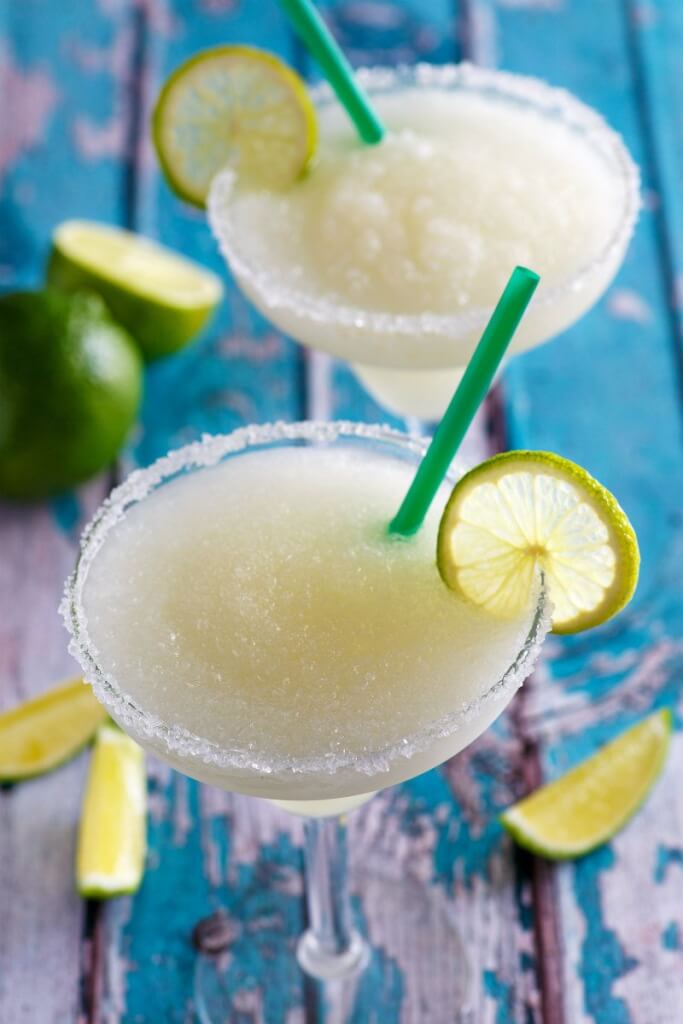 Like some of the cocktails already listed above, a virgin Margarita deserves its place on the best mocktails for pregnancy list. Virgin Margaritas provide that perfect combination of sweet and sour even without the alcohol and are ideal for any party.
There are two easy ways to make a Virgin Margarita.
Buy a non-alcoholic Margarita mix, combine with club soda, orange, lemon, and lime wedges, and pour over chunks of ice for a quick and easy mocktail treat.
It's super easy and fun to make your own Virgin Margarita from scratch. For a pitcher, you'll need;
1 cup of fresh orange juice
1 cup of fresh lime juice
1 cup sweet and sour
4 cups of lemon-lime soda
A garnish of oranges and lime
Combine all ingredients in a pitcher and stir well. If you can't find lemon-lime soda, you can use soda/sparkling water, but you'll need to add one cup of simple syrup.
Whichever mocktail you choose, don't forget to raise a glass to you and your pregnancy. Cheers!
Most Read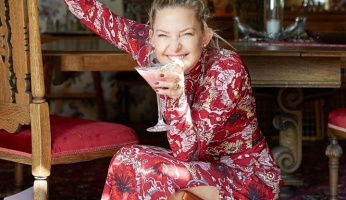 Subscribe to our Newsletter