How to Wear: Neon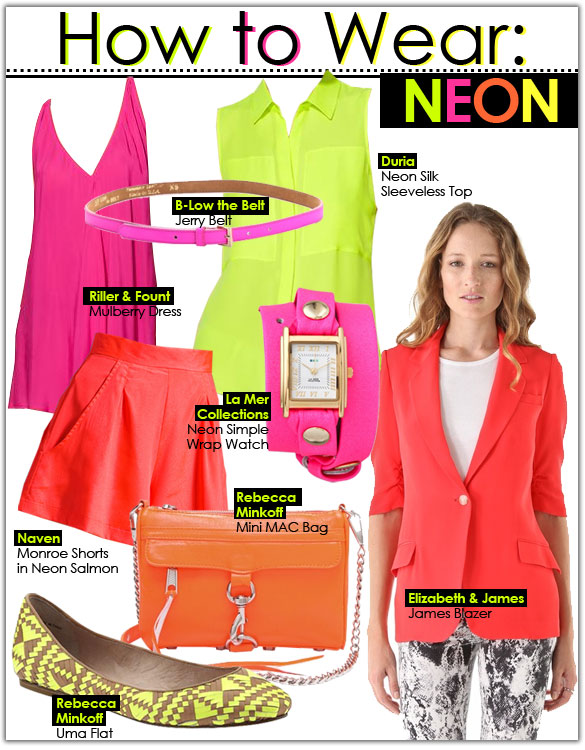 Bold color is all the rage, especially retro neon. Born in the 80's, neons like hot pink, electric orange, lime green, fluro yellow and bright turquoise have made a comeback on the runways and on the streets. These bold colors can be intimidating, however. Wearing neon will bring a lot of attention your way so if you're shy start incorporating these colors slowly. How do you wear them, pair them and rock neon the right way? Here are my neon how-to's:
Wear as an accessory. You don't have to go all out with neon, because a little goes a long way. Add a bold orange belt to a little black dress, a neon flat to a boyfriend jean and blazer, or a hot pink watch to a tank and cutoffs. If you really love a particular neon, pick up that color in a bag that you can tote everywhere. A neon accessory is still a powerful nod to the neon trend.
1. Rebecca Minkoff Uma Flat: Neon is tempered by a contrasting neutral in these woven flats. The intricate weave channels the Aztec trend, and can be worn back to any weekend look. We love this pattern with a boyfriend jean and blazer, slouchy and playful.
2. Rebecca Minkoff Mini MAC Bag: Take your pick. If you love the trend, we suggest buying your favorite neon in a bag. Not only will you get to wear it any day (or every day!), the bright color is the perfect way to keep track of your purse. (We can't imagine leaving a neon orange bag behind at a party or restaurant!). This colorful crossbody balances its bold tone with a slim shape and trim lines. A detachable chain strap lets you carry this bag as a clutch…twice the fun!
3. La Mer Collections Neon Simple Wrap Watch: Wrap your wrist in color. Le Mer's neon pink strap makes your watch a fun focal point. A square timepiece is finished in gold and pink leather. Add to your most relaxed weekend looks to punch your style up a notch.
4. B-Low the Belt Jerry Belt: Take it to the office. Neon may be a little bold for the work day, but it can be perfectly appropriate when done in small measures. This thin neon belt is the solution. Pair back to navy blue trousers and a blouse, over a little black dress, or with your favorite tan pencil skirt.
Temper with neutrals. Temper a bold neon color by pairing it with neutrals. Some of our favorite neutral and neon pairings are black/neon pink, navy/neon orange, gray/neon blue, nude/neon yellow. But any of these neutrals (black, gray, nude, and navy) look great with your favorite neons. Take the guesswork out of separates with a simple neon + neutral formula.
5. Elizabeth and James James Blazer: Neon salmon is quite possibly our new favorite neon. Last year's coral craze is taken up a notch with this fantastic color. Pair this bold blazer with little black shorts and a nude tank for your next girl's night out. The Olsen twins spared no details: ruched three-quarter sleeves, gold buttons, notched collar and plenty of pockets.
6. Riller & Fount Mulberry Dress: Don't be afraid to stand out in the crowd with a cocktail dress in a neon. Especially brilliant back to a summer tan, a neon dress is a sure-fire way to get some attention. Which shoes? Neon dresses look fabulous back to your favorite black sandals or nude pumps.
7. Naven Monroe Shorts in Neon Salmon: We weren't lying…neon salmon really is our favorite new neon. Pair these flirty shorts back to a black tank, blazer or blouse, but tuck in your top to showcase those neon-clad legs and waistline. Cut like a skirt, these shorts are extra playful with their pockets and exposed back zipper.
8. Duria Neon Silk Sleeveless Top: Sleeveless tops are fashion-forward and extremely comfortable to wear. Picking one up in a neon is a no-brainer. Pair with black skinnies, your favorite shorts and tucked into a pencil skirt. It is an undeniably fresh addition to any wardrobe. Duria cut their top in a breezy silk with flat patch pockets.
Most Read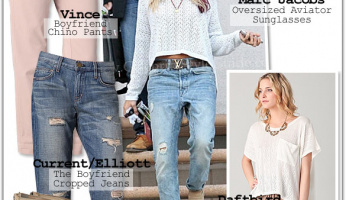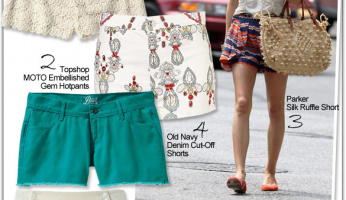 Subscribe to our Newsletter