How To Use Your Dyson Airwrap Styler The Right Way!
If you got the Dyson Airwrap Styler for Christmas, you've probably already been experimenting with it. Although, it's not the easiest tool to use and takes a little patience and practice to get the hang of. There are some styling tips and tricks you may not know, along with the basic ways to use it that aren't as obvious as they seem.
If you're struggling to get your curls to hold, or your technique may look a little shotty, we've got your back. We're going to go over the basic ways to use your Dyson Airwrap Styler so you can get the hair of your dreams and make use of all $600 worth of this product.
Basic Usage tips
The first thing to remember about this hair tool is that the hairstyling head attachments are meant to be used on damp or nearly dry hair. Let's call it 80% dry hair. If you use it on wet hair, you won't get the same volume or hold.
You can either leave your hair to air dry for a little bit, towel dry it, or even use the blow dryer attachment to get it to where it needs to be before styling. Not only will you get better results, but it will speed up the styling process when your hair is nearly dry to start with.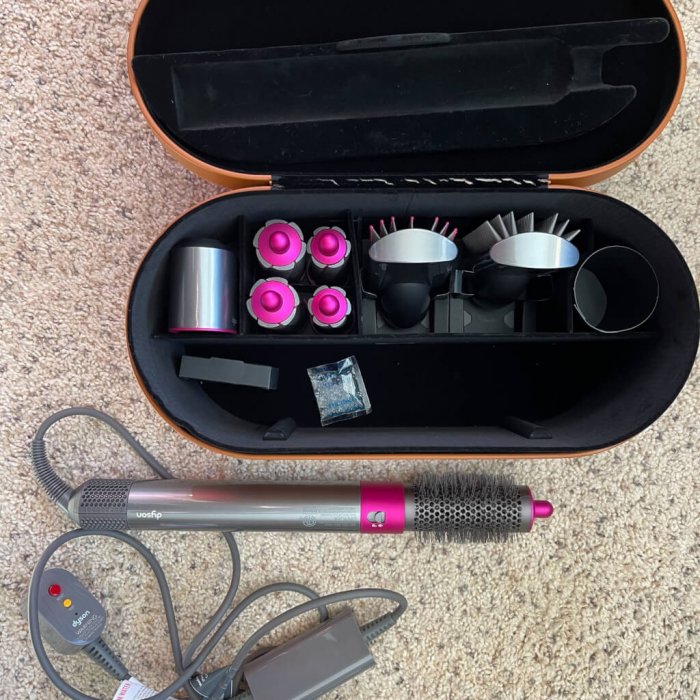 If you take away anything from this post, it should always be to use a heat protectant! Any type of heat will damage your hair – even with styling products that use reduced heat like the Dyson Airwrap.
Our two top picks for heat protectants are the Aussie Prime & Proper Hair Primer Treatment. This is a leave-in hair conditioner that will shield your hair from heat as well as tame frizz and flyaways.
The CHI 44 Iron Guard Thermal Protection Spray is one of the most well-loved heat protectants on the market. It's a weightless formula that will help you get that smooth and sleek style without the damage or unwanted greasy buildup.
What head attachments you should use
The pre-styling dryer is the first tool you should gravitate toward. This uniquely formed blow dryer will take your hair from wet to damp and ready to style. It uses the same Dyson Airwrap airflow technology to avoid heat damage. You can use this on its own as a regular hair dryer without following up with a styling brush.
The curling barrels are great for waves and texture in the hair. Using the barrel, similar to a curling iron, will make your hair feel bouncy and beautiful. But, these curls may not have the hold to last all day unless you pair them with some products.
We recommend using a hairspray such as theBed Head TIGI Hard Head Spray which has a hard hold with minimal crunch. Using a hairspray at the end of your styling increases the longevity of your curls.
The barrel attachments work on all hair types, but if you have coarse or curly hair, you may need to amp up the hair oils to manage your frizz.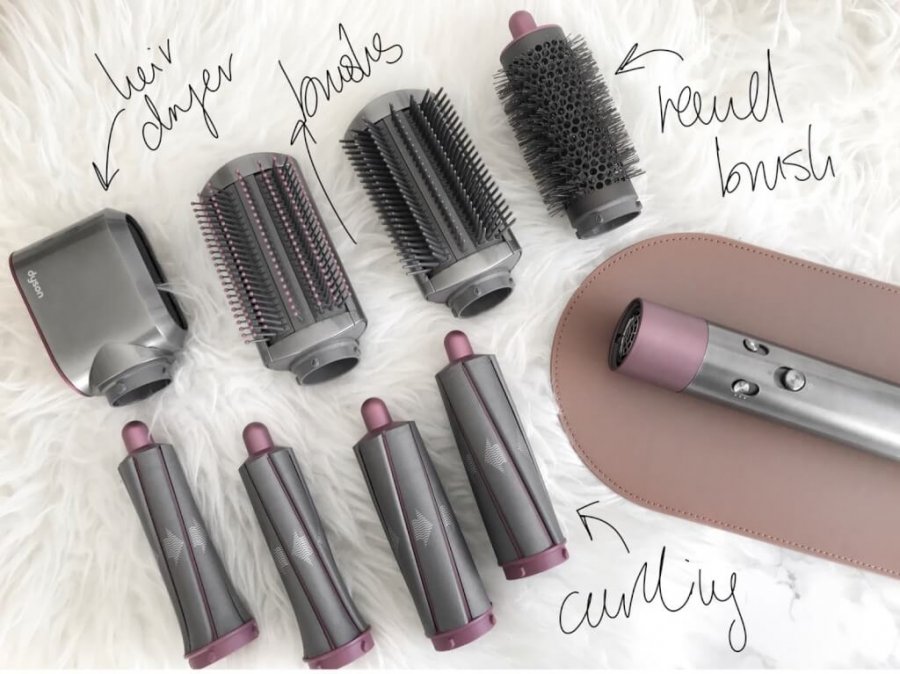 For that 90's Cindy Crawford-esque blowout, you should be grabbing the round volumizing brush attachment. This attachment will give you shape and lift your hair for a textured, salon-quality blow dry. The round brush attachment can be used right up to the root, lifting them and drying them in place to give that volume you're looking for.
This is also the perfect attachment for anyone with fine hair and bangs, especially curtain bangs. It'll give you that lasting shape and slightly rounded front that prevent them from sticking to your forehead.
The soft and firm styling brushes are similar and can achieve a sleek, silky, and straight style. The firm smoothing brush is great for controlling curly, frizz-prone, and coarse hair.
Anyone with hair type 3a and above would benefit more from the firm smoothing brush. The soft smoothing brush is similar to a straightener; it will create an impossibly smooth style using soft, ball-tipped bristles designed to be gentle on the scalp.
We have a product to pair with this styling brush for an extra boost of shine and frizz control. The Color Wow Pop + Lock Frizz Control + Glossing Serum is a heat protectant that will control frizz, seal split ends and give you lasting moisture.
How do you use the barrel attachment?
The barrel attachment takes the most practice to nail. Due to the airflow technology, it looks much easier than it is. You may have a hard time manipulating your hair to curl around the barrel. So, how should you be using the barrel attachment?
The first thing to do is make sure that you're working in small sections. It's easier for the hair to wrap around the barrel when the section is small. The most important thing is to let the barrel pick up your hair rather than manually wrapping your hair around it like a curling wand.
Take notice of the arrow on the barrel. Hold your section about two to three inches away from the bottom, and make sure to align it with the direction of the arrow. The automatic wrapping action will take the bottom of your hair and feed it around the barrel.
Then, you can let go of the whole section, which should be guided around the barrel at this point. You can move the barrel upwards toward your head to guide your hair onto the barrel.
If you're a visual learner, Dyson has a very helpful YouTube tutorial that may help in your journey to bouncy curls.
The seven quick tips for getting the best results from your Dyson Airwrap styler show you some key movements and methods that will make your experience a lot easier!
Subscribe to our Newsletter