How to Start Your Day Like a Celebrity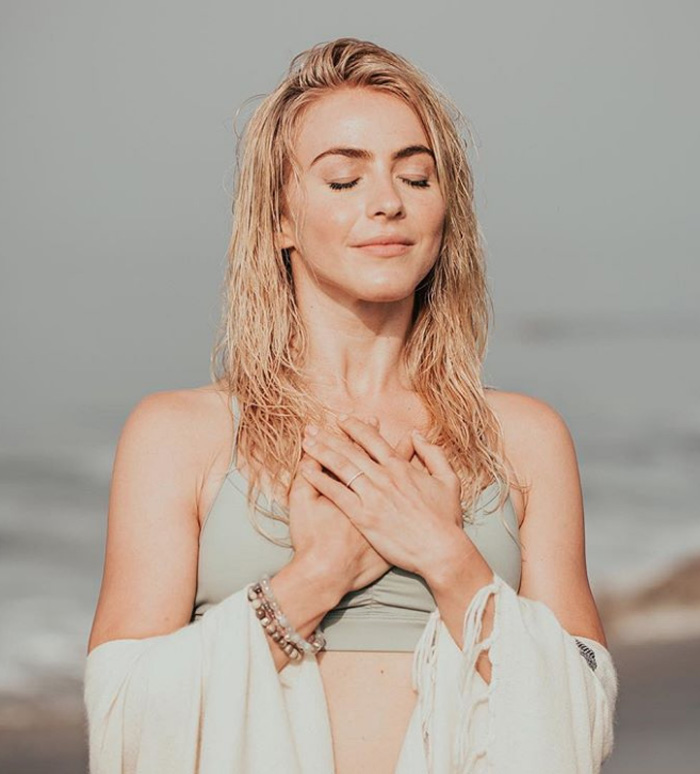 Some of the most successful people in the world, celebrities included, wake up early. Hopping out of bed before the sun rises is proven to increase productivity, sure. But — let's face it — it also allows for a longer, borderline-therapeutic beauty routine. (Which comes with its own set of benefits, make no mistake.)
While the snoozers among us might slap on concealer a few minutes before walking out the door, early-risers make the time to mask, dry brush, or even soak in the tub (sometimes starting as early as 4 a.m., mind you). And the results speak for themselves. Looking to carve out a few extra minutes of self-care time? Let these celebrities be your inspiration.
The first thing I do when I wake up in the morning—which is usually around 6:30 a.m.—is sit up and think of five things I'm grateful for that have either happened to me already or that I want to do that day that will, in turn, make me grateful. I set little spiritual goals for my day. They don't have to be big achievements—just something like wanting to smile at 10 people and seeing them smile back.
After I work out, I come home and have a protein shake or steamed eggs with avocado and tomato. Sometimes I won't do my makeup or hair after I shower—I really only do them if I have somewhere to go that day. My fiance and I have Sonos speakers in our house, so I put on a Kygo Pandora channel or Alt-J to listen to while I get ready. Then, I'm set to get on with my day!
The first thing Hudson does when she wakes up, which she says is around the same time as her kids at 7:20 a.m., is trying to shake her sleepiness. Not only does Hudson wake up early, but she really wakes up — with an ice bath. "A makeup artist who has worked with dozens of people said, 'I used to work with this actor and every day he would stick his face in an ice bath. And he would just stick his face in and try to be in there as long as he could, sort of dab off, and go back in.' I started doing it," she told Stylecaster.
"I do this stretching thing where I actually pay attention to my body for a second, how I move," Hudson, co-founder of athleisure brand Fabletics, tells The Cut. See how I style my Fabletics outfits HERE.
Jessica Alba
If I'm working out in the morning, I'll wake up at 5:30 a.m. using the alarm clock on my phone—if my kids haven't already woken me up! Working out is not my favorite, but it's a stress relief and I get good ideas working up a sweat. I like to make a morning class before I get to work: Spinning or hot yoga sculpt, always with friends to keep me motivated.
After I get out of bed, I wash my face and put on Honest Beauty's Even Brighter Moisturizer and finish with a spritz of our Elevated Hydration Mist to freshen up.
Once I've worked out and showered, I have a quick, 5-10 minute beauty routine—that's all the time I have to get ready. For my hair, I usually just spritz on Honest Beauty Honestly Effortless Sea Salt Spray and let my hair air dry. For my face, I use our primer, tinted moisturizer, and concealer. My not-so-secret weapon is Honest Beauty Magic Balm for softening lips, taming flyaways, and blurring fine lines. Then I add some brow filler, bronzer, curl my lashes, put on mascara and our lip crayon and go!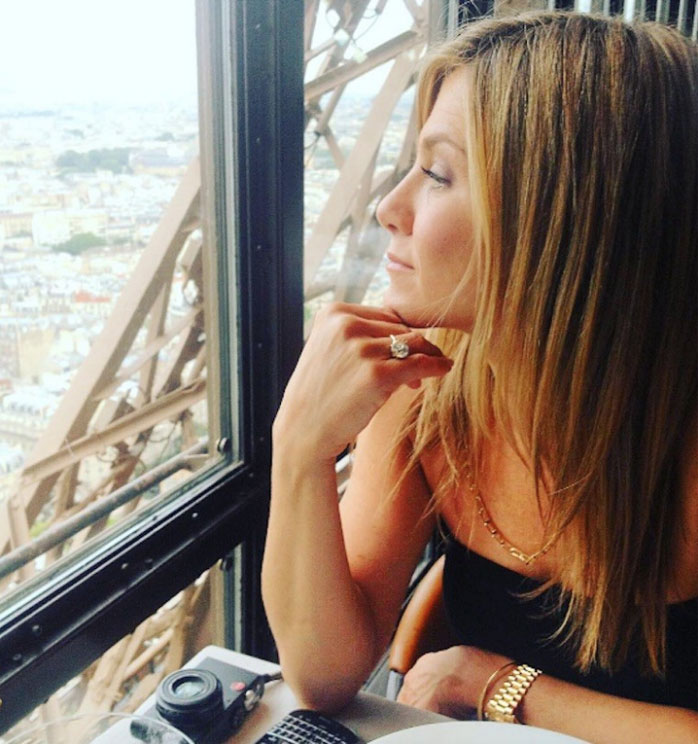 RELATED: THE HEALTH DRINK THAT CELEBRITIES LIKE JENNIFER ANISTON SWEAR BY
As a part of her morning routine, Jen washes her face with soap, drinks hot water with lemon, then meditates for 20 minutes. Getting up early allows her to get a head start on the day and have some quality time for herself before going to work.
I wash my face—my whole face regime is just soap and water to wake myself up, then some sort of Aveeno daily moisturizer that's got SPF in it. It's quick. The actress revealed that she has been using the $3 Neutrogena Transparent Facial Bar soap as her go-to morning face wash since high school. (If you calculate it, that's 30-plus years of Neutrogena love.) "I've been using it since high school. I wake up and wash my face with Neutrogena face soap. I use a serum and then a Dr. Hauschka day cream—that's it!" she said.
FOLLOW ME ON MY INSTAGRAM FOR MORE CELEBRITY STYLE TIPS
SHOP THE POST

Subscribe to our Newsletter