Guest Editor: Nicky Hilton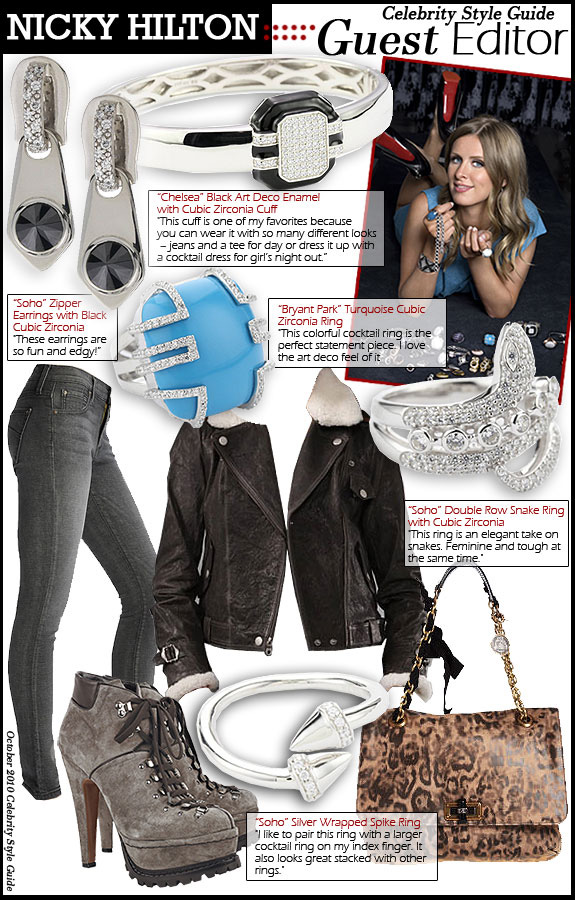 I am very excited to welcome one of my favorite celebrity fashionistas to Celebrity Style Guide as a special guest editor…Nicky Hilton!
Nicky is one of the most followed and emulated celebrities that we feature on Celebrity Style Guide and with good reason. Her style is a mix of casual cool, effortless and always on trend without being too trendy. She is one of the celebrities you can count on to "borrow from her closet". She always has the the perfect mix of fun and inexpensive pieces from stores like ZARA and H&M, and at the same time she wears some of the world's most coveted designer pieces….swoon!
Nicky has just launched her own jewelry collection and it is exactly what every girl needs to add the perfect finishing touches to any outfit. Nicky has graciously agreed to share exclusively with Celebrity Style Guide her favorite pieces from her new jewelry line as well as what she is currently coveting for fall.
Inspired by her own collection of vintage, fine, and costume jewelry, Nicky sought to reinterpret this eclectic mix of influences into a cohesive jewelry line. Thus was born the debut collection from her eponymous line. Carefully crafting her pieces with sterling silver, cubic zirconia, center stones including turquoise and onyx, and intricate enameling, Nicky designed with the intent to reflect her unique point of view while also appealing to a broad audience. From vintage art deco gems to edgier and more modern statement pieces, her jewelry embraces elements from both past and present eras.
A FEW OF NICKY'S FAVORITES FROM HER COLLECTION:
1. "Bryant Park" Turquoise Cubic Zirconia Ring – "This colorful cocktail ring is the perfect statement piece. I love the art deco feel of it."
2. "Chelsea" Black Art Deco Enamel with Cubic Zirconia Cuff – "This cuff is one of my favorites because you can wear it with so many different looks – jeans and a tee for day or dress it up with a cocktail dress for girl's night out."
3. "Soho" Zipper Earrings with Black Cubic Zirconia – "These earrings are so fun and edgy!"
4. "Soho" Double Row Snake Ring with Cubic Zirconia – "This ring is an elegant take on snakes. Feminine and tough at the same time."
5. Soho" Silver Wrapped Spike Ring – "I like to pair this ring with a larger cocktail ring on my index finger. It also looks great stacked with other rings."
NICKY'S FALL WISH LIST:
1. Lanvin reworks the iconic Lanvin Happy PM ($1775) bag in leopard print but keeps timeless shape and butter-soft leather.
2. James Jeans "Twiggy" skinny jeans in Slate ($123) I love this color for a pair of leggings like these, they're unpredictable and yet completely wearable.
3. Take an ultra luxe approach to utility chic with Alaia suede lace up booties ($1710)
4. The Madewell "Ava" shearling motorcycle jacket ($450) is a sturdy mix of rough-and-tumble leather and plush shearling that's sure to set your adventurous side in motion.
Most Read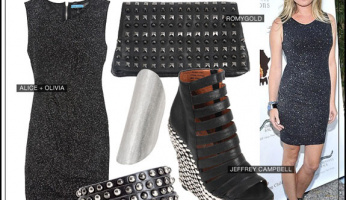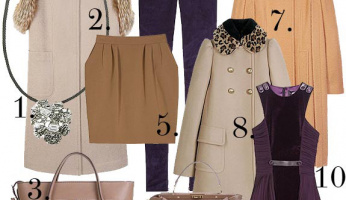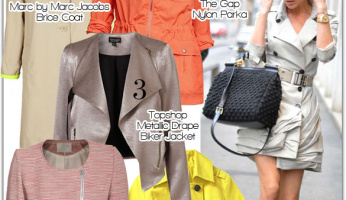 Subscribe to our Newsletter