Get The Look: Witchy Woman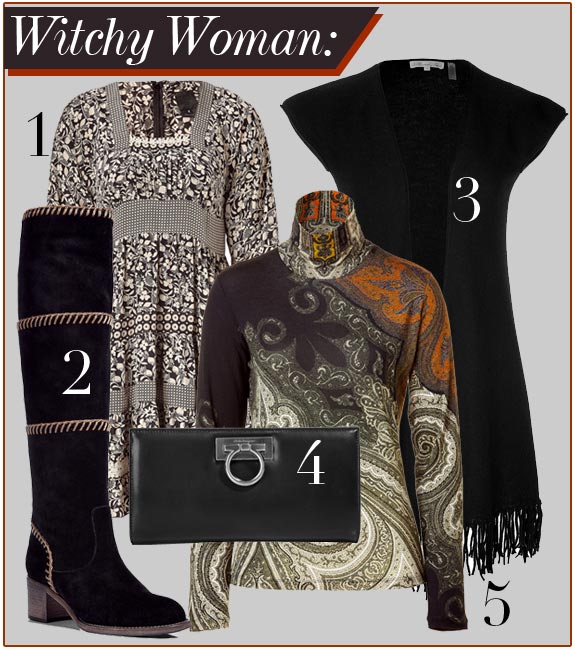 Knitwear takes a sexy turn when spun into webby seperated and daring proportions – like a black fringed vest layered over an Opt Art print mini dress. Choose sculptural accessories like a done corset belt an a sleek box clutch to finish it off.
Minnie Rose Black Fringed Duster Coat ($290)
Luxurious cardigan in fine black cashmere. New,trendy long shape, with a cool fringed seam. A fave piece for everyday, classy and casual and crazy comfy, too.
Anna Sui Black Clover Print Silk Dress ($565)
Romantic day dress in pure silk with a playful, floral print. Trendy romantic-meets-cowgirl look that you can wear with rugged boots, sandals or peep toes.
Etro Olive/Cream Jersey Turtleneck Top ($330)
Luxurious top in fine rayon stretch. Elegant paisley pattern in olive and cream, typical of Etro. Wonderfully soft, high quality material, so dreamy on the skin.
Salvatore Frrragamo The Norina Black Chain Strap Clutch ($690)
Elegant clutch bag in rich black leather. Luxurious and ladylike, extremely high-quality craftsmanship done by hand. Classic, elongated shape with a buckle, enough space for your essentials.
Philosophy Di Alberta Ferretti Black Suede Knee Boots ($940)
Luxurious boots in fine black suede. A modern basic with a medium-high block heel and a rounded toe. Sexy, plus elegant and fashionable, you will wear these boots forever!
Most Read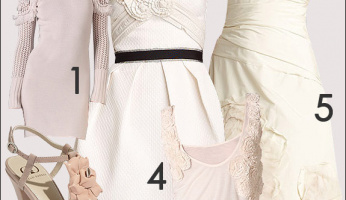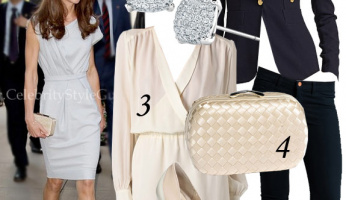 Subscribe to our Newsletter