Game On!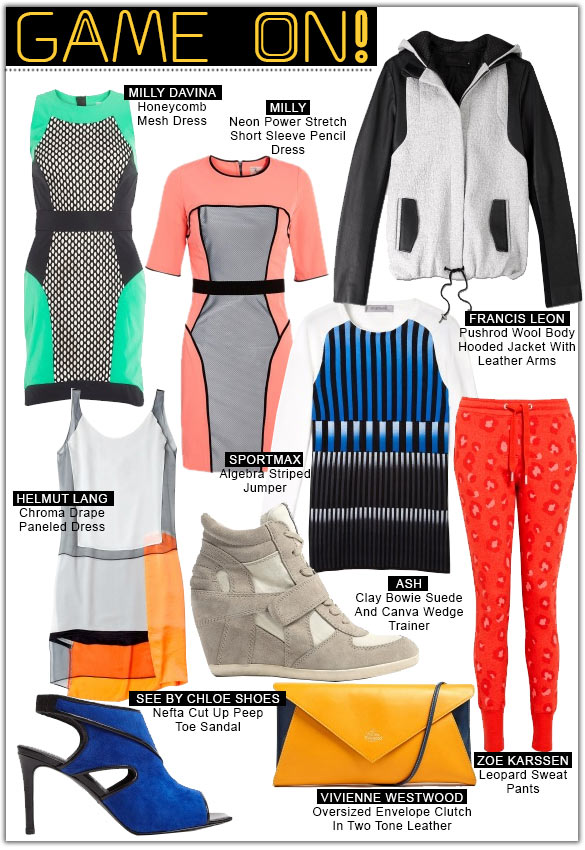 Mesh and power stretch, bold tangerine and cobalt blue, sneakers and hoodies. You think I'm talking about gym wear? I'm not! (But see celebrity activewear here and here). These activewear elements have found their way onto the runways, and now into the world of fashion. Whether it's a reflective panel on a dress or a wedge sneaker with a skinny, fashionistas are stretching these fabrics, colors and styles from the gym into their everyday lives. I love the way these bold colors add energy to the workplace or how a powerstretch dress lends strength to a board meeting. Infusing these elements into your wardrobe will have you saying: "Game On!"
1. Helmut Lang Paneled Dress: Neon orange and see-through mesh, elements that would work for a workout top as well as a paneled dress. Luxury and sports-minded style meet up in this Helmut Lang, and the trend is in the bag. Pair with simple black sandals for standout style.
2. Milly Davina Honeycomb Mesh Dress: It's the mesh inserts that give a game-on edge to this sexy sheath. My favorite element of this sporty piece is the hem-to-neckline exposed zipper, which adds an extra layer of edge.
3. Sportmax Algebra Striped Jumper: Like my favorite printed activewear, this bold graphic uses black, white and blue stripes to piece together an eye-catching jumper. Pair with black, white or electric blue skinnies and pumps for an outfit that's as easy to throw-on as your workout gear.
4. Vivienne Westwood Oversized Envelope Clutch: Tangerine orange…I looooove you! Carry this energetic hue against a daytime or evening look for a pop that won't stop.
5. Francis Leon Pushrod Wool Body Hooded Jacket With Leather Arms: Hoodies and toggles. No, I'm not talking about your yoga hoodie, I'm describing this posh Francis Leon Jacket. Leather arms set up a colorblocked look for this spring topper.
6. See by Chloé Shoes Nefta Cut Up Peep Toe Sandal: Bright colors aren't just for gym wear. Translate the colorful vibe to footwear with vibrant-colored shoes. These bright blue sandals are the perfect stand-in for your electric blue sneakers.
7. Ash Clay Bowie Suede And Canva Wedge Trainer: I can't get enough of the wedge sneaker. Paired with a skinny jean or a leather legging, it gives a sporty edge to your day or nighttime looks. Comfort never looked so good!
8. Milly Neon Power Stretch Short Sleeve Pencil Dress: Move over power suit, here comes the power dress. Made of power stretch and styled with a reflective central panel, this dress gives unparalleled energy to your workday.
9. Zoe Karssen Leopard Sweat Pants: Straight-up sportswear. Even sweatpants step it up a notch with color and print. Pair these sweats with your favorite tee and a wedge sneaker for style on the go.
Most Read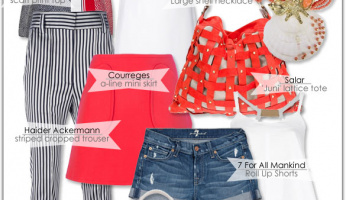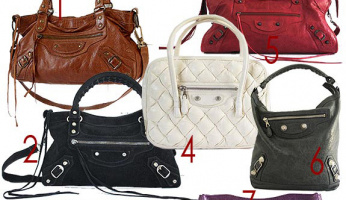 Subscribe to our Newsletter