EXCLUSIVE! Kristin Cavallari's Secret Weapon…Kerastase!
We are constantly flooded with e-mails about Kristin Cavallari's shiny, healthy, perfect Hollywood hair! Her fans wanted to know everything they could about her hair and the shampoo and conditioner she uses for her trademark tresses. We all agree her hair was the most perfect shade of blonde we have seen in a while and with the rash of "all wrong celebrity blonde" going on right now I am very impressed.  So we decided to go straight to the source and Kristin was happy to let her fans know the shampoo and conditioner she uses to keep her hair camera ready.
Kristin uses only THE very best on her hair…. Kerastase Reflection Bain Miroir and Kerastase Chroma Chroma Reflect Masque.  Kerastase is used by all the celebrities whose hair we covet…Jennifer Aniston, Courtney Cox, Hillary Duff and of course our favorite blonde Kristin Cavallari.
Click Here  to buy Kerastase Reflection Bain Miroir and the Chroma Reflect Masque and get your own super shiny, healthy Celebrity Style hair!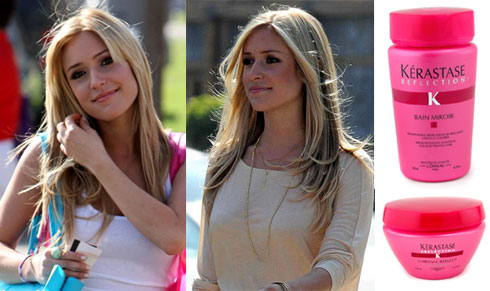 Subscribe to our Newsletter