Designer Spotlight: Lulu Frost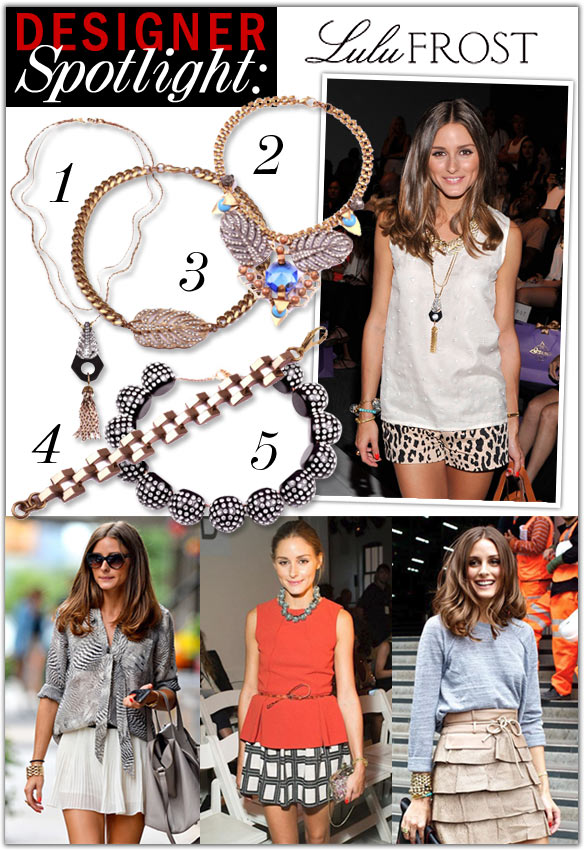 The best of the best, and I'll only spotlight the best. Olivia Palermo took the best of the best with her to both London and New York fashion weeks. Accenting her trend-setting style with a variety of sparkle, shine, and sheen, Palermo spotlighted designer Lulu Frost wherever she went. Olivia is not the only celebrity to fall in love with Lulu Frost. The line is also beloved by many celebrities, including Taylor Swift, Ashley Judd, Julianna Margulies, Cate Blanchett, and Kate Hudson. Frost's family has been in the estate jewelry for generations, and it shows. Blending modern glam with vintage pieces, Lulu Frost jewelry is an eclectic and edgy line. Any single Lulu Frost piece packs enough punch to hype up a collar line or exposed wrist. I love the side-by-side layering of oversized pendants, chunky chains, and crystal-embellished charms with studious work pieces like pretty peplems, simple shells, and pencil skirts. Mix up your office look with Lulu Frost to capture Palermo's Fashion Week style:
1. Lulu Frost Power Gold Bracelet: Channel your inner super woman with this powerful piece. Composed of chunky, yet chic brass links, this chain makes a statement all on its own, but also begs to be stacked with your watch. Lulu Frost drew inspiration from a 1940's watchband to create this classic-meets-modern bracelet.
2. Lulu Frost Offshore Necklace: I often collect jewelry on my travels: it's compact, easy to pack, and reminds me of a favorite vacation every time I wear it. This necklace comes from Lulu Frost's "Endless Summer" collection. Like a souvenir, it will remind you of Olivia's Fashion Week travels and lend Palermo's style to any dress, skirt and blouse, or simple cardigan and short combination. Chunky chains, crystal-embellished leaves, and deep blue stones come together in unforgettable style.
3. Lulu Frost Siren Collar: Calling all fashionistas, this necklace has the power and intrigue of a siren song. Olivia Palermo layered this collar over a stunning orange peplem top, bringing intense glamor to a simple necklace and tying her black printed skirt back to its same-colored resin balls. Inlaid with crystals, there is simply no way NOT to shine in this necklace.
4. Lulu Frost Goldtone Drift Necklace: Wear two ways. With cleverness and foresight, Lulu Frost designed this necklace to be worn two ways: wear the crystal-studded leaf to the side or straight depending on the needs of your neckline. Set on a chunky brass chain to add a twist of edgy class. Palermo layered a similar leaf necklace with the next item on our list…
5. Lulu Frost Antigone Tassel: A perfect example of Frost's signature style, the Antigone necklace layers classic, mod, and vintage elements together with a brass chain, Art Deco lines, and a swinging tassel. Palermo wore a chunky collar of gold leaves with this longer pendant to dress up a simple cream shell and leopard-printed short.
Most Read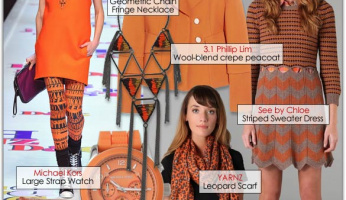 Subscribe to our Newsletter