Celebrity Style Guide: Color Coach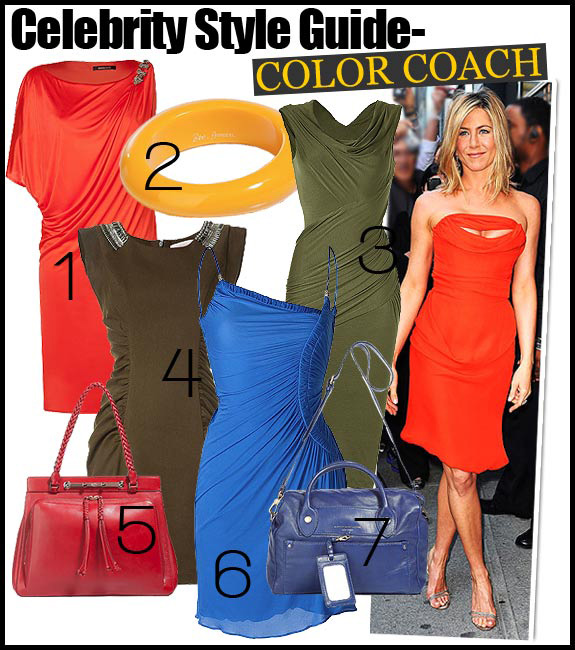 Coach yourself in the new colors of this Spring/Summer's fashion. Style as a splash of color or as a total color block look!
1. Roberto Cavalli Bright Orange Draped Dress ($1260)
Luxurious cocktail dress in fine rayon, hit color orange and outstanding noble and flattering quality. Slim cut, mini length with elegant drape which sexily accentuates the silhouette, feminine crew neck, top with one crystal embellished strap and one fashionable short bat sleeve. Glamorous, sexy, elegant and modern, simply a beautiful dress in a great fashion color, pair with noble sandals.
2. Ben-Amun Yellow Round Bangle ($25)
Stylish bangle by hot label Ben-Amun, hit color yellow, totally decorative and trendy. Nice and broad and massive, a favorite which adds a vibrant glow to simple looks. Simply a beautiful, decorative summer accessory.
2. Michael Kors Zinnia Batwing-Shaped Cashmere Top ($910)
Luxurious top in fine cashmere and hit color pink, very summery and fresh. New slightly wider silhouette with fashionable batwing sleeves, nice and long with broad waist finish and feminine crew neck. A dream top, noble and modern yet casual and chic alike, combines great with slim base pieces like a pencil skirt, leather pants, skinny jeans.
3. Donna Karan Majolica Cap-Sleeve Twist Dress ($2010)
Luxurious dress in fine green stretch rayon, a modern classic of the Donna Karan collection. A smashing dress with highly elegant wrap drape which creates a dream silhouette, feminine crew neck and short cap sleeves. Slim and figure hugging cut with sexy waist fit and classic pencil knee length. A special dress for special events, from a cocktail party to a glamorous gala, a favorite for stylish women who quietly like to be in the center of attention, pair with platform pumps or sandals.
4. Matthew Williamson Moss Beaded Neckline Dress ($1125)
Luxurious dress in fine linen/rayon blend, elegant brown-green, a smashing dress, totally intricate (the drapes) and glamorous (the embroidered crew neck). Slim and sharply waist fitted cut with broad straps, sexy mini length. Noble, sexy, totally feminine and comfortable due to stretch content, pair with exclusive sandals or platform pumps.
5. Valentino Red Trapez Shape Bag ($2065)
Luxurious handbag in red leather, high quality, simple design – typical for the worldclass studios of Valentino. Hip trapeze shape with decorative braided handle and magentic push button closure. Functional size, not too small, roomy outside pocket. Pairs with all elegant daytime outfits, suitable for the office, too, not a short-lived it-bag but a great lifetime investment.
6. Roberto Cavalli Blue Sexy Dress ($1260)
Stylish dress in fine cupro and fashion color blue. Slim cut with fashionable strappy top, elegant drapes add glamour and finesse, low added skirt, decoratively reaped, mini length. Figure flattering, this dress creates a tall and slender silhouette, appears sophisticated AND feminine, pair with noble sandals or pumps.
7. Marc By Marc Jacobs Pearl Royal Blue Preppy Leather Bag ($458)
Stylish bag in royal blue lambskin leather, classic shape with plenty of storage space for essentials. With many extras: short carry handles, one long, adjustable shoulder strap, zip pockets and travel name tag, cool, stylish and practical bag that you can carry every day, for example, to school, the office, on business trips, and for free time.
Most Read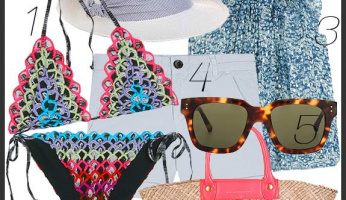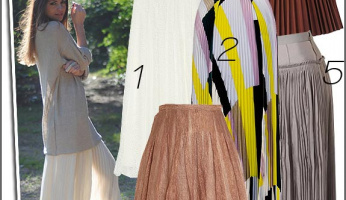 Subscribe to our Newsletter