Celebrity Style Fall Check List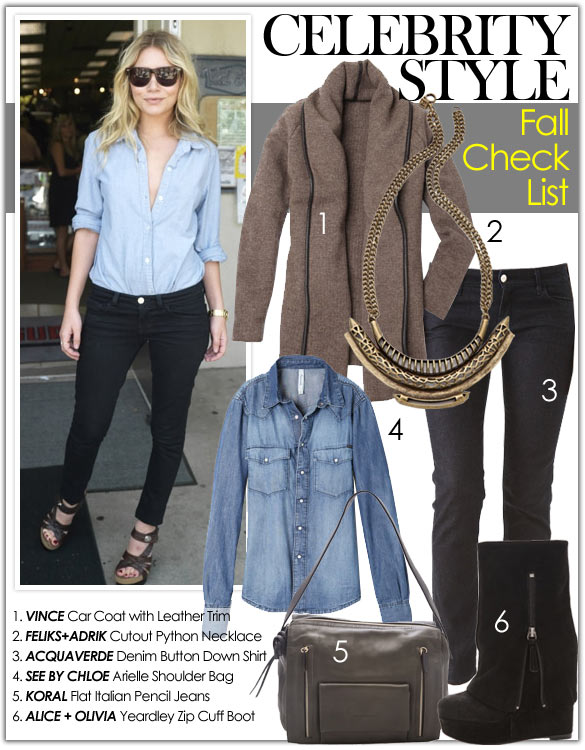 When it comes to fall essentials, this list is refreshingly versatile. Taking a cue from an Olsen twin, I'm planning on adding six core items to my wardrobe. These sleek, urban staples are monochromatic and neutral, making them transition from day to day with modern ease. I love an Italian pencil leg jean in an ultra dark rinse for day-to-night dressing. Equally wearable with an army boot as with a pointy-toed pump, every girl can get miles out of them. Another piece with infinite possibilities is the denim shirt. Paired with a dark rinse or black jean, the denim shirt gives off the effortless cool of an Olsen. Other star-worthy items on my list? A be-wedged suede bootie with moto hardware, a chic yet functional purse, a cozy car coat, and a chunky statement necklace. Wear these celebrity-inspired pieces together or mix them into the rest of your wardrobe. Check. Check. Check!
1. KORAL Flat Italian Pencil Jeans: Insta-chic is achieved with these sleek, near black jeans. Euro-inspired, their crisp pencil legs and slim silhouette pair back to any look, whether you're an edgy-urbanite or a preppy pump wearer. Add to a lighter denim shirt and chunky sandal for insta-Olsen.
2. See by Chloe Arielle Shoulder Bag: A little smaller than a messenger bag, yes, but its wide shape and extra zippered pockets provide the same amount of function. The taupe color wears well with anything, while the simple form works for work or casual dress.
3. Vince Car Coat: Cozy meet chic. The best of style and comfort meet in the Vince Car Coat. An oversized shape is reminiscent of your favorite baggy sweater, but its leather trim provides the tailoring and structure you need to pull this amount of comfort off without being in your sweats. Pair back to slim bottoms like a legging, skinny or pencil leg jean.
4. FELIKS+ADRIK Necklace: When pairing neutrals with staples, I suggest adding a personal piece to set you apart from the crowd. Whether that be a wow-shoe or a vintage piece of jewelry, define your basics with a statement item. This cutout python necklace does the trick with its antiqued brass finish and chunky weight.
5.  AG Adriano Goldschmied Denim Chambray Shirt: My favorite on the list. The denim button down worked this summer with white denim, maxi skirts, and as a beach cover-up. This fall pair it back to dark-washed denim, colored cords, and metallic pieces to make an evening piece daytime appropriate. A chambray or denim shirt adds an easy, effortless feel to your outfits, which is why I love it so much!
6. alice + olivia Yeardley Zip Cuff Boot: Supple suede softens the lines of these all black boots. Finished with a fold-over cuff and sky high platform wedge, they are the ultimate finish to a skinny jean-clad leg. An exposed zipper adds an edgy moto vibe to your outfit.
Most Read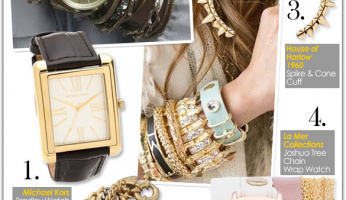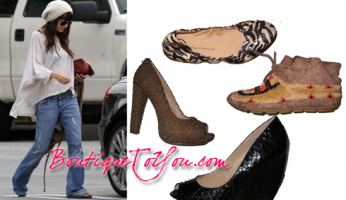 Subscribe to our Newsletter