Celebrity Style Designer: Girl Two Doors Down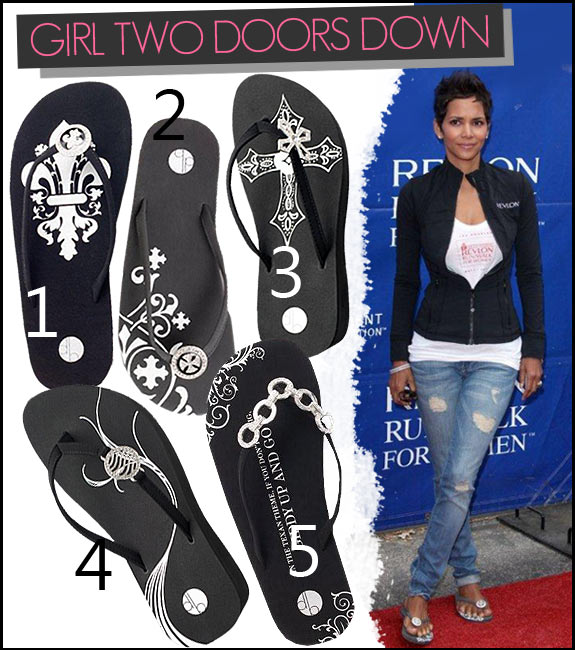 Hollywood's latest obsession? Super-trendy sandals by Girl Two Doors Down! Eva Longoria, Halle Berry and Jessica Alba adore these crystal-adorned sandals. Jessica Alba loves them so much that she ordered six pairs in an array of colors. "These are my favourite" Alba gushed, and we can see why. These flops have plenty of bling to bring to the table…or the red carpet in Halle Berry's case. Eva Longoria filled her suitcases with five pairs of Girl Two Doors flip flops before embarking for St. Tropez! Load up your closet with these super cute flip flops this season…you'll find every occasion to wear them!
1. Black Crystal Fleur De Lys Circle Pendant Flip Flops: An emblem of good style, the Fleur de Lys crowns these sandals with its fabulous style. A small crystal fleur de lys accents the straps, while a bold white fleur de lys graces the sole.
2.  Gray Cross Circle Pendant Flip Flops ($57)
Fit for a princess, or Hollywood royalty, these sleek gray flip flops have a crystal crown surrounded by a circle on its strap. Flourishes and crowns complete the sole and add tons of personality to your look.
3. Crystal Cross db Flip Flops ($54)
Cross our hearts and hope to…score these fabulous flip flops! Black with crystal cross on the strap and classic cushy db soles with cross design. Pair with your shorts or bikini, take them traveling or out on the town!
4. Black Crystal Wave Platform db Flip Flops ($61)
Inspired by the beach, these sandals belong there and anywhere else you may care to wear them. Wave patterned platform heel with a caged crystal wave embellishment on strap.
5. Black Crystal Five Circle Link Flip Flops ($62)
This pair of sandals comes with a cheeky slogan print "In the Texas theme, if you don't go big, giddy up and go!" Most of Girl 2 Doors Down come with a fun slogan print, and we love that they let us girls show a little attitude. Put some swag in your step with these unique straps, composed of five crystal links.
Most Read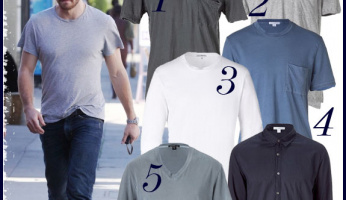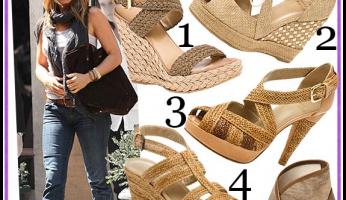 Subscribe to our Newsletter