Autumn Is in the Air with L'Agence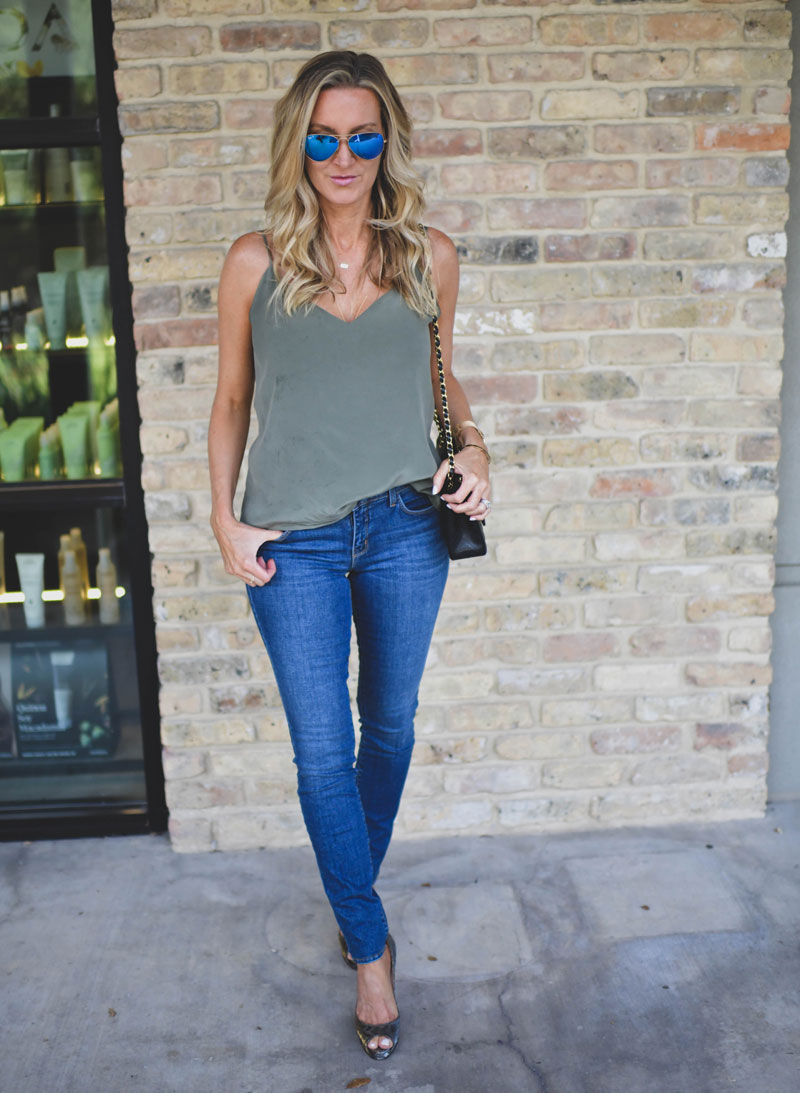 With September creeping up on us quickly this year, I am beyond thrilled for that new chill to be in the air. If you've been reading my blogs for a while, you already know how much of an autumn girl I am – pumpkins, cloudy skies, cute jackets, and even cuter booties? Where do I sign up? But the transition from summer to fall can leave me feeling at a loss for how to dress for overcast mornings that turn into sunny summer days. Typically, you're safe as long as you wear lots of layers, but often you're left feeling heavy and bogged down.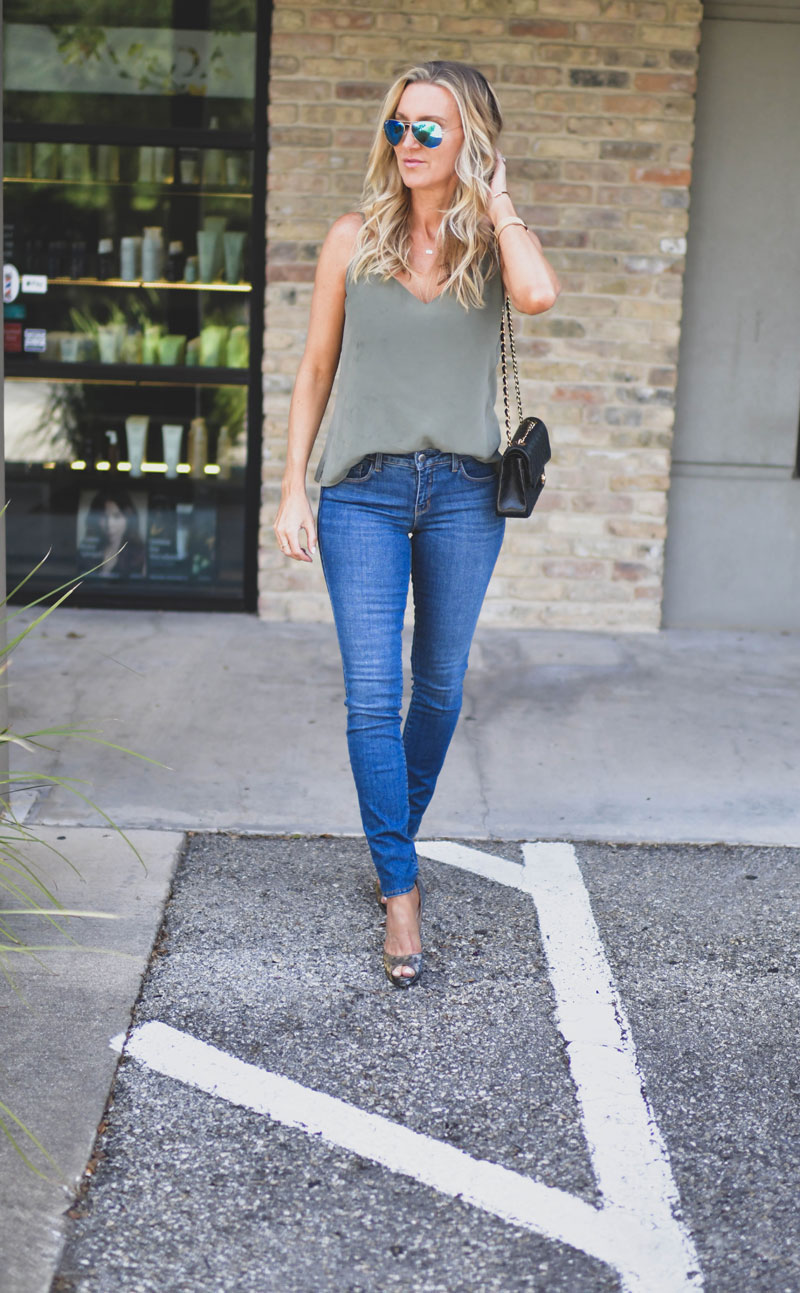 One of my favorite items in the fall are my jeans – I basically live in them every day! I've tried on what feels like every pair of jeans to find the best of the best, hearing rumors of the favorite celebrity brand, L'Agence, and their legendary denim. Having seen stars like Charlize Theron, Sarah Jessica Parker, and Mila Kunis rocking L'Agence on and off the red carpet, I knew it was my time to slip into a pair and see the magic for myself.
After I wondered what could make this pair of jeans so unique, I did some quick research and found out (thanks to Vogue.com!) that L'Agence has created an exclusive way of designing and manufacturing their denim. It starts with their French inspiration, where the design team favors a contoured waistband, one that's more tailored to your body, over the traditional and cheaper "straight" waistband. Then, they only use high-quality European materials and dyes to ensure that it fits like a dream and the color is impeccable. Quality is one thing that keeps the jeans from transferring dye onto you and everything you own (there's nothing quite like looking down at your hands to find out that your new jeans dyed your fingers blue).
I've always been one to advocate for splurging on basics you love that will last. So, you can probably imagine my excitement when I finally got to try these jeans on and realized how obsessed I am with the buttery smooth fabric and perfect fit! I feel like the whole Fall/Winter 2018 collection from L'Agence fits my own fall vibes so well: classic pieces with a sleek and chic twist. I'm all about bringing in a little more sophistication to my look, even if summer technically hasn't ended yet. Their collection is filled with silky fabrics, leopard print (which is already trending!), and enough beautiful draping to remind you that clothes are a form of art.
If paired with a cute tank, tee, or cami, these jeans will be perfect to wear these last few weeks of summer. I found this versatile silk camisole from L'Agence to be so flattering and versatile; I can throw it on and look put-together. It's simple without being boring and is comfortable enough to wear to go shopping or to a meeting. A camisole is one of my favorite style secrets. It can be worn over any bottom, tucked or untucked, and still look chic. I love this beetle green color because it's muted enough to be neutral. Another plus, this color looks great with that last bit of tan I have as summer moves into fall.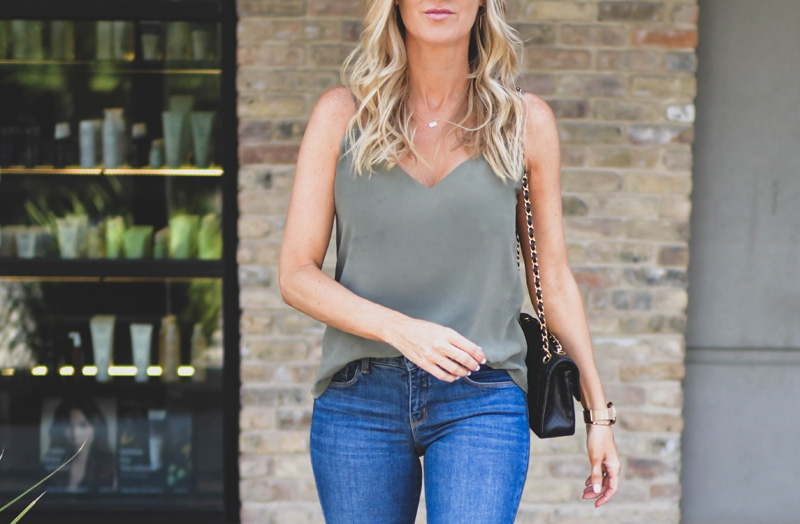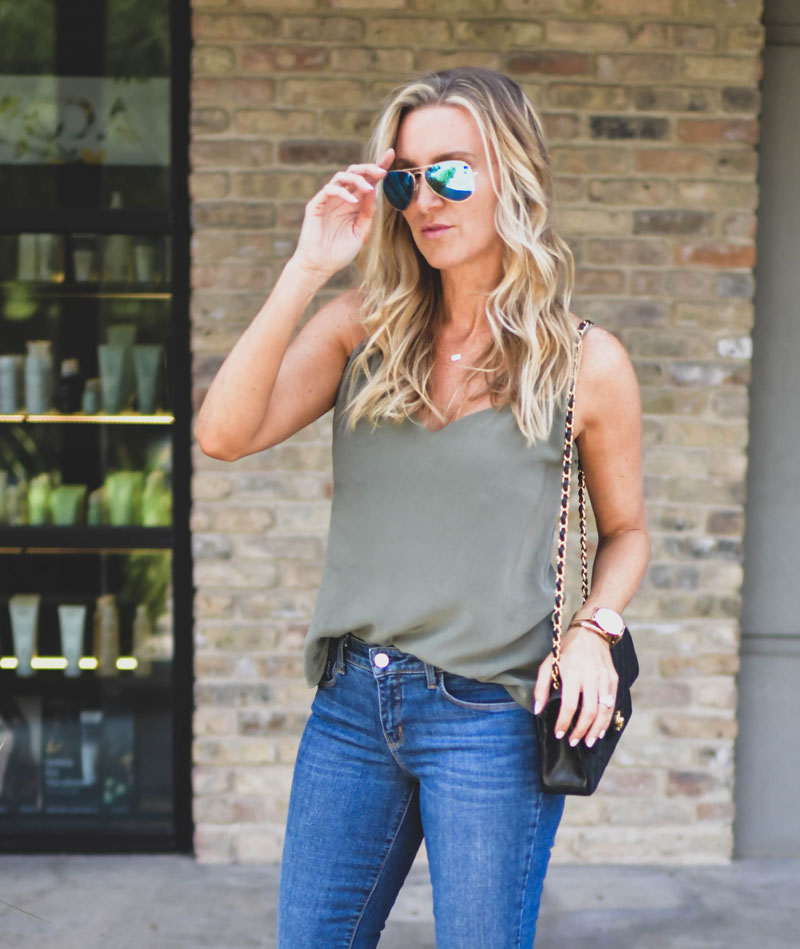 You can always decide to be a little more adventurous with your accessories when wearing something simple like this, but I tend to compliment the look with more classics. Keeping go-to pieces like these in your closet will allow you effortlessly style both timeless and trendy outfits in no time. Dressing up the look with my favorite black, quilted Chanel bag and these Christian Louboutin peep-toe pumps has me on fashion's cloud nine with just a click of my heels.
Do you have any key pieces in your wardrobe that help you transition from summer to fall? My favorites have got to be skinny jeans, a simple tank or cami that can be worn alone or thrown over a t-shirt. Pair with a light cardigan, and a good pair of open-toed heels you can wear with a skirt or jeans. Another easy way to help summery clothes move into fall with you is by slowly introducing boots, light scarves, and light jackets into your outfits. On a cooler day, I'll switch out my sandals into a pair of loafers or riding boots. Any little adjustments like this are easy to do even with a busy schedule and will make a difference in your style!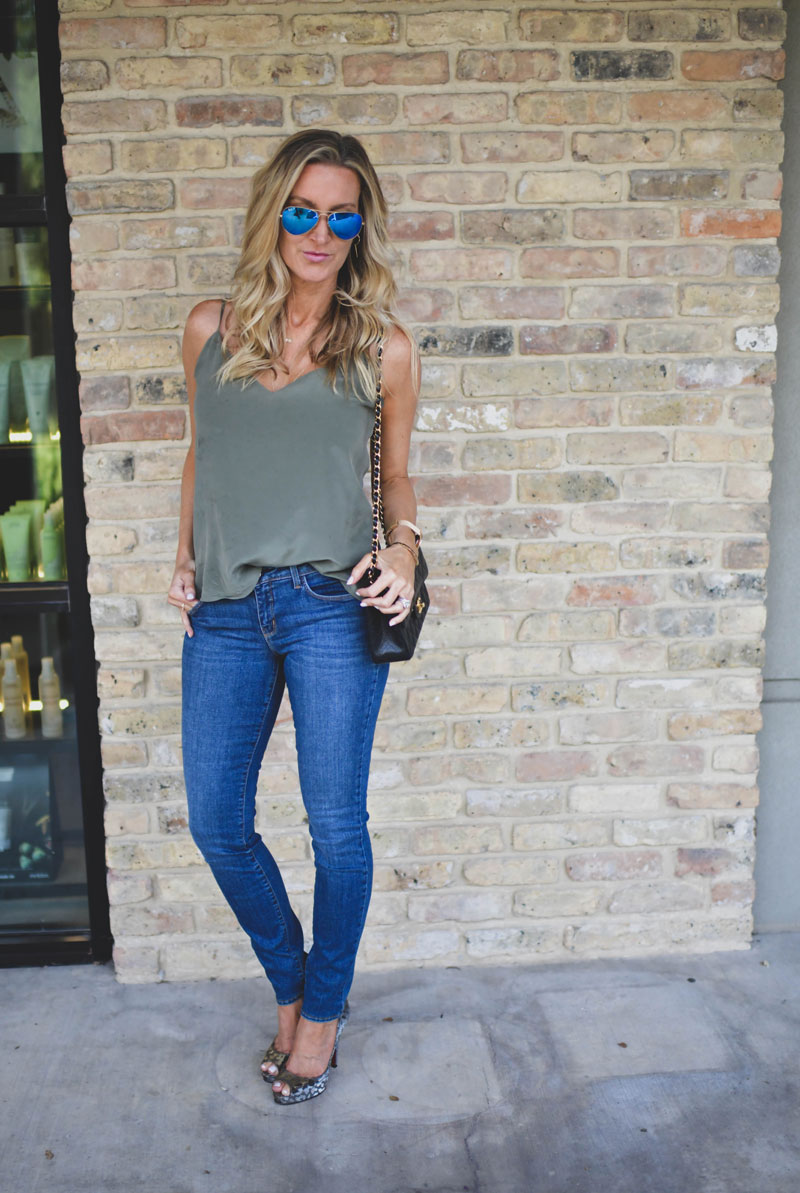 The kids are back to school, football is starting and pumpkin spice lattes are back. I'm excited for family time cozying up under throw blankets, firepits, and everything having to do with the month of October! Even though I'm already focusing on fall, I'm happy to have still a few weeks left of sunny skies and sleeveless tops. I know I hype up the return of fall, but truth be told I'm always a little sad to say goodbye to summer. But the good thing is – warm weather is just a winter away!
Shop The look:

Most Read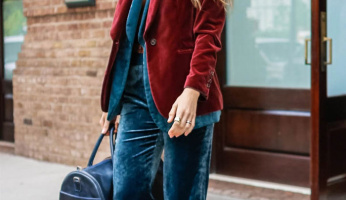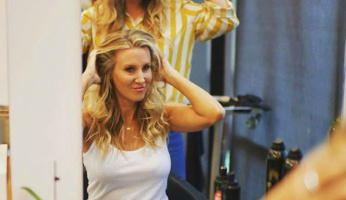 Subscribe to our Newsletter