Austin Makeup Artist Rochelle Rae's Top 10 List!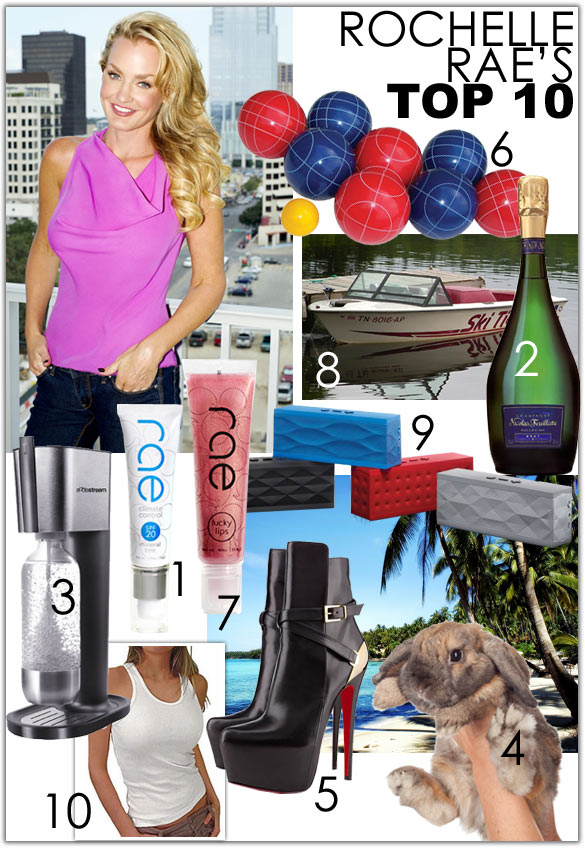 Rochelle Rae is one of my hometown heroes. Based in my city of Austin, Texas, Rae is an award-winning make-up artist and the genius behind Rae Cosmetics. Her website's tag line says it all: "Created to take the heat like the women who wear it." This line keeps up with women on the go: the active, the athletes, the travelers, the champions of the everyday. Rochelle uses natural minerals and pigments to create cosmetics that work with every skin type, and all of her formulas protect with a light, natural feeling.
Today, I'm excited to present Rochelle's Top 10. She shares with us her favorite things from a few of her own products to bubbly beverages, bunnies, boats, and the beach. I love that she gave us a glance of not only her loves, but of her life. Thanks for sharing, Rochelle!
1. Rae Cosmetics Climate Control SPF 20 – Climate Control Mineral Tint – SPF 20: "It is a super easy, 3-steps-in-one water-based foundation, non-chemical sunscreen and antioxidant moisturizer. The water-resistant formula stays on all day, even when you sweat."
2. Champagne – "I love the bubbles. One of my favorites is Nicolas Feuillatte. It is wonderful and affordable."
3. Sodastream – "Like I said, I love bubbles. Soda stream carbonates regular water. It makes me drink twice as much water and saves me a ton of money on buying sparkling water bottles."
4. Bunnies – "All bunnies, but particularly my bunny, Baby Rae. My third rabbit, she travels with me, spends a lot of time at the Rae Cosmetics studio, and has never been in cage in her life (yes, she is litter box trained)."
5. Stilettos – "Actually, just shoes over 4″. Unless I am at the gym, you will never see me in flats. I was meant to be born 6 foot. I wasn't, so I do what I can to make it it happen."
6. Bocce Ball – "It is a fun game…great for the beach that anyone can play. Two players or eight players, perfect for a party or just hanging out with a friend."
7. Rae Cosmetics Lucky Lips Lip Gloss – "It is not sticky and super shiny!! An ultra-brilliant formula, enriched with antioxidant vitamins A, C and E."
8. Boats – "I have owned 4 boats and loved them all. I don't agree with the statement, 'The two best days of owning a boat are the day you buy it and the day you sell it.' I wanted to keep them all. My first was the best, and the ugliest boat on the lake, a 1972 Ski Tique. Wish I still had it."
9. Jawbone Jambox – "Turns my iPhone or iPad into a portable sound system. I can take it anywhere: the beach, boat, rooftop pool or hotel."
10. American Apparel Boy Beater Tanks – "My go-to tank top, I wear it with board shorts or a leather pencil skirt. I probably have 40 of them."
The Beach – "If I'm on a Beach, I am happy!!"
Most Read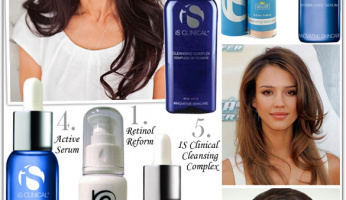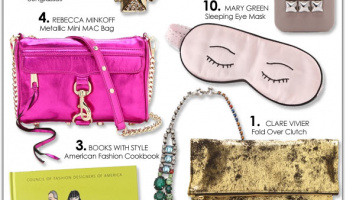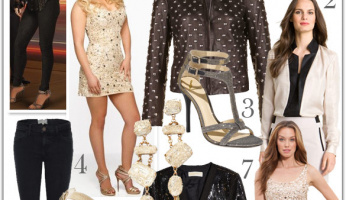 Subscribe to our Newsletter