Guest Editor: Mandi Line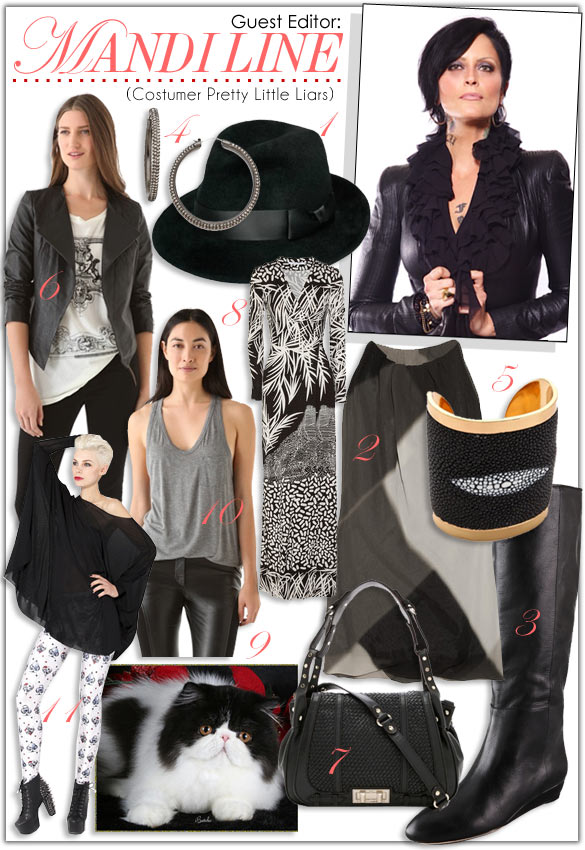 I was lucky to have several guest editors in the past few months, and my luck continues in the new year. I'm priviledged to announce that today's guest editor is Mandi Line! The genius behind the Pretty Little Liars girls, Mandi spends her days costuming the PLL cast. I got the chance to meet the amazing Mandi in November and she is the kind of person you love right away and want to hang out with forever. She is magic. If you want some inside scoop….yes, she is just as cool as she looks. Fans of the show watch episode after episode of impeccable styling, whether that be Spencer, Aria, Emily, Hanna or Paige. As these girls grow and develop as characters, their wardrobes have done the same. Mandi Line's dynamic style is behind the believability of these characters and their stories, reinforcing the fact that style is a powerful force in all our lives, viewers and characters alike.
Thank you for sharing your fabulous Pretty Little Liars style, Mandi! Don't forget ABC Family's addictive hit drama Pretty Little Liars returns at 8 p.m. tonight to finish the second half of its third season!
1. Makins Fedora: Menswear-inspired, female-approved. This fedora sports well with all looks, giving an androgynous edge to going out looks and a playful vibe to work week commutes.
2. Rick Owens Printed Silk-georgette Top: The beat meets the street. An in-vogue print gives an artsy vibe to this floaty silk top. Pair with leather leggings and heels for an art opening, cropped black pants and a suit jacket for the office.
3. Loeffler Randall Matilde Low Wedge Boots: Young or old, this low wedge boot works for any age.
Sleek construction and a subtle seaming makes this a wear-with-all boot, whether your a pretty little liar or an all-grown-up one.
4. Michael Kors Pave Hoop Earrings: Edgy sparkle. For the downtown chick or street stylista, these classic hoops are done up with tiny pave stones. Pair with any look for a subtle sparkle.
5. CC Skye Stingray Cuff: Exotic and enticing, this CC SKYE cuff is embellished with sting ray leather. Gold-plated and finished in black and white, it's a cuff that will become your statement piece.
6. BB Dakota Noe Retro Cropped Jacket: Mandi says: "Black leather jacket to wear all year. The more worn in, the better!" I couldn't agree more, Mandi! Pair this jacket with anything and everything.
7. Rebecca Minkoff Endless Love Satchel: Rebecca styles this satchel with pure genius. A sophisticated shape is made uber edgy with the addition of texture: a basket-woven front panel and oxblood rubber trimmings.
8. Diane von Furstenberg Georgina Maxi Wrap Dress: Mandi says: "Black and white! It's going to be everywhere!!! (Even though Aria has been doing black and white prints for years! Ha ha)"
9. Persian Cat: Need I say more? This black and white feline inspires our love affair with all things same-colored.
10: T by Alexander Wang Classic Tank with Pocket: Mandi says: "Alexander Wang classic tanks. I'm obsessed!!" This must-have works season to season…stock up on black, white, gray and your favorite color, too!
11. Milk Ace of Skulls Leggings: It's all the rage. Choose your print and let your legs do the talking. This skull print is young and hip, especially when paired with an oversized sweater and moto booties!
Most Read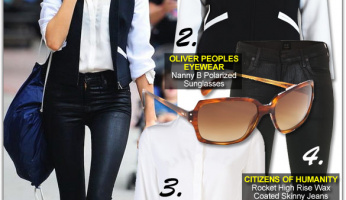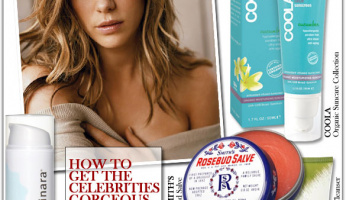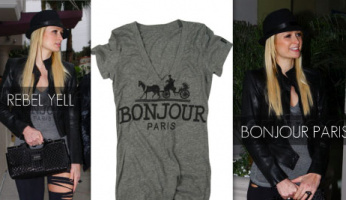 Subscribe to our Newsletter