Spring Denim Trends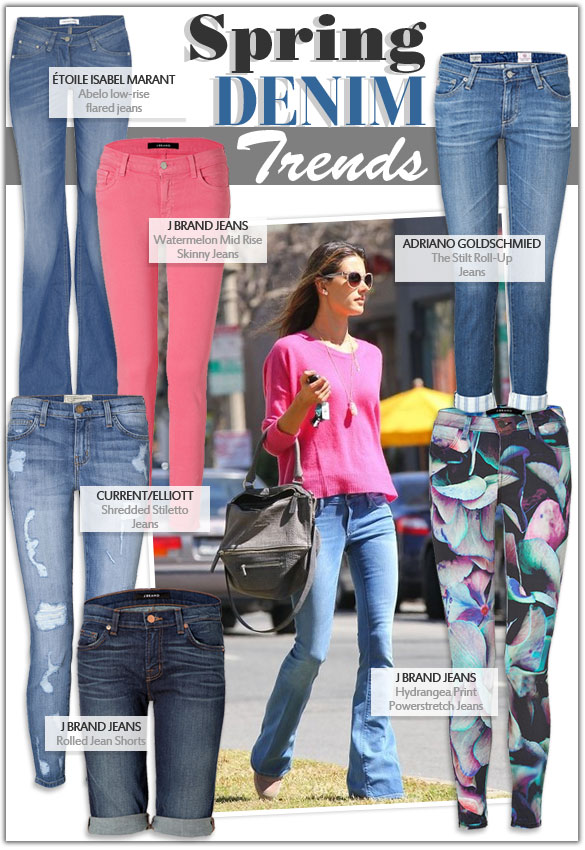 Alessandra Ambrosio paves the way with her flares (seen above) and her shredded skinnies. Spring Denim Trends 2014 is here! I'm laying out the denim trends today, after studying the denimwear of celebrity fashionistas this month. First up are flares, a welcome departure from skinnies in the classic style of the 1970s. Still major trends from last year are cropped jeans and colored jeans, both fun options that can be styled preppy, flirty or sexy. And fresh for this year: denim in any kind of print, shredded skinnies, and the long, rolled denim short. Enjoy playing with these spring denim trends, especially for the fast-approaching weekend!
1. (Flares) Étoile Isabel Marant Abelo Low-Rise Flared Jeans: In the style of the 1970's, Alessandra Ambrosio brings back the sexy flared jean. Pair with a cropped top (not too short) or tuck in a boho blouse, flares are best worn with the waistline in sight to create balance and showcase your curves.
2. (Shredded) CURRENT/ELLIOTT Shredded Fling Jeans: Shredded jeans are definitely meant for Saturdays. Balance the extreme shredding with a trim knit and pointy toe pump, much the same you would a slouchy boyfriend jean.
3. (Colored) J Brand 620 Super Skinny Jeans: Watermelon pink? Yes, please! Speak to the coming colors of spring and summer with a pop-of-color jean. Choose your favorite hue and go from there. My favorite denim outfit pairs a pop color with a cool, chambray button up.
4. (Printed) J BRAND JEANS Hydrangea Print Powerstretch Jeans: Showcase your personality. If there was ever a piece to do it with, it's with the printed jean. Pick a print that speaks to you, then pair with a demure top. I love the look of a print with a black background with a simple black top.
5. (Rolled Short) J BRAND JEANS Nash Jean Shorts: Fresh off the runways and onto the streets. The longer rolled jean short is a bit throwback and quite a bit mod. Pair this trend carefully with pretty pieces and feminine flats to balance out the dark, hardworking denim.
6. (Cropped) ADRIANO GOLDSCHMIED  The Stilt Roll-Up Jeans: Show off those ankles. The first skin to peek out of the snow, the ankle is the first part of the leg to get exposed after a long winter hibernating in jeans, tights, and leggings. Roll up a pair of skinnies or try out a pair already rolled for you! Ankle skimmers are adorable with flats or heeled booties or the first sandals of the season.
Most Read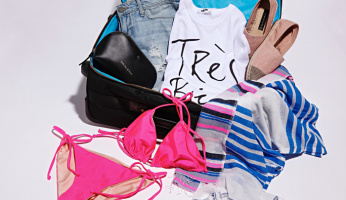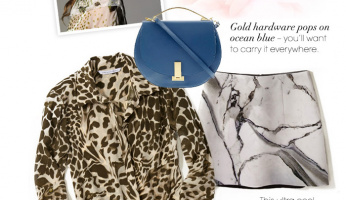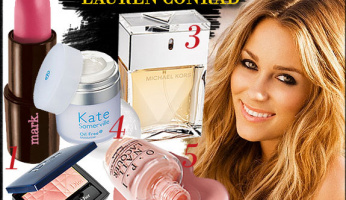 Subscribe to our Newsletter